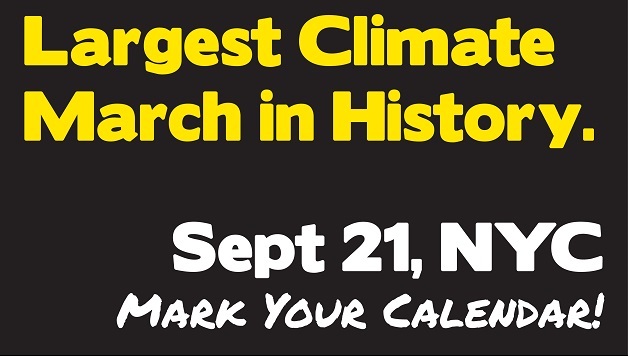 In late September, world leaders will meet in New York City for another United Nations summit on climate change. With our future on the line, we will use this weekend to bend the course of history.
On Sunday, September 21st in New York City, there will be an unprecedented climate mobilization  – in size, beauty, and impact. Our demand is a world we know is within our reach: a world with an economy that works for people and the planet. In short, a world safe from the ravages of climate change.
Heads of state from around the world will be there, as will the attention of global media. This will likely be the largest environmental protest in history where we will have a historic opportunity to urge the world leaders to act.
However, we know that every single global climate summit has failed miserably to solve the climate crisis.  Every government refuses to play a leadership role, while blaming others. Almost all heads of state are unwilling to implement polices that challenge fossil fuel and automobile corporations out of fear of losing a competitive edge in the global capitalist system of competition for profits and power.
Assuming the world's leaders fail to act once again, despite the urgent crisis facing the planet, we can still use this huge march to show that ordinary working-class people and young people, in our hundreds of thousands, have the power to take over the corporations ourselves and transition society to a democratically planned, environmentally sustainable economy.
Join us in NYC on Sunday, Sept. 21!  The world is counting on us.  Mark your calendar now.
---
Click here to get more information about the flagship NYC march.
Can't make it to New York? Check out the global mobilization page
For info about the U.S. government's assessment of the climate crisis and Obama's inadequate plan, click here.