Another Victory for Community Activists working with Independent Candidates!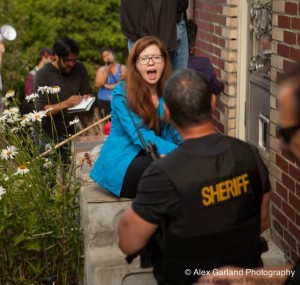 Byron and Jean Barton will not be moved. Rather than let the bank and developers steal their home, they joined anti-foreclosure group SAFE and successfully fought their eviction.
Friday morning, the sheriff attempted to evict Byron, a disabled Vietnam veteran, and his wife Jean from their family home of 61 years. However, the sheriff was forced to back down when confronted by SAFE (Standing Against Foreclosures and Evictions) activists and Socialist Alternative candidate Jess Spear willing to risk arrest to stop the eviction. Socialist Alternative Councilmember Kshama Sawant, formerly arrested defending SAFE activist Jeremy Griffin's home last year, appealed to city officials to both review the case and direct public resources to more pressing issues than kicking a family out into the street.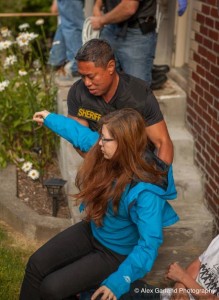 Under immense community pressure due to SAFE's campaign and Councilmember Sawant's bold stand in solidarity with the Barton family, the Mayor announced that the police will not evict Byron and Jean at this time. This shows that when we organize, we win!
However, the fight is not over. The Bartons still face a legal battle with Triangle Property Development over the ownership of the property and will need ongoing community support to win the right to stay in their home.
Housing is a human right. The Vote Spear campaign calls for a moratorium on all home foreclosures. Please join our campaign to fight back against the domination of our state by big corporations and banks.
For more on this story and a VIDEO of Candidate Jess Spear discussing Socialist Alternative's position on home foreclosures, CLICK HERE.