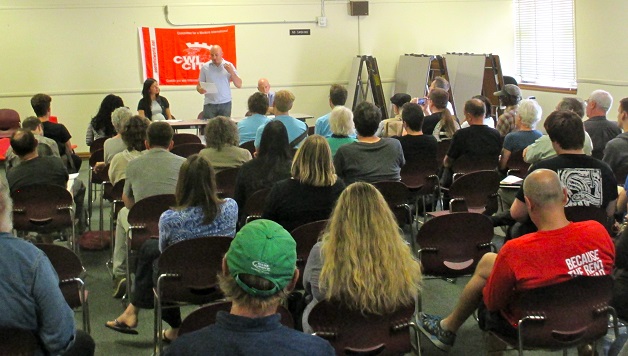 "I live in an area of Oakland where the average household income is $37,000. Some people in the hills here make that in a day." Such disgust at gross inequality is what brought 55 people to Socialist Alternative's (SA's) first ever Oakland-Bay Area meeting.
Local SA organizer and meeting host, Erin Brightwell, was joined by speakers Dan Siegel, the independent candidate for Mayor of Oakland, and Socialist Alternative candidate for Minneapolis City Council, Ty Moore.
Erin Brightwell spoke of her roots in fighting evictions for many years with the direct action group The Campaign for Renters Rights, and explained why she decided that SA was the group for her. Dan Siegel followed up with a warmly greeted speech where he explained how his father had handed him the Communist Manifesto when he was 12, how he was truly inspired by Kshama Sawant's victory in Seattle, and the need for a genuine people's movement that would live on beyond the November election.
The main speaker, Ty Moore, put events in Seattle and Oakland in a global and national perspective. He drove home the incredible opportunities for labor and the left to fill the vacuum in American politics created by the growing anger from below and the inability of the two-party system to resolve working people's problems. Oaklanders listened as Ty explained how socialists had won this major breakthrough for $15 in Seattle.
Those present asked questions about SA's relationship to the union leaders and its position on the war and police brutality. One young worker asked about the mechanics of the relationship between our organization and our elected representative. A parent of children who were a part of the huge Oakland public school closures two years ago mentioned that Occupy Oakland had been such a breath of fresh air, yet had left little in its wake, and that he joined SA in part to build a sustainable working class movement. A single mom spoke about how Occupy had been driven off the streets and how the Oakland police's brutality in poorer neighborhoods, an issue Dan Siegel has campaigned around extensively, creates its own fear among Oaklanders.
During the discussion. an SEIU activist explained how the current Oakland ballot initiative for a $12.25/hr was simply a place to start. Dan Siegel argued that we really need a $28/hr minimum wage and Ty explained how in San Francisco the Mayor seems to be accepting a $15 minimum in the wake of the Seattle victory.
In the build-up to the meeting, SA was able to hit up to 50 fast food and low paid retail workplaces, where employees excitedly received fliers as if they had simply been waiting for $15 Now to finally arrive in Oakland.
Eight participants applied to join Socialist Alternative, two who had applied online days earlier and six who signed up at the meeting. Childcare for four young children allowed parents to participate. We raised $233 and 11 copies of Socialist Alternative were sold. The young SA branch is looking to potentially double its size in the coming months, and the applause at the end of the meeting was a sign of the enthusiasm that has greeted the arrival of Socialist Alternative in the Bay Area.