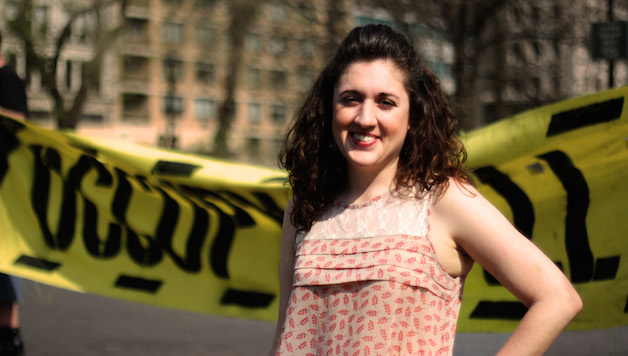 By Meghan Shea, New York
Cecily McMillan, a 25-year-old activist with Occupy Wall Street, was convicted of assault on a police officer in New York City Criminal Court on May 5 and sentenced to three months in prison and five years probation on May 19.
This charge arose from McMillan's arrest on March 17, 2012, when dozens of Occupy Wall Street protesters were arrested on the sixth-month anniversary of the OWS movement. That night, McMillan was walking by Zuccotti Park after celebrating St. Patrick's Day with friends. As police were clearing the park, an undercover officer, Grantley Bovell, approached her from behind and violently grabbed her breast, leaving a prominent hand-shaped bruise. She responded to this sexual assault, thrusting her elbow upward in an alarmed reaction, leaving Bovell with a black eye.
After being handcuffed and tossed aside, McMillan had a seizure. Paramedics were blocked from helping her by members of the New York Police Department. Upon her release from jail, McMillan experienced difficulty walking as a result of her injuries.
McMillan's trial, which began on April 7, was characterized by the suppression of vital evidence and blatant political biases. McMillan's medical records, details of Bovell's assault, and video evidence were not allowed to be shown to the jury. Prosecutor Erin Choi scoffed at the notion that police violence took place that night, drawing a comparison with belief in "space aliens." Prosecution's key witnesses utilized stereotypes about "the smelly protestors" to paint an unsavory picture of activism.
When the verdict was delivered, nearly forty police officers filled the courtroom. Instead of allowing McMillan to await sentencing on bail, the judge ordered that she be immediately sent to Riker's Island. Inside the courtroom, dozens of supporters loudly protested and were violently removed from the court.
Throughout the duration of McMillan's trial, a grassroots petition campaign garnered 180,000 signatures from across the globe calling for her release. Nine of the twelve jurors who convicted McMillan sent a letter to the judge saying they had not been informed of the severity of the sentence and demanding no jail time for McMillan. A series of rallies, daily court support, a visit from two members of the Russian dissident group Pussy Riot, and other forms of activism helped push McMillan's sentence from between two and seven years to three months and probation.
People across the world are recognizing the glaring injustice and targeting of Cecily McMillan. The New York Police Department is hoping to use fear tactics to discourage anyone from participating in demonstrations. The judge and police are trying to send a message to anyone who stands up to corporate power: The police can assault and violently suppress dissenters with legal impunity. Yet McMillan's widely publicized mistreatment has further raised popular consciousness that the police and the legal system will not offer justice for working people, people of color, or those exercising their right to dissent. Instead, it is becoming clear to millions that these institutions are rigged to defend Wall Street and the capitalist system.