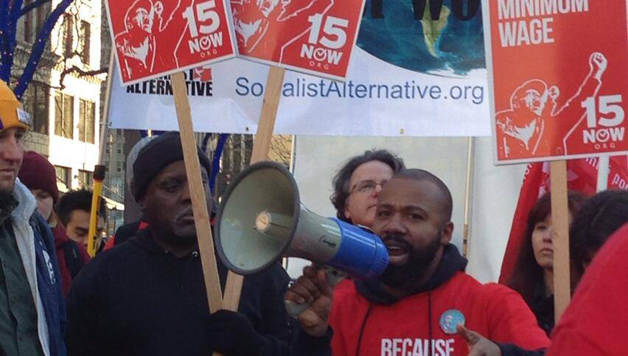 In the last year, with fast food workers striking for a $15/hour minimum wage, Sea-Tac passing a $15/hour ballot initiative, and the election of Kshama Sawant as a Socialist Alternative candidate to Seattle City Council, Seattle has become the epicenter of the struggle for a living wage. To build on that momentum, Kshama Sawant and Socialist Alternative along with a rapidly growing list of workers, unions, and activists launched the 15 Now campaign to build a mass grassroots movement to make sure the fight for $15 is a success. Below is a nationwide Call to Action from 15 Now urging activists to organize a powerful week of action from March 7th to 15th, followed by mass demonstrations on May 1st highlighting the need for $15/hour along with immigrant rights.
Call for a National Week of Action March 7th to 15th and Mass Demonstrations on May Day
Across the country there is a groundswell of momentum of protests, strikes, and electoral initiatives for a $15/hour minimum wage.  The question of income inequality – the divide between the 1% and the 99% – has become a central question dominating political discussions from the federal to state and city levels.
The fight for $15 has captured the imagination of hundreds of thousands of low-wage workers, young people, and occupy and union activists.
Now is the time to step up this struggle.  We have an historic opportunity.  The fight for $15 has the potential to be a catalyst for turning back the decades-long corporate assault on working people.
15 Now, a new grassroots campaign arising from the fight for a $15 in Seattle, is appealing to all Fight for $15 groups, young people, Occupy activists, unions, and low wage workers to come together this spring for two rounds of coordinated national actions:
1) A week of action from March 7th to 15th to demand a raise in the federal minimum wage from $7.25 to $15.  These actions can range from organizing a public meeting or town hall, to a picket line outside a McDonald's, to a major demonstration, and anything in between.
2) The week of action in March could set the stage for massive demonstrations across the country on May 1, 2014 and would send a clear message to the capitalist establishment that workers are no longer willing to stand idly by as our wages and benefits get cut while the 1% get richer and richer.  Let's unite to make May Day 2014 a historic demonstration of support for both $15 and immigrant rights which can re-kindle the traditions of May Day as a day of international working-class solidarity and struggle!
Where possible these rallies should be organized directly around the demands for $15 and immigrant rights, but elsewhere supporters of $15 can organize $15 contingents as part of the larger May 1 rallies.
We ask all individuals, fast food and low-wage groups, activists, and unions to discuss these ideas. If you are part of an organization, please bring these proposals to your trade union, organization, and other activists. If you are not part of an organization, please get in touch with us and we can help you start a 15 Now group in your area: www.15now.org.
Background Information on 15 Now
15 Now comes out of the Fight for $15 in Seattle, which has the potential to be the first major U.S. city to win $15. In November 2013 voters in SeaTac, a small city outside Seattle, passed a ballot initiative for $15. A leader in the fight for $15 in Seattle, Kshama Sawant, shocked the corporate elite by winning a City Council seat in Seattle as a Socialist Alternative candidate with almost 100,000 votes. Newly elected Mayor Ed Murray has also declared his support for $15.
There is a huge momentum for a $15/hr minimum wage in Seattle. But we know big business will not let this pass without a fight. Seattle Councilmember Kshama Sawant, along with a growing list of workers, unions, and activists (see endorsers here) have come together to form 15 Now to organize a massive grassroots campaign with local neighborhood and campus groups, town hall meetings, mass rallies, and strikes.
Over 450 workers and activists attended an electric rally to kick off the 15 Now campaign on January 12. On January 20th, 5,000 marched as part of Seattle's annual Martin Luther King Jr. rally, with thousands holding $15 Now pickets, banners, and t-shirts.
15 Now is currently centered in Seattle – where the fight for 15 has the best immediate prospects – but aims to build a nationwide movement.
But it will not happen automatically.
We need you to get involved. Please sign up here to join this historic campaign and help fund the Fight for 15. We will need real resources to organize the struggle and counter the lies and propaganda of the richest 1%. We are relying on you – workers, young people, and activists. To lay the basis for a serious campaign, we are appealing for 1,000 people to donate $15/month. Sign up here to make a monthly donation or one-time donation, and add your name to the list of people supporting 15 Now.