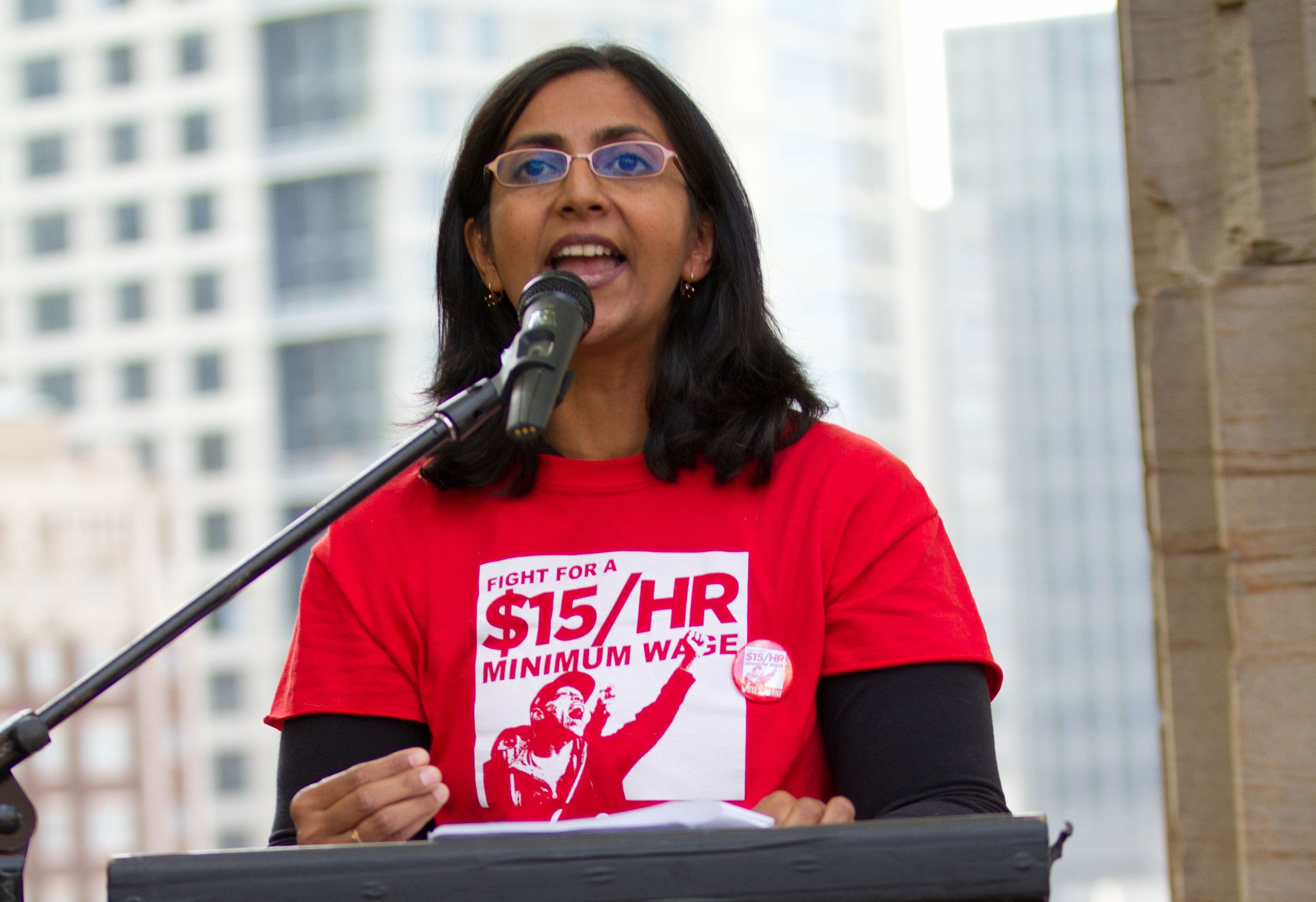 Big Success for $15/hour Minimum Wage and Independent Working-Class Politics in Seattle
Seattle, WA – Today's King County Elections ballot count saw the Socialist Alternative candidate for Seattle City Council, Kshama Sawant, pulling further ahead of 16-year incumbent, Richard Conlin. The Socialist candidate has now won 88,222 votes compared to the Democrat Richard Conlin's 86,582 votes.
After today's count was released, Richard Conlin announced he was conceding the race. Kshama Sawant replied, "While I do not agree with Richard Conlin's political positions, I respect that he served on the city council for 16 years. He ran a strong campaign , and I commend him for his willingness to participate in numerous political forums, openly debating the issues with me ."
"I will reach out to the people who supported Richard Conlin, working with everyone in Seattle to fight for a minimum wage of $15/hour, affordable housing, and the needs of ordinary people," continued Sawant.
"These exciting results show a majority of voters are fed up with the corporate politicians who have presided over the widening chasm between the super-rich and the rest of us," said Kshama Sawant. "The turnaround of the ballot count in my campaign's favor is a stunning mandate to move ahead with raising Seattle's minimum wage to $15/hour. A majority of voters cast ballots for my campaign which did not take a dime of corporate money, yet succeeded through grassroots activism."
Since the signatures on thousands of votes have been challenged, the Sawant campaign will continue to make sure that every vote is counted until the election results are certified on November 26. "Every additional vote for our campaign shows the broad support for a $15/hour minimum wage, rent control, and a tax on the super-rich to fund mass transit and education. We need people to donate to fund our voter protection work, and we need volunteers to help correct the challenged ballots so that every one of these votes will count," says Sawant.
Kshama Sawant is inviting all supporters to a rally this Sunday, November 17 at 2.30 PM to discuss the way forward in the fight against corporate politics and for democratic socialism. Afterwards, volunteers will be trained to knock on doors to correct challenged ballots. Speakers include Abdi Mohamed from the Somali American Public Affairs Council and Nicole Grant from the electrical workers union, local 46. Geo from the Blue Scholars will also perform. The forum will be at the SEIU local 775 NW auditorium at 215 Columbia St.
Sawant's election, alongside the promises of Mayor-Elect Ed Murray, demonstrates the strong public support that exists for a $15/hour minimum wage. Sawant and her Socialist Alternative organization are working to build a coalition to organize a mass rally for a $15 minimum wage in early 2014. Sawant intends to introduce an ordinance or, if necessary, place an initiative on Seattle's November 2014 ballot like Proposition 1 in SeaTac.
Sawant is urging unions, Greens, and Socialists to use her campaign as a model to inspire a much broader movement of 100 independent candidates across the country in 2014. "We need a movement to break the undemocratic power of big business and build a society that works for working people, not corporate profits – a democratic socialist society," declared Sawant.
But first of all, Sawant is urging all supporters to help ensure an election victory this year by correcting the ballots of voters whose signatures have been challenged. Supporters in the Pacific Northwest are encouraged to stop by the Vote Sawant office any time at 1265 S. Main Street, Suite 205. Trainings are weekdays at 4 PM and weekends at 11 AM. Supporters everywhere are encouraged to donate and join Socialist Alternative to continue the fight for a $15/hour minimum wage and much more.
Please Support our Work: 
(206) 486-0099
[email protected]
Twitter: @VoteSawant