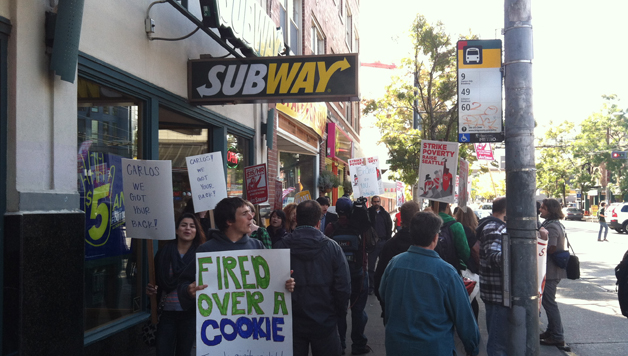 Sawant joins supporters as federal charges filed against Subway for retaliation against striker

Calls on Mayor and City Council to demand reinstatement of Carlos Hernandez and crackdown on illegal employer retaliation for union organizing in Seattle
WHEN: Tuesday, September 24, 2013, 9:30am
WHERE: Federal Building, 915 2nd Ave, Seattle
Kshama Sawant, Seattle's independent working class City Council candidate, will be attending a press conference to support the filing of federal charges against Subway for firing Carlos Hernandez for his role in recent fast food workers' strikes for $15/hour and a union. The press conference is being called by Good Jobs Seattle. Councilmembers Richard Conlin and Nick Licata will be attending.
"I marched with Carlos and other strikers at all their previous actions, and will be campaigning with them for as long as it takes. I appeal to Mayor McGinn and the rest of the Seattle City Council to use all tools at their disposal to insist Subway re-hires Carlos and to crack down against all employer retaliation for union organizing in Seattle. I hope to work with Councilmembers Conlin and Licata to ensure these steps are taken."
"I support pursuing every possible legal avenue to win Carlos's job back. However the courts and the government have totally failed to defend workers' rights, with over 10,000 workers illegally fired each year for union activity. In addition to legal means, workers need to continue building an even stronger campaign of protests and workplace actions," Sawant stated.
Carlos Hernandez has endorsed Kshama Sawant for Seattle City Council position 2, joining a growing list of prominent working class and progressive activists (see www.capitolhillseattle.com/2013/09/broadway-subway-worker-who-participated-in-fast-food-strike-wants-job-back/ and www.votesawant.org/endorsements).
Sawant is the only Seattle candidate calling for $15/hour, and urges the City Council to join the effort. "Carlos and many other workers went on strike for $15 and the right to a union. If the City Council is going to side with workers, they need to stand up against the big corporations who are making mega-profits from low pay and pass a $15/hour minimum wage for Seattle."
Five ways you can support our campaign:
1) Donate on-line at www.VoteSawant.org/donate
Unlike our opponent and other incumbents on the Council, we are not financed by big business and the richest 1%. Our political work is carried out by dedicated volunteers, and relies on the financial support of ordinary workers, young people, and activists. Contributions of any size are invaluable.
2) Like our Facebook page www.facebook.com/VoteSawant
3) Volunteer at Votesawant.org/get_involved
4) Endorse our candidate at www.VoteSawant.org/endorsements
5) Join Socialist Alternative!
UPDATE: Here is some media coverage of the press conference and picket. Kshama and our red picket signs are quite visible:
Capital Hill Seattle Blog: Broadway Subway worker plans lawsuit over firing
KOMO News: Protestors picket local Subway, ask for higher wages
KIRO 7: Subway restaurant owner denies firing employee for giving free cookies
The Stranger: Lawsuit accuses Subway of firing worker for striking