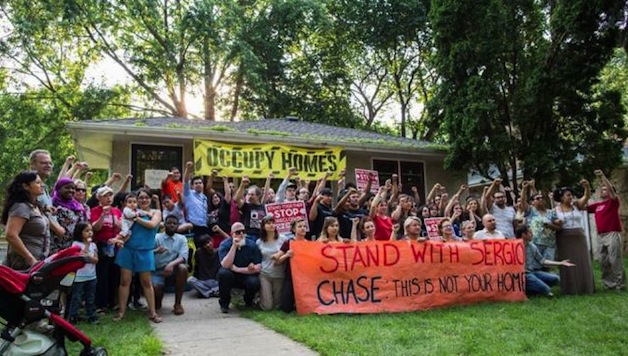 Ginger Jentzen, Organizer with Occupy Homes MN
The fight against foreclosures and evictions has become a key issue in Minneapolis city elections, largely due to the work of Occupy Homes MN and the Ty Moore for City Council campaign initiated by Socialist Alternative.
Calling for a moratorium on foreclosures, Moore, a leading activist in Occupy Homes, is running a competitive race in the 9th Ward, where Occupy Homes established an "Eviction Free Zone" in two hard-hit neighborhoods. The organized community pressure against the eviction of EFZ residents Jaymie Kelly and Sergio Ceballos is focusing the demand that JP Morgan Chase and the big banks renegotiate their mortgages, with payments to reflect the market value of the homes.
In July, the Ceballos family and community supporters were evicted by sheriffs, but quickly reclaimed their home. They continue to strengthen neighborhood defense in anticipation of a second eviction by Minneapolis police. Jaymie Kelly, a lifetime resident of Ward 9 and staunch supporter of Socialist Alternative candidate Ty Moore, is preparing her own community defense against the imminent threat of an eviction.
These events unfold a year after the Minneapolis police department forcibly evicted the Cruz family home at 4044 Cedar Avenue, garnering national media attention. Over $40,000 of taxpayer money was spent and 35 arrests were made. Building on this activity of combined home defense and direct action, the Kelly and Ceballos campaigns have pressured local politicians to take a stand on evictions. They demand that city officials not use taxpayer-funded police resources as bank security.
The strong grassroots campaign of Ty Moore has knocked on over 5,700 doors in Ward 9 and kept the public spotlight on this issue. It has challenged city councilors to enact a moratorium on foreclosures and halt the use of police resources to evict working families in the name of bank profits. If achieved, these two initiatives would have a big impact in South Minneapolis, and confirm what's possible when movements connect with an independent political voice against Wall Street dictates.
Cities like Richmond, CA, where officials threaten to invoke purchase by eminent domain if investors resist selling the loans on 624 foreclosed properties, offer a glimpse of the bold steps cities could take to protect their residents from Wall Street's greed. With the highest percentage of latino residents in Minneapolis – a community targeted by predatory lending – Ward 9 communities view recovery from the economic crisis as a distant goal, inconceivable while their neighborhoods are littered with vacant homes. Occupy Homes MN, Socialist Alternative, and the EFZ residents have forced housing instability to the forefront of the local elections, and the Ty Moore for City Council campaign highlights the need to combine direct action with a political challenge to the two big-business parties.