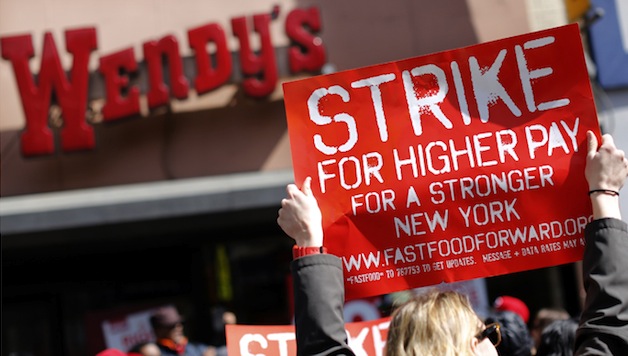 What's the first thought that comes to mind when you think about fast food? Is it the grease? The indigestion? Maybe it's a squeaky-voiced, pimple-covered teenager at the counter? That's what we tend to believe when we think about fast-food workers – that they're just teenagers working for some pocket change. Sadly, the reality is far different. In fact, the median age of a fast-food worker is 28 years old. (Huffington Post, 12/1/2012) While their median hourly wage is just $8.94/hour (National Employment Law Project Data Brief, July 2013).

These statistics, and the fact that most jobs being added to the U.S. economy are part-time or low-wage (Huffington Post, 8/21/2013) may seem depressing. But low-wage workers are not giving up. It's just the opposite; they're fighting back! Workers across the country, from New York to St. Louis to Seattle, have walked out of their jobs demanding better wages and the right to unionize! Backed by unions like SEIU, organizations like Fast Food Forward and Fight for 15 have sprung up in major cities across the country, beginning to show it is not impossible to organize fast-food and low-wage workers. SEIU assistant to the president for organizing, Scott Courtney, said in a recent Salon.com article, "The story is leverage in and of itself…the fact that workers are taking these risks I think is our leverage," (8/14/2013).
Nationally, the movement of low-wage workers is growing; the biggest actions so far were on August 29, spreading across the country. One of the areas where workers are showing the most leverage is here in the Pacific Northwest. Last year, there was a string of walkouts and rallies at local Walmart locations and, recently, non-union berry-pickers went on strike multiple times in order to secure better wages and working conditions, winning victories on both counts.
Like other cities, Seattle has seen strikes of fast-food workers. In June, a one-day strike was held, shutting down a handful of fast-food locations across the city. More recently, workers and activists have focused on the issue of wage theft, which is illegal yet rarely prosecuted in Seattle.
However, the most interesting development has been to the south of Seattle in SeaTac, a suburb of about 27,000, according to the 2010 U.S. census, and home to the region's largest airport. Workers at SeaTac Airport are paid the lowest wages of any of the West Coast's five major airports – just $9.19 compared to $13.45 in Oakland, $14.18 in San Francisco, $14.71 in San Jose, and $15.37 in Los Angles. Workers at these other airports also enjoy health insurance benefits, retention raises and paid time off, (Below the Radar, Puget Sound Sage, 3/2013). SeaTac employees enjoy none of those benefits. The Economic Opportunity Institute outlines the situation nicely:
"Menzies began contracting with Alaska in 2005 and, overnight, nearly 500 Alaska Airlines ramp employees, who earned an average wage of $15.59 per hour, were terminated and replaced with new Menzies staff who earned $10.17 per hour. Seven years later, the average non-supervisory Menzies employee makes an estimated $9.66 an hour, or over $12,000 less in annual earnings than Alaska ramp employees in 2005," (6/27/2013).
All the while, Alaska Airlines, headquartered there, enjoys massive profits.
Once again, workers have fought back and, with the help of a coalition of organizations including labor, they have managed get an initiative on the ballot that will ensure those workers receive $15/hour and paid sick leave! They even beat back a lawsuit brought by Alaska Airlines and other business interests trying to block the ballot initiative this fall!
These struggles show the way forward for low-wage workers and the working class in general. Through mass, collective action, the working class can win victory after victory; the victories above are just the tip of the iceberg. Additionally, workers need to support independent working-class candidates that come out of their ranks – like Kshama Sawant, an Occupy and Socialist Alternative activist running for Seattle City Council, who has become one of the strongest voices calling for a $15/hour minimum wage, not just in Seattle but in the entire region.