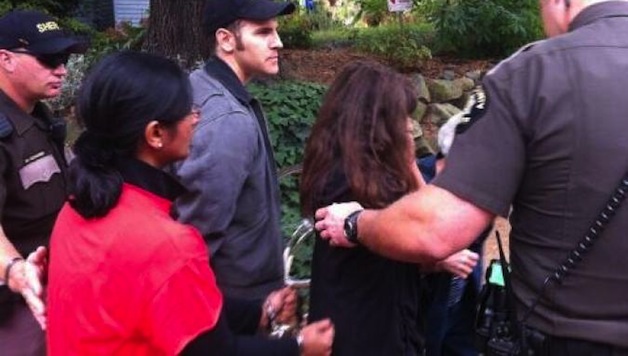 SEATTLE – Despite months of concerted efforts by construction worker Jeremy Griffin to negotiate with Wells Fargo, the King County sheriff arrived today at Griffin's home in Seattle to evict him. Jeremy Griffin has done everything he can to work with the bank to keep his home he's owned for 8 years, including writing a check for six months of advanced payment. Wells Fargo has flatly refused to negotiate because they can make more profits by reselling the home to a new homeowner.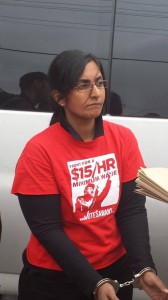 The anti-foreclosure group Stand Against Foreclosures and Evictions (SAFE), Seattle Socialist Alternative, City Council candidate Kshama Sawant, and other allies gathered at Griffin's home to peacefully resist the eviction. Four people were arrested at 1:15 pm, attempting to block the eviction – Kshama Sawant, Occupy activist Dorli Rainey, SAFE leader Josh Farris, and Sawant campaign supporter Lauren Tozzi.
The protesters who were arrested were released shortly thereafter. Unfortunately, the action was not able to stop the sheriff's department from evicting Jeremy Griffin.
Over 16,500 families have lost their homes in Seattle since the housing crisis began. One third of all Seattle homeowners are now under water, meaning they owe more on a mortgage than the market value of their home because of the collapse in housing prices. Sawant's opponent, City Council incumbent Richard Conlin, and other local politicians have done nothing to address the foreclosure crisis.
Kshama Sawant called "on everyone who believes that working people should not be kicked out of their homes to satisfy the banks' drive for profit to join the growing struggle against foreclosures and evictions in Seattle."
Seattle Socialist Alternative and the Kshama Sawant campaign supports a moratorium on home foreclosures and evictions and is fighting for rent control and affordable housing for all.
Local News Coverage