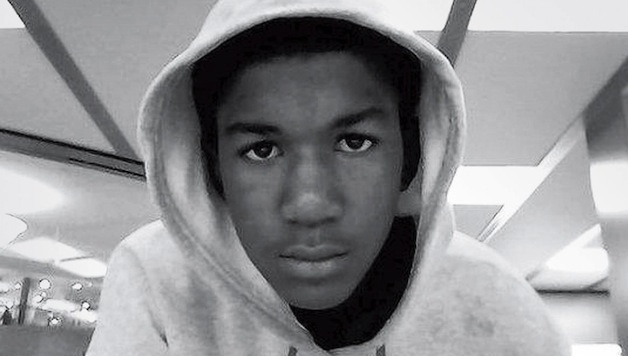 "I heard my son screaming." Sybrina Fulton, mother of Trayvon Martin, on the witness stand during the George Zimmerman trial, testifying she heard Trayvon's screams for help on a 911 call, July 5, 2013.
The trial of George Zimmerman, the self-proclaimed neighborhood watchman who killed 17-year-old African-American Trayvon Martin on February 26, 2012, is the most anticipated trial and verdict since the four police officers in the Rodney King police beating over 20 years ago.
Judicial Racism
This trial speaks to the deeper fissures of American capitalism and racism. George Zimmerman is on trial for second-degree murder, to which he pleads not guilty; he contends that he shot Martin in self-defense using the "Stand Your Ground" law in Florida. Zimmerman contends Martin attacked him that night.
The defense lawyers for Zimmerman are placing Trayvon on trial: in effect, a second killing of his name, character, and body. They look to tap into racial stereotypes of African-American "criminality" perpetuated by the mass media since the time of slavery and Jim Crow. By perpetuating this false narrative, they look to indict Martin and thus exonerate Zimmerman.
Since its inception, American capitalism has bred racism. It's an important tool for big business to divide and conquer working people, fostering a cancerous inferiority complex within communities of color and acceptance for the use of state-sponsored and extrajudicial violence against the so-called "other."
Recent events further emphasize this. This May in the Bronx, the judge in the Ramarley Graham case dismissed the charges against NYPD cop Richard Haste. Yet 18-year-old Ramarley was shot by the NYPD cop in his grandmother's bathroom, and he was unarmed. It was alleged he was attempting to dump marijuana down the toilet, yet no drugs were found. The judge decided to toss out the indictment against Richard Haste due to an "accidental" mistake by the assistant district attorney on the case when presenting the charges against Richard Haste to the grand jury.
Also, there is the more recent case of Marissa Alexander, an African-American mother in Florida who had just given birth nine days earlier. She also used the "Stand Your Ground" plea after she was attacked by her husband, whom she charged with physical abuse. Marissa fired a warning shot from a licensed and registered gun in her name, injuring no one. Marissa was sentenced to 20 years in prison.
The brutal history of injustice under Jim Crow and, under the racist drug laws, the continued mass incarceration of black and brown workers and youth under the label of "criminality" and "menace to society" demonstrate the scorn and indifference perpetuated by the institutions of American capitalism and the mainly white ruling elite. This leaves us asking the question: How can we find justice for Trayvon and countless victims of racial, class, and gender oppression?
The Trial
The six jurors are all female, predominantly white with one Latina juror. The prosecution brought up 38 witnesses during nine days of testimony that highlighted law enforcement experts and evidence that Trayvon's DNA was not found on George Zimmerman's gun and that Zimmerman's DNA was not found under the fingernails of Trayvon. This contradicts Zimmerman's self-defense augment.
The trial has highlighted the 911 tapes with the voices of George Zimmerman and Trayvon in the midst of their scuffle, Zimmerman's racist and stereotyped call to Sanford police about witnessing Trayvon walking through a gated community, and the Sanford police urging Zimmerman to stand down and not pursue Trayvon. The defense has begun to call witnesses to the stand on Monday, July 8.
Rachel Jeantel
Consider the insidious, racist, and sexist-tilted headlines put out by the corporate entertainment press and social media toward 19-year-old Rachel Jeantel. Rachel Jeantel was a friend of Trayvon Martin, and the last person to speak to him on that fateful night in February last year. Jeantel should be commended for standing her ground and defending Trayvon in the face of the probing and outrageous questions by defense attorney Don West, who attempted to poke holes into her version of the events of last February.
Rachel was attacked for her features, speech patterns, and usage of words like "creepy-ass cracker" – attributed to Trayvon describing Zimmerman following him that night. For many, particularly in the black community, liberal and conservative pundits, middle- and upper-middle-class blacks, she became a real-life manifestation of the highly problematic Hollywood film Precious – someone to be vilified.
As Mychal Denzel Smith, writing online for The Nation, states, "Rachel Jeantel isn't a Hollywood actress. She's not a trained professional. She doesn't testify in court regularly. She's a young black woman missing her friend. She showed up to court to give all the information she had as to what happened the night he died." Rachel Jeantel is the daughter of Haitian and Dominican parents, and English is, perhaps, her third language, so reading and writing would be a difficult task. So why attack Rachel Jeantel? Because she contradicts the narrative that defends the actions of George Zimmerman. Rachel Jeantel raised Trayvon's human quality as a person who treated her with a level of respect and dignity. Compare this to the way the court, media wolves, and capitalist society have attempted to portray Trayvon as the menacing "aggressor" and marijuana-smoking pothead.
After the Trial: Which Way Forward?
If justice is to be served, the protests and demonstrations must begin again to put pressure on big business, the court system, jury, and judge as closing statements begin in the next few days. The righteous fury of working people who want justice for Trayvon must be exhibited. It was the explosive grassroots protest nationally and internationally that forced the authorities to bring charges against Zimmerman in the first place. If we have learned anything from recent international workers' movements in Brazil and Turkey, it's that militant social struggle can push back and prevent the ruling elite temporarily from implementing their anti-working-class policies.
A guilty verdict would be very satisfying for the movement and the Martin family. It would give a sense of justice being served and strengthen the feeling of solidarity of working people of all races and ethnicities standing united against the senseless murder of another black child. However, we must also be prepared for a not guilty verdict, which would be a punch in the gut for our struggle against judicial racism and racial and class oppression. Whatever the verdict may be, we must be steadfast in organizing a new, vibrant, independent grassroots working-class movement that will put on trial American racism, sexism, class and gender exploitation and the system of capitalism.
Meetings, citywide forums, and nonviolent civil disobedience protests and pickets should be prepared immediately by activists, trade union members, community organizations, Occupy activists, and socialists to fully put into focus what the verdict means and how we must respond.
The haunting shadow of the Los Angeles or Cincinnati riots hangs over this trial; such explosive events will give big business and their police, prison, and surveillance apparatus the license to go on the offensive against workers and youth, particularly youth of color. What really strikes fear in the ruling elite is not a riot, but a strong movement with demands, organization, and leadership.
Commenting on the protests against the killing of Trayvon, Socialist Alternative warned about the likelihood of riots unless a movement was organized against police and extrajudicial violence:
The question that stands before our communities is: If justice is not served, will we see a replay of the events in L.A. or Cincinnati, or can we direct this anger into a powerful movement for liberation? If we stop our grassroots organizing, a Los Angeles or Cincinnati explosion will surely take place. We must keep in mind that the Black Panther Party for Self-Defense, with its platform of economic justice, was born in October 1966 after the Watts Riots of 1965. The time is now to construct independent community organizations that will fight back against racial and class oppression, organizing block by block and school by school, ("A Cry for Freedom The Struggle against Racism and Capitalism," 4/27/12).
The death of Emmett Till became the inspiration of the modern civil rights movement; this August marks the 50th anniversary of the March on Washington for Jobs and Freedom. We must make Trayvon, Marissa, and Ramarley our rallying cry today to dismantle the system of American capitalism and racism.
A Program to End Police Violence, Extrajudicial Violence, and Racism
End the racist war on drugs. Release from prison all those convicted of minor drug offenses.
End police violence, racial profiling, and other racist practices such as "Stop and Frisk."
Create democratically elected community review boards with full power to oversee law enforcement and public safety, with the right to recall officials.
Invest in rehabilitation, recreational centers, job training, and living-wage jobs, not prisons or detention centers!
End mass unemployment, poverty, and inequality, which are the basis of most crime, by creating decent, living-wage jobs for all through a massive public works program and fully funding education, health care, and social services.