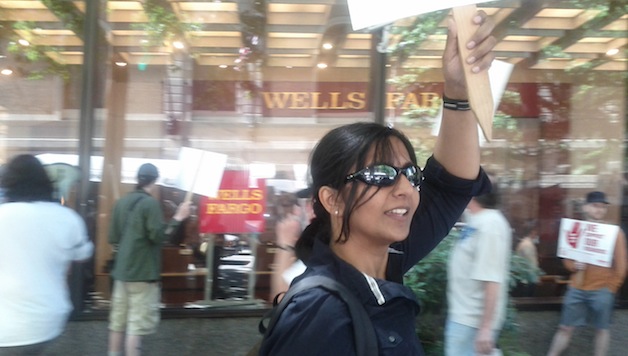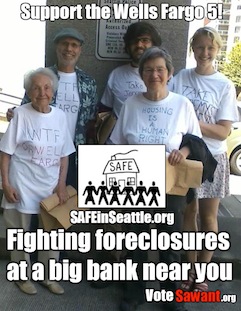 Just after noon on Tuesday, July 2nd, two groups of housing activists converged on a Wells Fargo branch in downtown Seattle. One group of 35, including Socialist Alternative City Council candidate Kshama Sawant, approached from the street, chanting loudly and carrying signs with slogans like "Let Jeremy Pay to Stay!" and "Housing is a Human Right!". At the same time, five of us quietly entered the bank through the back door and pulled on white t-shirts bearing similar slogans while making our way to the front. We sat down with our backs to a wall facing the row of tellers, and over the noise of the protest outside, began to sing, "We Shall Not Be Moved".
This one-two-punch protest was organized by SAFE (Standing Against Foreclosure and Eviction, a Seattle housing justice group. For the past six months, we have been helping Seattle resident Jeremy Griffin defend his home against bank greed. Griffin lost his job as an iron worker during the recession and fell behind on his mortgage payments, but is now employed again and is trying to get Wells Fargo to accept a check for $7,200 as an initial payment on a renegotiated mortgage.
Wells Fargo have ignored his repeated pleas to work out a payment plan and are instead moving ahead ruthlessly forward with the eviction. This is a clear example of the senseless and inhuman way in which capitalism operates. Big banks like Wells Fargo would rather uproot hardworking people out of their homes and destroy communities, than renegotiate with them. Over a hundred homes are sold at foreclosure auctions in King County every week. This means over a hundred families are kicked to the street every week.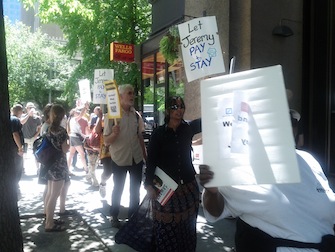 The five of us sitting inside the bank refused requests by the manager, and then Seattle Police, to leave. Finally, we were asked individually if we were going to exit the bank willingly or be arrested. Each of us replied, "If Wells Fargo agrees to negotiate with Jeremy, I'll leave." We were then arrested and led in handcuffs past the cheering, chanting crowd outside and into police vehicles.
Jeremy Griffin arrived straight from work as the arrests were taking place and began speaking to the crowd through a megaphone, explaining his struggle and demanding the bank accept his offer.
Among those arrested with us was Dorli Rainey, octogenarian and longtime Seattle activist, who was brutally peppersprayed by Seattle Police at a peaceful Occupy protest in 2011. Rainey has endorsed Kshama Sawant's grassroots campaign for Seattle City Council.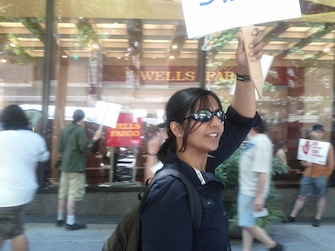 All of us were released soon after, but Wells Fargo could still press charges and keep us busy in the courts. Our best defense is for the movement against foreclosures to grow larger so that it can force the banks and the city and county political establishment to back down. SAFE is planning escalated actions in the near future, including an eviction blockade at Jeremy's house.
The Kshama Sawant campaign for City Council is in solidarity with SAFE. As an activist with the campaign and with Socialist Alternative, I believe that working people need our own political voice to fight against foreclosures and evictions, homelessness, poverty, and low wages. Our campaign for City Council is the only one in Seattle calling for a $15/hour minimum wage, a tax on millionaires to fund mass transit and public education, and for affordable housing and rent control. The campaign will continue to work with SAFE activists to prevent Wells Fargo from evicting Jeremy.
Kailyn Nicholson is a member of the Kshama Sawant campaign for Seattle City Council and Socialist Alternative. She is also an activist with SAFE (Standing against Foreclosures and Evictions). She was among five activists arrested at a sit-in protest inside Wells Fargo bank in downtown.