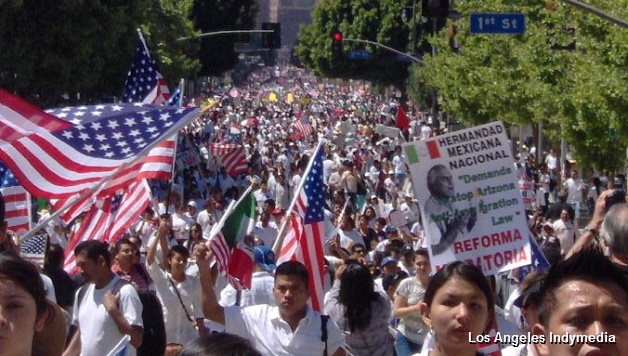 This year's May 1st, International Workers' Day, was marked by hundreds of thousands marching to support immigrant rights. In over 80 cities across the U.S. actions included marches, rallies and student walkouts as well as civil disobedience. Following on the heels of the 200,000 strong March 21st immigrant rights rally in Washington DC, the movement had already been developing momentum due to the built up frustration on lack of action from Congress or the Obama White House. The recent passage of the racist anti-immigrant law SB 1070 in Arizona just added fuel to the fire, all but promising the May 1st demos would be much bigger than previously anticipated.
SB1070 requires Arizona law enforcement to question the immigration status of anyone they suspect might be without legal residency status. It constitutes nothing less than a green light for racial profiling against anyone that looks like a Latino, whether they have legal status or not. If this were not enough, Arizona also passed legal provisions banning heavily accented teachers from teaching English. Then they also banned any sort of ethnic studies courses in schools lest they teach resentment, "promote the overthrow of the U.S. government, are designed primarily for students of a particular ethnic group or advocate ethnic solidarity instead of the treatment of pupils as individuals" (AZ Daily Star 29 Mar 2010).
Ten other states are considering similar laws. The Republican candidate for Governor in Alabama, Tim James is running ads that say: ""This is Alabama. We speak English here. If you want to live here, learn it,"" promising that if he were Governor he would require drivers license exams to be delivered in English only.
All this happened immediately before the May 1st demonstrations. Many who came to protest on May 1st correctly saw these measures as unabashedly racist. Guadalupe Concepcion, a 22-year-old student at the Chicago demonstration said, ""The Arizona law is just plain racist. It happened with African-Americans in the past, and now they want to do the same thing with us.""
According to the New York Times, the protest in Los Angeles was estimated at more than 50,000. Chicago and Dallas were estimated at over 20,000. Signs in the Chicago rally included ""Being brown is not a crime"," and ""Hey, Obama! Don''t deport my mama.""
Across the country many also chanted their frustration with Obama''s failure so far to deliver on his promises: ""Obama, escucha! Estamos en la lucha!"" meaning, ""Obama listen up! We are engaged in the struggle!""
Rallies in Houston, Atlanta, Milwaukee and Minneapolis each drew up to 5,000. Some 3,000 or more went to a Boston-area march. In Washington DC, some politicians and labor leaders held a sit in on the sidewalk in front of the White House with a crowd of thousands behind them. Then in Ann Arbor, Michigan, over 500 people organized a mock graduation ceremony for undocumented immigrant students near the site of Obama's University of Michigan commencement speech.
No doubt affected by the outrage shown on the May Day demonstrations, the Phoenix Suns basketball team even announced they would be wearing special ""Los Suns"" Jerseys for Game 2 of their NBA playoff series against the San Antonio Spurs, in solidarity with immigrants under attack. Numerous other high profile organizations, under pressure from the public outcry against the racist Arizona laws, have also announced they would honor a boycott of Arizona.
These were the largest protests since the immigrant rights movement erupted in 2006 with the biggest protest wave in U.S. history, drawing millions onto the streets against racist anti-immigrant legislation passed by the House of Representatives. On May 1st 2006 an unprecedented national political strike of immigrant workers took place demanding unconditional amnesty for all undocumented workers. But the protest movement was not sustained after the provocative legislation in Congress was defeated.
Inaction in Congress
The Democrats' response to the immigrant rights movement so far is to offer terrible legislation that emphasizes militarization of the border and dramatic increase in enforcement across the country. Even without these new measures, the Obama administration has racked up 100,000 more in deportations in their first year than Bush had in 2007.
The Washington Post reports: ""The Democrats' legislative ''framework'' includes a slew of new immigration enforcement measures aimed at U.S. borders and workplaces. It would further expand the 20,000-member Border Patrol; triple fines against U.S. employers that hire illegal immigrants; and, most controversially, require all American workers – citizens and non-citizens alike – to get new Social Security cards linked to their fingerprints to ease work eligibility checks.""
Though not introduced in the Senate as of yet, the bill that is in the works, led by New York Democratic Senator Chuck Schumer, also includes a Guest Worker Program, a program amounting to legalized indentured servitude for immigrant workers while still severely restricting their civil rights. The one part of the bill that is supposed to be more progressive is the so called pathway to legalization, which requires undocumented immigrants to pay thousands of dollars in fines and then potentially go back to their home country, separating from their families, jobs, and communities, to begin a lengthy process of applying for residency status.
This has led a growing section of grass roots immigrant rights activists to be sharply critical of Obama and the Democrats, creating clashes with the established national leadership of the immigrant rights movement whose central strategy is to lobby and align with so-called allies in the Democratic Party leadership. Conscious that much of the grassroots immigrant rights movement is demanding full legalization for all undocumented immigrants, something the Democrats are not prepared to deliver, these national lobby organizations have attempted to popularize the vague and limited slogan ""immigration reform"" which allows politicians to define what ""reform"" is.
In fact Obama and the Democrats are kicking the can down the road, saying it will be tough to introduce any legislation before the 2010 elections. Given these indications, many of the newly politicized activists are not waiting around for politicians to act out of their own volition.
A Cincinnati bartender who helped organize an unexpectedly large immigrant rights rally back in January said: "Lately, this year, and the final months of last year I've seen many Latinos … including many who can't yet speak English, who are informing themselves, and are organizing and making themselves heard on immigration" (New America Media 22 Feb 2010).
Clearly, the shortsighted politicians in Arizona miscalculated. Looking for some cheap votes by whipping up anti-immigrant fervor, they have instead provoked a massive backlash from among the most oppressed section of the American working class. This movement is not going away anytime soon. Noting the sharpened mood among immigrant workers and allies on the demonstrations across the country, New York labor organizer John Delgado remarked: ""I want to thank the governor of Arizona because she's awakened a sleeping giant" (Los Angeles Times 2 May 2010).
Socialist Alternative participated and helped build for May 1st protests across the country, distributing thousands of leaflets putting forward a socialist and working class strategy to take the immigrant rights movement forward. Click here to read the text of the leaflet in English or Spanish.