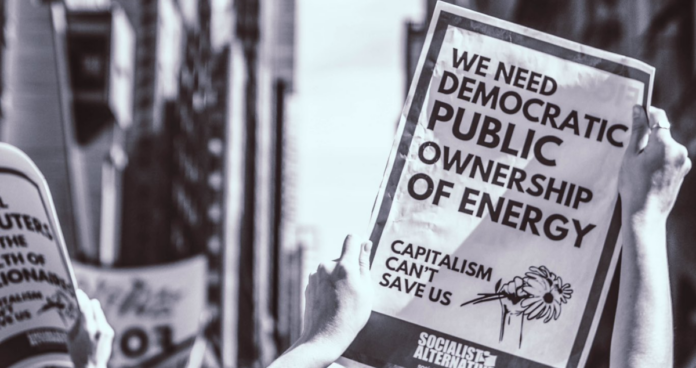 This past weekend, members from Socialist Alternative in New York City joined over 75,000 protesters to march across Manhattan in response to the complete lack of response to the climate crisis by Biden and other world leaders, as the UN prepared for their annual General Assembly.
Socialist Alternative members marched alongside unions, student groups, and community organizations, calling for working-class solutions to the climate crisis. As we experience the ever-growing impacts of climate change, it's clearer than ever that we need democratic public ownership over energy companies and big polluters, and a Green New Deal to provide good union jobs and effect a full transition to clean energy.
This was the largest climate demonstration since Biden took office. Students and organizations from up and down the East Coast bused into the city to march – people attended from Massachusetts, Rhode Island, Maine, New Jersey, Pennsylvania, DC, Virginia, and New Hampshire, as well as some international protesters!
Independent, socialist presidential candidate Cornel West attended the march. West is the only candidate running for President that calls for the nationalization of the fossil fuel industry and an immediate transition to green energy. This stood in stark contrast to the approach put forward by the protest's official organizers, who called to "make Biden do something" and mainly pointed to registering to vote, and voting for Democrats. However, part of the immense frustration of workers and youth at this protest was the fact that the two parties of the billionaire class have so far been both unwilling and unable to do anything to fight climate change – and continuing to vote for them won't be effective.
August was just labeled the planet's hottest on record according to NOAA, with both June and July breaking records as well. So far this year, the US has experienced 23 separate weather and climate disasters, including Southern California's first ever tropical storm watch during Hurricane Hilary and the catastrophic wildfires on Maui last month.
We need to fight for a Green New Deal that provides union jobs at living wages, expanding green infrastructures, democratic public ownership of the top 100 polluting companies, a major expansion of public transportation that doesn't cost $2.90 a ride, and much more. To most effectively wage this fight we need an independent workers party rooted in our workplaces, schools, and social movements. To put an end to the continued damage big business and the billionaires are doing to our environment we need to fight for a socialist world.