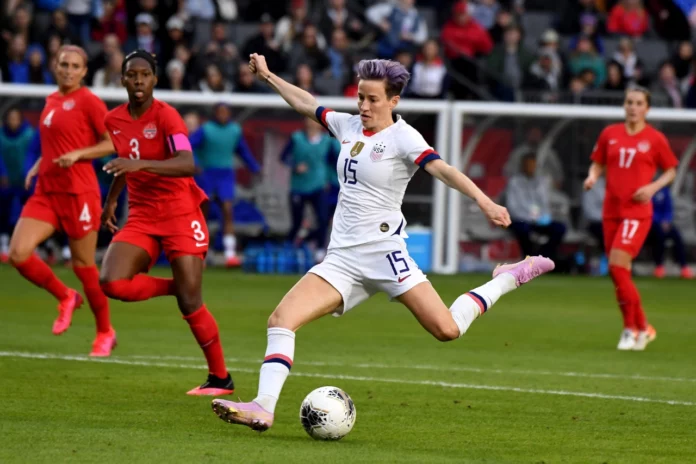 FIFA greed, ACL injuries, elite players fighting for a greater professional environment free from sexism. Even more than who could win at each stage, these are the main discussions swirling around the Women's World Cup beginning this July in Australia and New Zealand.
It's a lie that women's sports aren't popular. More than 29 million women and girls are playing soccer across the globe, women's soccer is drawing larger and larger crowds and viewership, and victories against sexual harassment and the struggle for equal pay have taken an international stage, highlighting the fight against the massive disparity of resources into the men's programs.
Collective action has been crucial in these victories: after threats to cancel games and chants for "equal pay" at international tournaments, the U.S. Women's National Team (USWNT) won a landmark equal pay agreement in 2022, including $24 million in backpay. As a result, the women received a share of the pot from the men's 2022 qualifying stages that was more than the USWNT players had been paid for winning two previous World Cup championships. Canada Soccer won an equal pay collective bargaining agreement after threatening to strike. England, Ireland, Norway, and Spain have reached similar deals with the leverage of increasingly popular programs and exploding viewership which has competed with or exceeded the men's programs.
In the fight for equal pay, the USWNT collaborated with other athletes in negotiations, including women's hockey, WNBA players, the Canadian, Irish, and other international football teams. However, equal pay is still not guaranteed at every level, so the fight continues.
Despite advances in professionalism and a greater intolerance to sexual misconduct, players resoundingly say FIFA and their club level leagues have a long way to go to address player safety, on and off the pitch.
Professionalizing Women's Soccer And The Fight For Well-Researched Women's Healthcare
The player's push to professionalize has given rise to more leagues and more opportunities to play — but decades of underfunding have resulted in a troubling escalation of injuries. In an attempt to build pressure for more research, players have volunteered to jumpstart studies to find injury-preventative training methods specific to women.
Women soccer players are six times more likely than men to experience an ACL injury – a serious injury needing 6 months to a year to recover. A shockingly high number of top players are unable to participate in this year's tournament, waylaid by such injuries, including England captain Leah Williamson, Vivianne Miedema of the Netherlands and Arsenal, Ballon d'Or winner Alexia Putellas, with many more coming back after a long road of recovery, like U.S. player Christen Press.
To be clear, demands for greater investigation into injuries suffered in women's sports should not give any oxygen to the current culture war being waged by the right wing in the United States against trans youth in athletic programs. Youth players should be able to play within the leagues corresponding to their gender identity, which does not take away from the need for deeper investigation into how to train women players on injury prevention from youth to elite clubs. It's now widely accepted that menstrual cycles make players more vulnerable to certain injuries, but the how and why are still unclear. Finding such answers should be a no-brainer aspect to a genuine investment into women's healthcare.
The Yates Report: Exposing Sexism
For years, player's reported cases of sexual harassment led to no changes within the National Women's Soccer League (NWSL) in the United States. That was until the USWNT threatened to boycott a tournament resulting in the Yates Report on abusive behavior and sexual misconduct. The 173-page investigation led to the firing of several U.S. coaching staff, including Paul Riley from the heavily accoladed Portland Thorns, North Carolina youth and NC Courage programs. Alongside Riley, three other top coaches were permanently barred from participation in the league, with other firings and owners forced to step away from the league.
In one striking example of what players have withstood, look at Christen Press. While she was gaining international popularity during the 2019 World Cup, she and teammates Megan Rapinoe and Becky Sauerbraun were negotiating for equal pay with their USWNTPA bargaining committee. At the same time, Press was still forcing an escalation of her own allegations of repeated abuse. Chicago Red Stars coach Rory Dames was exposed by the Yates report that found Dames fostered a "sexualized team environment" from the youth to professional level.
Press' first complaint was in 2014. Dames wasn't even fired in 2021, he was "forced to resign"!
Soon after Press and Sauerbraunn returned to Utah Royals after winning the 2019 cup, the club fell apart under misconduct allegations of owners pushing "sexy" photoshoots and calling Sauerbraunn "too ugly" to be featured in promotional material.
Abuse isn't unique to the NWSL. France's captain Wendie Renard and two other players refuse to play at the upcoming World Cup under the team's current coach, which might result in a staffing change now that the head of the French football federation has resigned under allegations of sexual misconduct. In Spain, fifteen players are refused to play under what they cite as bad coaching methods that affect their mental health – the Spanish Federation has backed the coach. Norway's star forward Ada Hergerberg left the game for five years in demoralization from the lack of support and leagues not taking women seriously.
If elite athletes struggle to achieve justice against sexual misconduct in high-profile sports, what does that say about the chances of ordinary women receiving justice in the workplace or against street harassment? Wider and deeper victories during the MeToo phenomena were limited, some individual abusers lost their position or were "canceled," pyrrhic achievements when the culture of abusers remains in place. Systemic change in women's sports will come only with ongoing, consistent organizing, and players democratically deciding on the restructuring of league governing bodies.
Brave reports from US gymnastics athletes led to the conviction of Doctor Larry Nassar and resulted in the creation of the United States Center for Safe Sport in 2017. However, the Yates findings reported that in one year, Safe Sport found resolution in only 8% of cases brought forward. Safe Sport has been criticized for being understaffed and not fully independent from the US Olympic Committee. The players' unions have provided most of the solutions and organized pressure that have resulted in changes to address rampant sexism, including greater protection for reporting, codes of conduct, and follow-up after allegations are made.
However, the root and branch issues of societal sexism, integral to the capitalist system, mean the sports federations are not immune and will only continue to change under massive player pressure, supported by a growing network of fans getting organized to build broader community action, even strikes. The same way that the USWNT union has shown global leadership on equality, women's soccer unions can continue to lead the fight against sexism and abuse, as well as for investment into women's sports.
FIFA is a Comically Corrupt Cartoon Villain That Doesn't Care About Women's Rights
Women's football is popular but we can make no mistake about the Federation Internationale de Football Association (FIFA) and its president Georgio Infantino: they plan only to cash in, not to protect, defend, or improve the women's (or men's) game. FIFA even has a "Male Football Ally of the Year" award!
After years of denigrating, devaluing, and under-promoting women's soccer, FIFA succumbed to pressure and finally announced that the prize fund for the women's competition will match the men's by 2027.
Does this mean the institution's culture toward women's sports has changed? Infantino's predecessor encouraged players to "wear tighter shorts" because women soccer players are "pretty." FIFA has named former supermodel Adriana Lima as official fan ambassador for the World Cup, to a general public and player response of "why do we need a supermodel?" Meanwhile in reality, England and New Zealand have used their unions to change their uniforms, no longer wearing white shorts to give players greater confidence while menstruating.
And only after months of players expressing disgust at Saudi Arabia's record on women's rights did Infantino finally reverse a decision to include "Visit Saudi Arabia" as a main World Cup sponsor. Qatar, Russia, Saudi Arabia and other countries "sportswash" their records of human rights abuses with bids to host or sponsor international events. In case this slipped under the radar, U.S. Senator Joe Manchin tried to sportswash his own record by introducing a bill in support of the US women's soccer team in their equal pay fight.
Infantino recently tried to awash himself in feminism to extract greater broadcasting fees from the European market for the Women's World Cup saying that the money on offer was unfair to the women and the tournament. FIFA sits on more than $1 billion.
BBC sports writer Suzanne Wrack correctly shared scorn for Fifa's cynicism toward the women's game.
Wrack writes,
"In terms of broadcast rights, the longtime bundling together of the rights, and commercial rights, for the men's and women's World Cups, up to and including the 2019 World Cup, has meant that Fifa has engineered a culture which has attributed no value to women's football. Previously, broadcasters and sponsors got a two-for-one deal, with the women's tournaments thrown into the mix as a bonus. All the value in those deals was attributed to the men's tournaments. Never mind that 1.12 billion viewers watched the women's World Cup in 2019, about 31% of the 3.572 billion who watched the men's in 2018 – the prize fund for the women's tournament was 7.5% of the men's."
Larger broadcasting fees are only marginally about the women's prize money. FIFA is an unaccountable and unelected organization broadly seeking to enrich its own members. Recent corruption scandals led to a rotation of leadership but the governing body's methods remain the same. Without players' and organized fan action, nothing will change. Without player control or the opportunity to recall FIFA representatives, we will continue to see corruption cases and sexist ploys for viewership.
Women's Sports Under Socialism?
In the fight for a better world, dismantling capitalism means taking away the economic motive to exploit the majority of people on Earth. Shorter work weeks would mean more people could be employed to spread the work, resulting in more leisure time outside of work to participate in society and activities. Recognizing the familial and household work, the majority of which is performed by women and goes unpaid under capitalism, would also be a major step toward providing equality in free time for women who want to be athletes. In the fight for this better world, we could all be more engaged in building the democratic structure of our neighborhoods and workplaces – and sports programs.
While this is a struggle into the future, we could today immediately take the private, for-profit teams and clubs into public ownership. Some NWSL players have even suggested this. A legacy of public ownership in the Premier League in Britain was a motivation behind massive fan protest against FIFA's attempt to create a further privatized, billionaire-venture "Super League" in 2021. Thousands of vocally disgusted fans and players sank the project.
Men's sports are not immune to emotional and psychological abuse. FIFA, the NFL, the NCAA, and sports federations across the globe will encourage or ignore a toxic psychological environment, from youth programs upward, unless players stand in the way of these federation's ability to profit from the network of massive brand and advertising deals.
Equal funding for sports from birth to the professional leagues, with programs shaped by the needs of women athletes, would go far to quickly transform the professionalization of the women's game. Players' unions at all club to professional levels are a crucial tool in the fight against toxic environments and abusers. Public ownership, elected and directly recallable governing boards made up of players and former players, not billionaires. These are steps that can be taken today as we fight for greater expansion of equality in women's sports, inspiring struggle in the broader battle against sexism under capitalism, in the fight for a socialist restructuring of society.