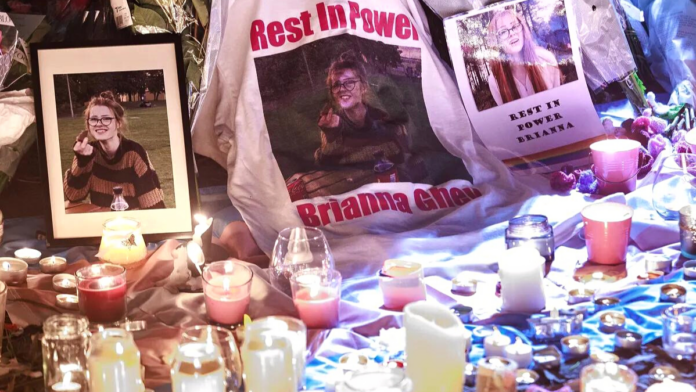 Originally published at socialistalternative.info.
The horrific murder of Brianna Ghey has been met with a wave of sorrow, grief, and anger across society, but most of all among trans and LGBTQ+ people. There is grief for the terrible loss of a young trans woman who had so much life ahead of her. And there is anger – rage – at the daily transphobia pumped out by the Tories in government, normalized in constant 'debates' in the media designed to undermine the validity of trans identities, and reflected in the police's refusal to acknowledge what is plainly obvious – that this was almost certainly a hate crime. To all those grieving Brianna's loss, Socialist Feminist Alternative sends solidarity.
Even in the aftermath of such a horrific killing, there has been no let-up in this campaign of hatred. Just a day after the news broke, the Times carried an article that misgendered and dead-named Brianna – a sickening reminder that those perpetuating this narrative are unphased by its real-life consequences.
This awful murder shows what the hostile political environment that has been created for trans people means in practice. It means more abuse, more violence, and more trans lives cut tragically short.
The crisis-ridden Tories have made transphobia a central part of their phony 'culture wars' strategy. Here, they are seeking to whip up and play on deep-seated prejudices that have their roots in the capitalist system the Tories defend. Capitalism relies on and reinforces patriarchal gender norms and has transphobia built into its DNA.
Sickeningly, Labour under Starmer's Blairite leadership also echo the right's transphobic tropes. The party has even refused to clearly condemn the Tory government's unprecedented intervention in Scotland to block the GRR law that would improve rights to self-identification. In doing so, they not only attack trans rights but also democratic ones. Their position also means in practice that Brianna would be further robbed of dignity and likely to be misgendered in her death certificate due to gender recognition laws.
As socialists, we stand with all those who suffer oppression under this system. We can't rely on pro-capitalist politicians of any variety to defend trans lives. Instead, we need mass struggle to stamp out transphobic violence and fight for full trans rights now. The huge and militant trans pride events which have become a central part of the calendar show there is massive potential for such a movement to be built.
As a starting point, protests, walkouts, and occupations should be organized to demand justice for Brianna and fight for full trans rights now. With International Women's Day approaching on March 8, this has the potential to be an important day of protest and solidarity against gender violence and LGBTQ+phobia.
In the context of a strike wave, linking up this struggle with trade union battles and fighting for the workers' movement to use its power to defend trans people, is all the more essential. Before Brianna's murder, Socialist Alternative members passed motions in six union branches representing thousands of workers calling for their unions to actively join the fight for trans rights in opposition to the Tories' attack on Scottish trans rights legislation.
Mobilizing the trade union movement to play a full part in this struggle could be a valuable way of building solidarity and a united movement against the Tories that constantly seek to divide working class people and scapegoat trans people, refugees, and striking workers (nurses outrageously been accused of killing patients because of their strike for decent pay and conditions). Here, our movement can follow in the footsteps of LGSM and build on the best traditions of solidarity – an injury to one is an injury to all.
We Say:
• Justice for Brianna Ghey and for all those lost to transphobic violence. Strike, protest, and occupy to say 'not one more!'
• Defend the Scottish Gender Recognition Reform Bill and extend it throughout the UK! The Scottish Parliament must defy the Tories' anti-democratic and reactionary maneuvers
• Ban so-called trans 'conversion therapy'! Immediately scrap all barriers to legal self-identification of gender. Fully fund trans healthcare and our NHS, stop the attacks on puberty blockers. No to divide-and-rule within the LGBTQ+ community and in the workers' movement more generally
• Invest in public education and fight for LGBTQ+ inclusive sex and gender education!
• End the housing crisis that disproportionately impacts trans people. For permanent genuine rent controls, increased tenant rights, and a mass construction program of public and affordable housing!
• Build fighting trade unions in all workplaces to end transphobia and discrimination in the workplace and unions
• Build a mass movement against transphobia, LGBTQ+-phobia, misogyny, racism, and all forms of oppression. For a socialist society where resources and wealth are owned by working class people for the benefits of ordinary people, not the billionaires