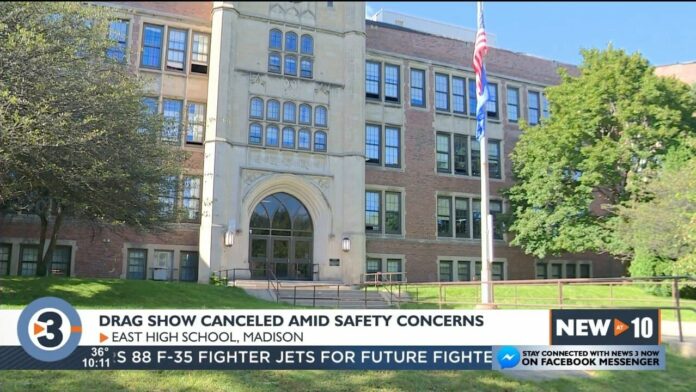 On January 9, Madison East High School announced that it would postpone its student-led Drag Show amidst safety concerns. Advertised in the school newsletter as "East's first annual, (family-friendly) drag show intended to celebrate, affirm, and support EHS students and staff in our LGBTQIA+ as well as our larger school community," it wasn't long before the event garnered national media attention after screenshots of the newsletter began circulating on Twitter.
Viciously reactionary Twitter hate account @LibsOfTiktok, which is run by Chaya Raichik and has been suspended multiple times for hate speech and targeted harassment, shared a screenshot of the newsletter promoting the event. The post received over a million views, thousands of retweets, and hundreds of homophobic and racist comments – even attracting the attention of former Wisconsin Governor Scott Walker.
Some commenters were implicitly calling for violence, with one writing that the "Twitter guidelines" prevented them from saying what they wanted to say. A few called explicitly for violence, and hundreds went to Madison East's Twitter page to harass them.
Drag shows and Drag Queen Story Hours have been the target of the far-right for months now, with the @LibsOfTiktok Twitter account playing a central role in circulating information about schools, libraries, and small businesses who are supposedly "grooming" children by being inclusive of queer – especially trans – individuals. Drag shows across the country have been canceled citing safety concerns, with many citing verbally abusive protestors. In September, around 30 armed protestors showed up to a Drag Show in Memphis, TN. Given the implicit and explicit calls for protests and violence directed at East High School staff in early January, and the norm of intimidation and violent suppression by the right wing, it's no wonder that the safety of students and performers became a real concern.
Unfortunately there is little concrete support given to queer people from liberal or self-described progressive institutions. The New York Times, The Guardian, and The Atlantic have all published transphobic opinion pieces this year and cast doubt on the validity of gender transition care for minors. The Democratic Party establishment repeatedly shows us that they aren't willing to do what it takes to protect trans youth. Hillary Clinton openly proclaimed last summer that transgender rights should not be a priority for Democrats. The Biden Administration has also done nothing to fight a federal appeals court's decision to allow discrimination against queer people by healthcare providers on religious grounds.
The threat of far-right violence is a very pressing concern for queer people and their families. Without a mass movement to force these reactionary groups off the street, the burden is put on individuals to make difficult decisions to protect themselves. One of the most tragic examples is the ongoing exodus of families of trans kids from Texas after Governor Greg Abbott changed state guidelines to equate gender-affirming care to child abuse. But a majority of working class people don't have the means to uproot their entire lives to protect their kids, leaving parents having to decide between supporting their children and paying their bills. These threats cannot be met with silence.
When the community gets organized, in the hundreds, thousands, or tens of thousands, to shut down the far-right, we can win. Just last month, right-wing protestors bailed on their planned disruption of a drag show in Aurora, IL after community members showed up in force to support the event and the queer community. Broad-scale mobilization is the key to undermining attacks from the right wing.
After the event at Madison East was canceled, @LibsOfTiktok declared victory on Twitter, claiming "The only safety concern is for children who are being exposed to inappropriate adult entertainment in schools." Though EHS advertised the event as family friendly, and drag shows are rarely sexually explicit in content, it's clear that this is another instance of reactionary fear-mongering about queer "grooming."
Chaya Raichik, with her @LibsOfTiktok account, has taken up a high-profile campaign against queer teachers and students, with numerous doxxing campaigns of queer teachers. Raichik was recently interviewed on Fox News, and expressed her heinous views very simply: "They're just evil people, and they're out to groom kids."
The celebratory reaction from Raichik's supporters in response to another canceled event shows that backing down to right-wing intimidation only emboldens the proponents of this approach. If we hope to defend ourselves against escalating right-wing violence, we have to prove that queer people can't be bullied underground.
Since schools are one of the key battlegrounds the right has chosen, workers and students can provide a model for what a real fight back can look like. Where schools and districts are targeted by attacks on LGBTQ people, student organizations, educators' unions, and community organizations must organize mass protests and walkouts demonstrating broad, working-class solidarity. If the students in the Madison East High School GSA organized a solidarity protest, Madison Socialist Alternative would support them, and we call on all progressive and left forces to join in active support.
Critically, defending queer rights in schools and elsewhere requires the full participation of organized labor. Teachers' unions in Madison could put out statements of support and urgently call for protests and walkouts in solidarity with student organizations at Madison High Schools, UW Madison, and Madison College.
Just one demonstration will not be enough to kick the right-wing off the offensive. A demonstration in Madison could, however, show what is necessary and provide a much-needed morale boost to the movement. Local actions should be linked with a nation-wide struggle for queer rights against right-wing populist violence. A coordinated national day of protests in solidarity with queer and trans people could have a decisive effect in undermining the confidence of the reactionary right, and would illustrate that anti-trans rhetoric is not as popular as voices like Tucker Carlson and Chaya Raichik might imply.