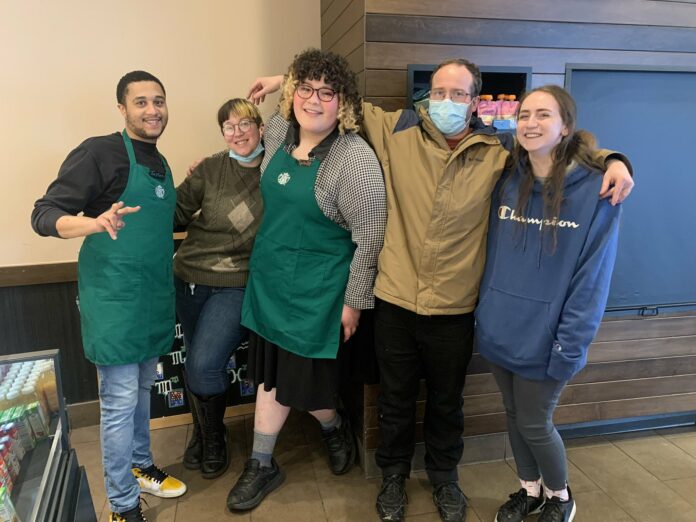 My coworkers and I at the Starbucks at Chicago Ave. & Main St. in Evanston, IL voted unanimously (12-0) Thursday to unionize with Starbucks Workers United. We are excited to join this movement of over 250 Starbucks stores that have voted to unionize over the past year, and proud to be the first store to unionize in Evanston.
This is the fifteenth store in Illinois to join the union (although currently there are 14 union stores, because the store at Bryn Mawr & Winthrop in Chicago was closed by Starbucks in October, just days before their first bargaining meeting was scheduled). We look forward to working with stores across Illinois and particularly our neighboring union stores in Skokie, Glenview, and Chicago, IL to continue to build and strengthen this union.
Baristas at Chicago & Main in Evanston began organizing in October, inspired by the union victories here in Chicagoland and across the country, and further motivated by the wave of coordinated strikes in November and December. Like many Starbucks workers, we suffer from chronic understaffing at our store, and are often very overworked, with two or three baristas expected to perform the labor that should be shared by four or five during the busiest times.
Inconsistent scheduling is another big issue for us, and particularly not getting enough hours. This is made worse by the fact that at Starbucks, if workers don't get scheduled an average of 20 hours per week we risk losing our benefits, including health care. Also like most food service and retail employees, we deal with a great deal of mistreatment and harassment by customers, on top of an already difficult and fast-paced job.
We want to be protected against workplace harassment and other incidents, and we want a decent, living wage, which feels particularly urgent to fight for in the context of the past year's inflation and the uncertain economic situation today. All of this played into our decision to organize our store and join the movement.
Workers at our store know what we want and are prepared to fight to get it. At the same time as we met to talk about collecting cards and building the union drive, we democratically decided on our main demands. Doing this helped us cut across the boss' lies about unions being an unnecessary "third party" that only takes dues money. Our main demands are:
$25/hour base pay for all Starbucks workers, with a raise of at least 20% for all existing employees
Annual raises of 10% plus cost-of-living-adjustment
Full benefits for all workers, regardless of hours, beginning on day one
Fully staffed workplaces at all times, with a higher labor budget for stores if need be to meet with the actual physical demand
Consistent scheduling with a guaranteed minimum and maximum number of hours
This is only the beginning of what we hope to win by joining this union and fighting for a strong contract!
After talking to a strong majority of workers in the store to confirm support for the union, we began having weekly meetings where we elected an organizing committee to plan and convene these meetings, and we discussed and voted on what demands we wanted to build our campaign around (as well as other strategic questions).
We also took the time to have several discussions to make sure everyone was prepared to stand up to the company's lies, manipulation, and intimidation during their union-busting campaign and captive audience meetings. By talking through many of the false arguments we knew they'd use ahead of time, we were very prepared for these attacks, as well as for more serious forms of retaliation which luckily we haven't faced so far.
We continued to have meetings after filing with SBWU and going public with our union effort (in a march-on-the-boss-style action during work hours), with the organizing committee reaching out to all our coworkers to make sure everyone felt as informed and supported as possible, and hopefully our unanimous vote reflects the strength of how we organized our store and can offer lessons to other workers looking to unionize.
Now that we have won union recognition at our store, we need to help build the biggest, strongest Starbucks Workers United possible. While it is a huge victory, we know that winning a union vote is the easy part – it will be harder to win a strong contract with Starbucks that puts our demands into writing.
Starbucks is doing everything they can to stall negotiations with the union so far – after all, they are a huge corporation that only cares about profits, and we will have to fight tooth and nail to even get them to come to the table, let alone cave to our demands. We will need to link up and organize alongside other union stores, help plan and participate in a strong escalation plan including bigger and more coordinated strikes, and channel community support.
We began building this wider solidarity already at our solidarity sip-in a couple weeks ago, where we invited community members and labor allies to come show support and talk to us about our movement and our decision to unionize. We don't expect this contract fight to be easy, but we are prepared to put everything we have into it, using the same class struggle methods and tactics we've used to organize our store so far.
Let's unionize Starbucks everywhere!