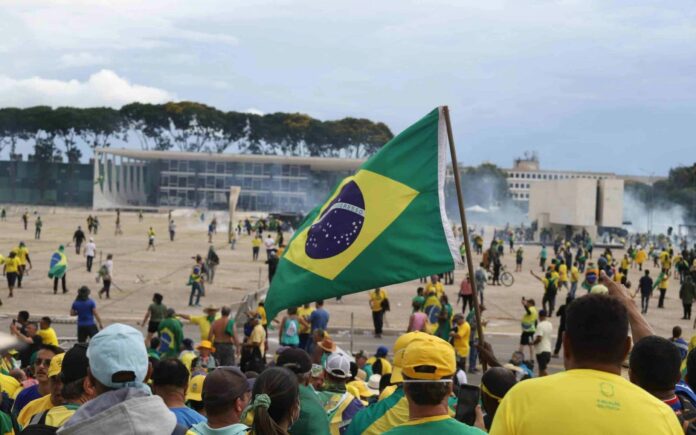 The serious events of yesterday, January 8, confirm once again that the fight against the poisonous Bolsonarist snake, and the struggle against the far right in general, continues to be a central task of the workers' movement, the Brazilian people, and the left. This confrontation must be made in the streets, through the mass mobilization of the working class. We can no longer wait for the institutions, as we have been asked to do since the elections.
The violent invasion of the headquarters of the "three powers" (the Presidential Palace, Congress, and Supreme Court) in Brasilia by the Bolsonarist mob, with the complicity and support of the government of the Federal District and other authorities, needs to be responded to appropriately. In addition to being vehemently repudiated, it needs to lead to the punishment of all those responsible.
It is necessary to cut the evil out by the root, making the real leaders of this extreme right-wing coup movement responsible, including Jair Bolsonaro himself, his nefarious clan, and their allies.
It is not enough to wait for an action in the institutional sphere alone. It is necessary to immediately mobilize at the base the unions, social movements, youth organizations, and the oppressed Brazilian people. Workplace, school, and housing assemblies can and must be called to clarify the gravity of the situation and to call for large demonstrations that occupy the streets throughout the country, including in Brasilia.
A great demonstration of the strength of the working class at this moment, powerful and well organized, will serve to intimidate the Bolsonarist scoundrels and put pressure on the sectors that waver in the face of the gravity of these coup attacks.
It will also serve to put pressure on the institutions and demand the immediate punishment of those responsible, in particular their leaders, and also to strengthen the struggle for the working class agenda in defense of democratic freedoms, social rights, and a profound social transformation.
Freedom, Socialism and Revolution (LSR – ISA in Brazil) stands shoulder to shoulder with all working class organizations and social movements in the struggle against the Bolsonaro extreme right in all spheres.