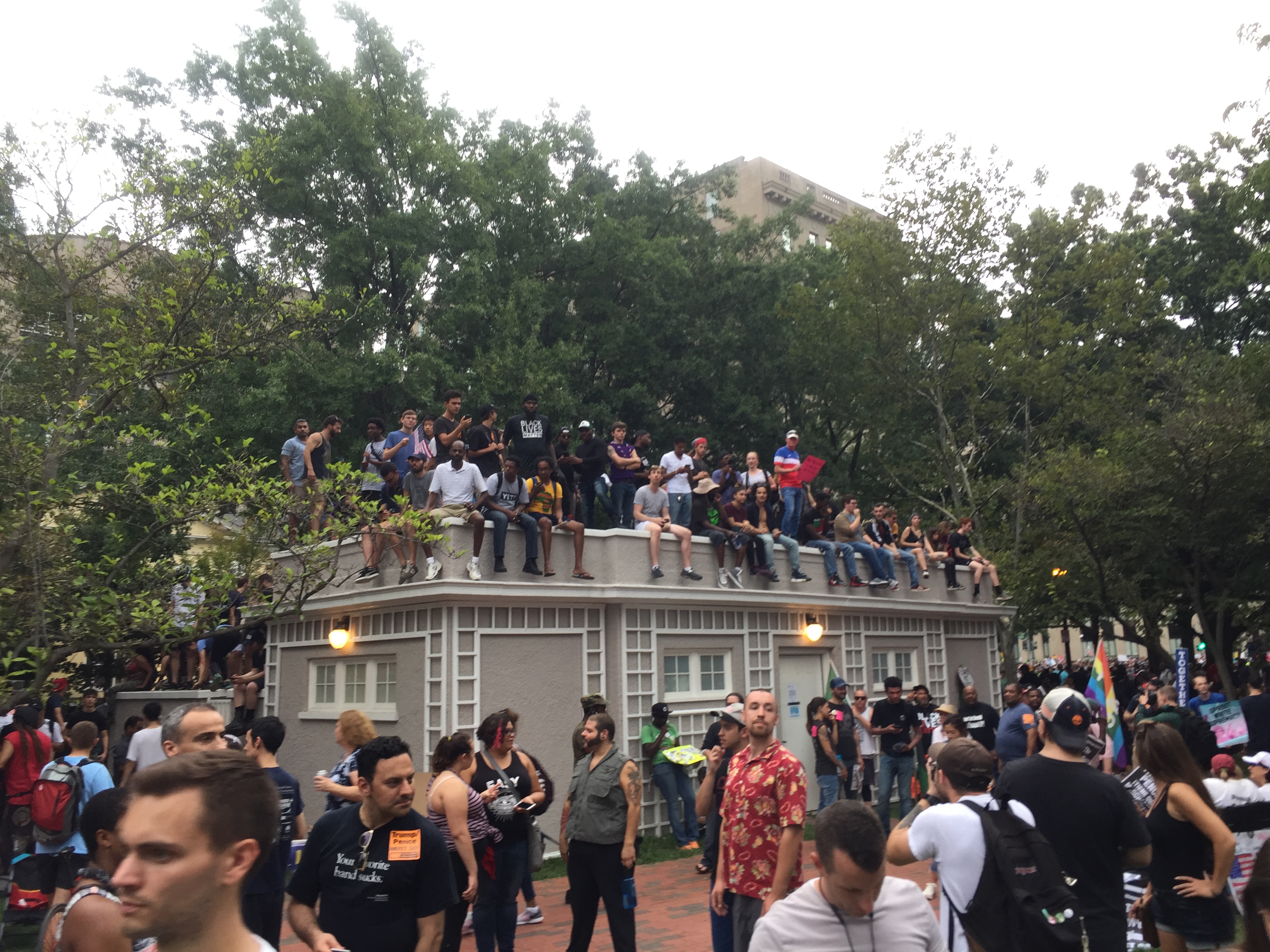 The "Unite The Right 2" rally planned for Sunday August 12 in Washington D.C. did not go exactly as organizers anticipated.
White supremacist Jason Kessler, who organized the original Unite the Right event in Charlottesville, Virginia, a year ago, sought to capitalize on the notoriety that the event brought him by holding a second rally in the nation's capital. At that event in 2017, white supremacist James Alex Fields murdered Heather Heyer and injured 19 other individuals by ramming is car into a group of people marching against Nazi and white supremacist hatred. Dozens of other racists attacked and beat peaceful marchers and protesters, with little interference from local and state law enforcement.
At this year's rally, former Ku Klux Klan leader David Duke and several other prominent racists were scheduled to speak. Both D.C. residents and public officials feared similar levels of violence and the impact the white supremacists might have in the city, but the two groups responded to that fear entirely differently. In the end, antifascist organizing and mass rallies drowned out and defeated the alt-right presence, while the preceding weeks demonstrated growing conflicts between the corporate Democrats and the labor movement.
Democrats Seek Special Treatment for White Supremacists; Transit Union Says NO!
D.C.'s city leadership demonstrated great eagerness to protect the white supremacists and ensure they had a platform for their violent ideals. Corporate media hyped the event and gave Kessler plenty of free air time, including a 7-minute segment on NPR, in which the public radio network allowed him to rank the races by intelligence and spread lies virtually unchallenged. Leaders like Democrat Mayor Muriel Bowser hid behind abstract arguments about the First Amendment, with Bowser saying in a press conference days before the event that "we want everyone to be able to exercise their rights, whether we agree with them or not."
D.C. city government and federal law enforcement officials practically rolled out the red carpet for the Nazis and white supremacists, offering them a private metro train to the event and unmarked police vans. Following an outcry from the public and from the D.C. Metro employees' union – Amalgamated Transit Union Local 689 – city officials dropped the idea of a private train. But on the day of the event they backtracked and had a private rail car organized for the Nazis and white supremacists.
Betrayals like these point to the need to build a fighting labor movement with solidarity across sectors. Only when workers stand together can we fight back against Democrats and the corporate elite attempting to exploit our labor to protect those who threaten our communities.
Mass Action from a United Left Defeats the Nazi Threat
Despite the efforts of the corporate Democrats to provide a platform for the Nazis and white supremacists, the people of the city rose up to oppose the racist threat. Several coordinated events were organized with a short lead time and on shoestring budgets. Local members of Socialist Alternative mobilized with the coalition which had the potential to bring the largest numbers of people into the streets in an organized way. This was a coalition of local organizations, organized mainly around the ANSWER Coalition, including numerous community organizations, BLM activists and faith groups. They organized a large protest at Lafayette Square.
The Lafayette Square attracted many working-class metro area residents in a mass rally just north of the White House and opposite the site of the racist rally on the southern half of the square. Hundreds, and then, thousands of people began gathering for this rally at 1 pm. The event included contingents from the Socialist Alternative D.C. and Philadelphia branches and a variety of political and faith groups. Speakers and music kept the crowd energized before the anticipated arrival of the Unite the Right at 5:30 pm. Socialist Alternative member Magen gave a powerful speech at the event, condemning white supremacy and calling for solidarity to defeat racism and bigotry in all its forms.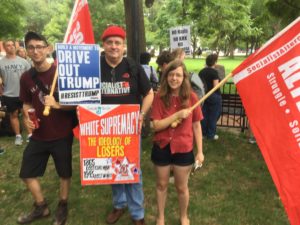 At the same time, another anti-Nazi rally was kicking off at Freedom Plaza, a few blocks east of the White House. This event, led by International Socialist Organization (ISO) and including contingents from Black Lives Matter, Antifa, and other left groups, had their own speakers and activities kicking off at 3 pm, followed by a march to join the main Lafayette Square event. Additional groups of people from smaller events joined us at Lafayette Square, swelling the crowd to nearly 10,000 just before 5 pm. Thousands overflowed the confines of the square and spilled out into the surrounding streets, which had been blocked off by police.
Ultimately, Kessler and a group of between 20 and 30 supporters got on the D.C. Metro at the Vienna station in Northern Virginia and traveled to the Foggy Bottom near George Washington University station escorted by a heavy police presence. They then proceeded to march to Lafayette Square literally surrounded by police, as hundreds of protesters and passers-by chanted "Nazis go home!" and "No hate in D.C.!" When they arrived at the square, Kessler gave a 15-minute speech and then fled the scene with his band of racists as it began to rain. The anti-Nazi crowd on the square opposite chanted "Shame! Shame! Shame!" and "No Trump, No KKK, No Fascist USA!" Police hustled the far-right and white supremacists into two vans and drove them off to a Metro station in the Virginia suburbs.
We Need a Mass Movement to Defeat Racism and the Far Right!
The "Unite the Right 2" rally was an absolute failure for the far-right groups and white supremacists that organized it and supported it. It was a great victory for the left in D.C. Many political groups came together to plan events, raise money, and carry them out.
A level of unity and cooperation not seen since the Trump inauguration in January 2016 prevailed in D.C. Many individuals who had not participated in actions against hate groups attended the event and were very receptive to the messages communicated by Socialist Alternative and other left groups. All of us came together to show, by our numbers and our voices, that we could drown out this vile racism and hatred with solidarity and powerful protests. We made the far-right and Klansmen afraid again. We drove them from our city. We will continue to protest wherever they attempt to organize public events. Join Socialist Alternative to help us!
While Jason Kessler may have been overly ambitious in thinking he could have a white supremacist march on Washington, it is important to remember that in the year since the deadly Charlottesville rally – even though the far-right has come under increasing scrutiny from the general public – white hate groups, and the violence they produce, have continued to rise. While we need to build powerful protests, we also need to put forward a political program that addresses the needs of the working class as a whole. This is necessary to build a powerful united working-class movement which can defeat the ruling class's policy of sowing divisions that perpetuate hatred and bigotry. It will also be necessary to address the root cause of bigotry, division, and inequality, which is rooted in the capitalist system itself. This is why we fight to create a new socialist society.
Socialist Alternative calls for a political program based on bold demands such as a national $15 an hour minimum wage, universal health care for all, free public higher education, and a massive green jobs program that can provide good paying jobs and lift millions of people out of poverty. We also support community control of police and an education system that teaches the brutal reality of 400 years of white supremacy in this country, and what we can do to create a society based on solidarity and equality. A movement like this would create the working-class solidarity needed to push back white supremacy and destroy it for good.