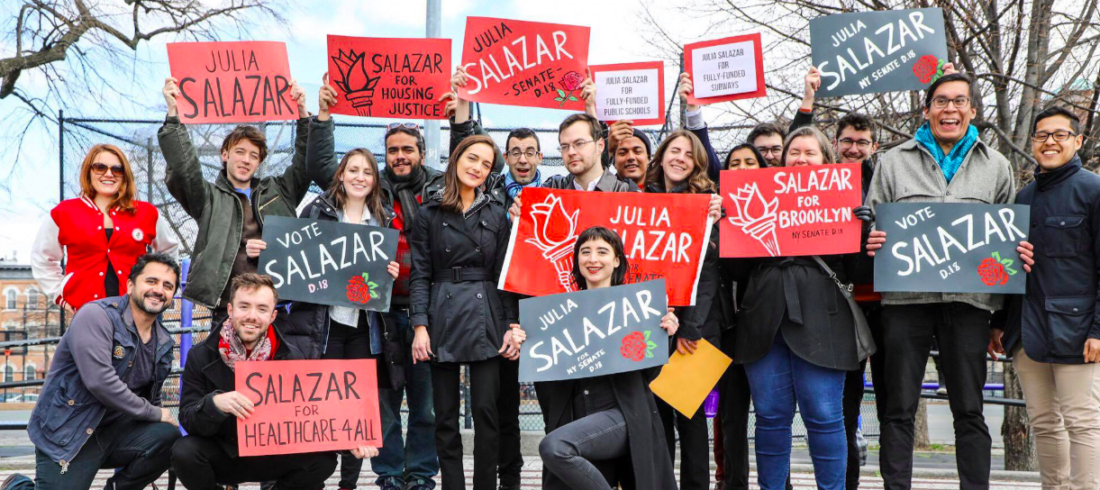 In the aftermath of the stunning electoral victory of Alexandria Ocasio Cortez, momentum is growing for the campaign to elect Democratic Socialists of America member Julia Salazar to the New York State Senate.
Salazar's campaign is shaking up the Democratic Party primary race in her North Brooklyn neighborhood where incumbent Martin Dilan has overseen a growing affordability crisis while allying himself with developers. Her campaign rejects corporate cash and calls for strong rent laws, ending cash bail, taxing the rich to fund transit, banning ICE from NYC, and passing the New York Health Act which would create a single payer health-care system in New York equivalent to Medicare for All on a national scale.
Need for a Mass Movement
If she makes it through, the 27 year old self-described socialist will enter the state legislature at the same time the Democrats are likely to retake the state senate and regain control over all of Albany. If this happens, there are real hopes that progressive legislation like the New York Health Act will follow.
But in California last year, large Democratic Party majorities were not enough to pass similar single-payer legislation and pro-business Democrats ultimately blocked it. Any legislation in New York will likely need the signature of the devil himself, Democratic Governor Andrew Cuomo, who is closely aligned with Wall Street.
Salazar has correctly argued in other contexts that what's really needed is mass movements. We are calling for her campaign to backup this generally correct position by putting forward a concrete plan of action to build a mass movement that aims to compel Albany to pass progressive legislation in 2019.
We have proposed that left candidates like Salazar, Cynthia Nixon – who is running for governor and has also declared herself a democratic socialist – and Ocasio Cortez, use their momentum to launch a mass campaign toward such a goal, alongside DSA, the Working Families Party and other progressive organizations. This could start with mass meetings to discuss the issues and organize a broader layer of people into neighbourhood action groups to help build it.
To give the campaign an organizing focus, we propose mobilizing for a mass demonstration at the start of the 2019 legislative session. The protest should not be restricted to simply venting anger, and should be linked to a systematic plan to escalate pressure on the establishment.
The Need for a New Party
Salazar has chosen to run in the Democratic Party primary on September 13. Having hundreds of volunteers knocking on doors is an indication that the campaign is seen by many workers and youth as an important vehicle to fight back. If she wins it will be a enormous upset for the establishment.
Socialist Alternative is calling on registered Democrats in the district to vote for Salazar. But we also disagree with her decision to run as a Democrat. With more than 800 members of DSA in her district and 4,500 citywide, along with the fact that Republicans are a fringe group, a viable independent campaign would have been entirely possible.
Such a campaign could have engaged with voters on all the key issues and spoken clearly against the idea that the Democratic Party represents the interest of working people. Many DSA members want to build mass movements outside the electoral arena, but a key factor which holds this back is illusions in the Democrats promoted by the vast majority of leaders of the left.
We would encourage Salazar to more clearly warn her supporters that the Democratic Party, as a whole, is a barrier to socialist change. Salazar may support the so-called "inside outside" strategy of Jacobin magazine, but it's clear that the dominant idea in the minds of many of her supporters is that her campaign is part of a broader struggle to transform the party.
Ocasio-Cortez, who inspired hundreds of New Yorkers to join DSA and her campaign, says this explicitly. We have explained that it's essentially impossible to rip the Democratic Party as a whole from its corporate leadership. To win far-reaching change a new mass workers party will be needed. We have called for launching a socialist ballot line in New York City and running 5 to 10 independent candidates in local elections in 2020 as a step in this direction.
Nevertheless, on balance, Salazar's campaign is playing a positive role. Her campaign is generating support for many important issues that won't be won without struggle. We want to help build a united effort to win those struggles and that's why we are supporting Salazar on September 13 and hopefully again in November. A Salazar victory will be a blow to the establishment and another clear indication of the growing momentum for socialist ideas.