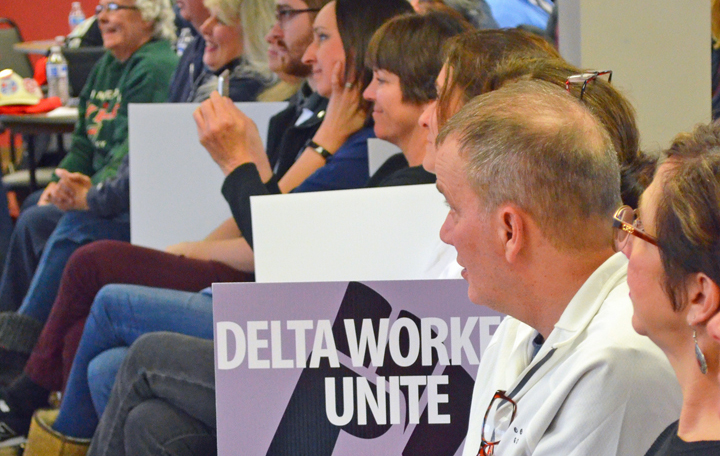 Driven by ever harsher working conditions, massive use of part time and seasonal workers with few benefits, a complete lack of a voice on the job and more, Delta Air Lines ramp and cargo workers are pushing hard for unionization.  The International Association of Machinist (IAM), the union that rank and file organizers have asked to represent the 16,000 strong group, intends to file for an election in 2018.
Bolstered by hundreds of new activists becoming involved in the collection of union authorization cards, the IAM organizing team has pushed well past the halfway mark to file for an election. Half of the work group must sign union authorization cards to trigger an election. Evidence of their gathering strength is a series of successful rallies and union open houses in Delta hubs like Minneapolis, New York, Los Angeles and Detroit that have drawn hundreds of workers to join the fight. These public events have been a source of inspiration for Delta workers in these cities as well as workers from other cities that have attended.
The Delta Ramp Organizing Committee has set up an extensive communications and social media network. Their Facebook group, Delta Workers Unite, has allowed workers to communicate with each other, debate tactics and strategy and draw inspiration from each others' successes. The group also includes discussion on how to push back against company harassment.
Atlanta's Harts Field is home to nearly 5,000 Delta ramp and cargo workers, almost a third of all those eligible to vote. Despite being in the historically anti-union South, rank and file leaders report that support for a union is growing due to increasingly harsh working conditions. They expect to gather union cards from more than half of the workforce in the coming months. They plan a major visibility event in August.
In 2010, ramp and cargo workers narrowly lost a union representation election, due to intense company interference, when unionized Northwest Airlines and non-union Delta Air Lines merged. In the 8 years since that loss, a strong group of rank and file leaders has developed a network across 43 stations in the Delta system. The network includes a diverse leadership of part time, full time, junior and senior workers. Dan McCurdy, 22 year Minneapolis ramp worker, says, "One of our greatest strengths is our leaders on the floor. We've been through some real battles and learned from them. Now we see a whole new group of activists coming on board. It's very inspiring."
Another strength for the campaign is an organic connection and synergy between ramp workers and the 23,000 Delta flight attendants. The flight attendant group is also seeking representation with the IAM. In April the two groups held a joint, standing room only, solidarity rally of several hundred in Minneapolis. Workers from both campaigns collect cards for each other and promote each other's events. The two campaigns, involving nearly 40,000 workers in the U.S., are by far the largest organizing drives in the country.
Both groups have been inspired by union victories across the country, including the unionization of 5,000 Jet Blue flight attendants with the Transport Workers Union, victorious teachers strikes in West Virginia and other states and the recent IAM organizing victory at the Boeing Plant in South Carolina. Workers in many industries are showing an increasing willingness to unionize, to strike and to seize the initiative from below. Ten thousand striking AT&T workers in the Midwest are just the latest example of a spreading confidence and combativeness.
In response to the success of the union drive, Delta has launched a massive anti-union campaign. Anti-union literature stocked in sleek display cases is in all break rooms. Delta supervisors make almost daily speeches to workers touting the value of a "direct relationship" with the company, of being "part of the unique Delta culture." This approach comes directly out of the well-worn anti-union playbooks of corporate America. Delta has also increased pay by 3% and given Ready Reserves (part time and temporary workers) some improvements due to pressure from the union campaign.
All these measures have fallen flat. One recent post on Delta Workers Unite awarded Delta with "Organizer of the Week." This came in response to two anti-union leaflets that workers found particularly insulting. The company also took down an anti-union video featuring three Delta workers because of the strong negative response. Attempts to portray the union as an "outside third party" have missed the mark as well. The strong connection between union activists and their coworkers has made this approach unworkable for Delta.
The biggest reason the company offensive is falling flat is because their pitch runs counter to workers daily experience of injury, short staffing and constantly changing work rules. Delta ramp worker Dan McCurdy says, "Workers see an airline that registered $6 billion in profits last year and is still squeezing them for more. They see an airline that used the Trump tax cuts for stock buybacks that put more money into the hands of wealthy Wall Street investors. We aren't happy about this."
To collect sufficient cards to trigger an election, rank and file organizers will have to recruit hundreds more worker activists that take real ownership of the drive and have the confidence to push back against company propaganda on "the floor" everyday. Organizers are also reaching out to their allies in the labor movement and to local communities for support. In Atlanta, Delta workers have participated in the Poor People's Campaign and have found Atlanta unions ready to show solidarity and call out Delta's anti union campaign publicly, according to IAM organizer Nicole Fears.
The fight for workers at Delta won't be finished even when an election has been scheduled and then won. With a history of being ferociously anti-union, spending tens of millions to keep unions off their property, it's a certainty that obtaining a first contract will require a strong internal solidarity network, support from labor and a strong appeal to the public. Key to a first contract will be undoing the second class status of Ready Reserve employees, part-time and temporary workers with few benefits and precarious employment. Ready Reserves make up close to half of the ramp and cargo workforce. Full-time workers and Ready Reserves will both benefit from one pay scale, a pension, an end to harsh working conditions and a voice.