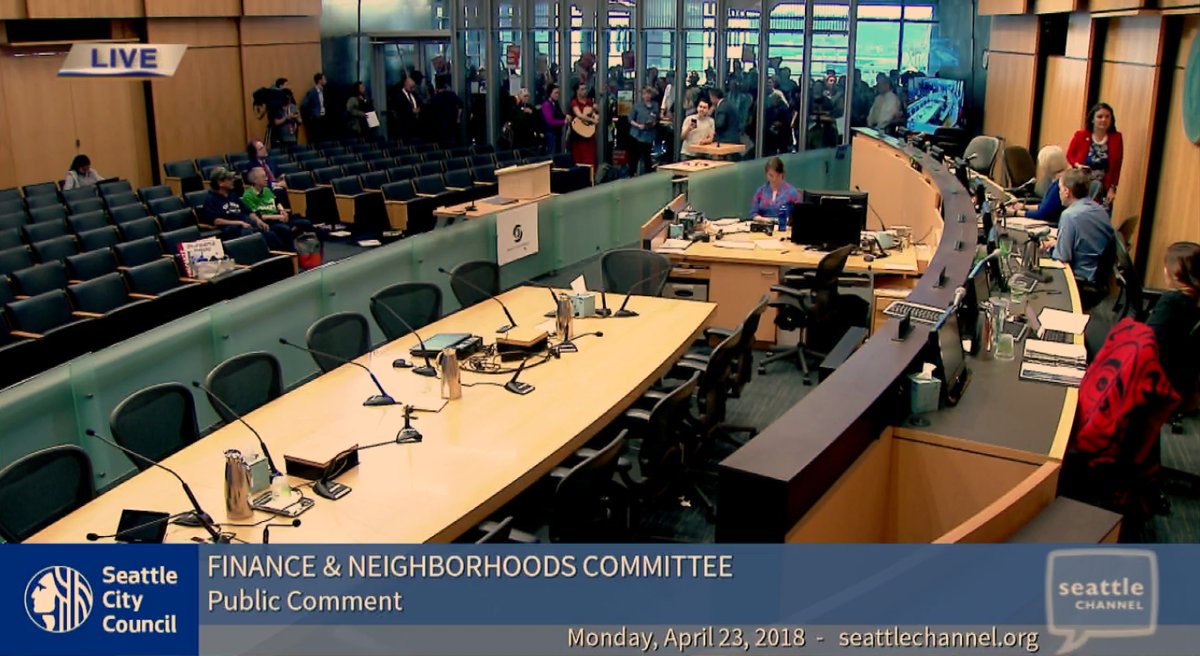 Nearly two hundred people came to Seattle City Hall on the evening of Monday, April 23, for a public hearing on a tax on Seattle's biggest businesses to build hundreds of affordable housing units every year. The hearing was the culmination of many months of organizing and rallying by Seattle's housing justice movement.
Since the People's Budget movement last fall, the Housing for All coalition, the Affordable Housing Alliance, and Councilmember Kshama Sawant have been demanding that the City Council stop the sweeps of homeless people and tax big businesses like Amazon to fund a big expansion of publicly-owned permanently affordable housing units and homeless services. This year, our Tax Amazon movement held a successful town hall of over two-hundred and fifty activists as well as a protest on Amazon's campus. It was the strength of our movement that resulted in the proposed $75 million per year Employee Hours Tax (EHT) draft legislation. While the Affordable Housing Alliance, Socialist Alternative, and the Democratic Socialists of America have been calling for $150 million per year, the passage of a $75 million EHT would be a major victory for Seattle's working people struggling with skyrocketing rents and exploding homelessness.
Several big-business representatives, including from Safeway, Vulcan, and the Chamber of Commerce, arrived at the hearing hours before any working people in order to be the first to speak in the council chambers. The arguments of big business were many of the same excuses they used to oppose the $15 an hour minimum wage. They claimed they can't afford to pay their share of the proposed tax and threatened to relocate out of Seattle. They called the EHT a tax on jobs, which is a blatant lie and reminiscent of big business claiming that the $15 an hour wage would kill jobs. Outfitted in a tailored three-piece suit, the CEO of a big bank remarked that it would be a shame for him to have to fire all of his employees in Seattle mere seconds after claiming how much he cared about his workers. The real message behind these empty threats is that as long as we let them, big businesses will feel entitled to exploit their workers and rake in millions if not billions in yearly profits – and, if we refuse to be exploited, they will threaten to do their exploiting elsewhere.
After a mere twenty or so speakers had given their public comment, Councilmember Bagshaw ordered security to clear chambers and lock the doors in response to activists chanting "Housing is a human right." She ordered that only ten people would be allowed in at a time. This resulted in a large crowd of people gathering in front of the doors and chanting "Let us in!" and "We are ready to fight, housing is a human right!" While other politicians remained seated and silent, Councilmember Sawant, a member of Socialist Alternative, was not only the first to speak against punishing the public, she immediately left her seat on the dias to join the crowd outside.
Not only was this move by Bagshaw extremely patronizing and undemocratic, but it's just not possible to have a public hearing without the public! This was a spineless attempt to cow our movement into submission and to stifle our voices. But activists stood together outside the locked doors and continued determinedly chanting, while speakers used their public comment to chastise the Council for pushing us out.
What this showed us was how powerful our voices really are when they join together in unison. The corporate sympathizers don't want us to feel our collective power precisely because of how inspiring and motivating it is to hear our voices ring out as one. After 10 minutes of impasse, it was clear to several Councilmembers that the movement would not relent, and that they had to let the public back in to save face for the establishment.
The overwhelming majority of speakers were in favor of the EHT and a significant number stated their support for the full $150 million yearly tax, if not more! This demonstrates the effectiveness of our movement's demands calling for bold action in response to the problems facing working people.
In the coming weeks, we will need to remain attuned to this struggle and continue to mobilize our forces to City Council meetings around the EHT as well as organize rallies and actions. We will need to fight against any loopholes or watering down of the legislation. Whether we win $150 million or $75 million, it would be a momentous victory and a step in the right direction toward solving this housing crisis. On the horizon, we will be looking forward to the next struggle in the fight against capitalism and the battle to build the socialist society that we all deserve.