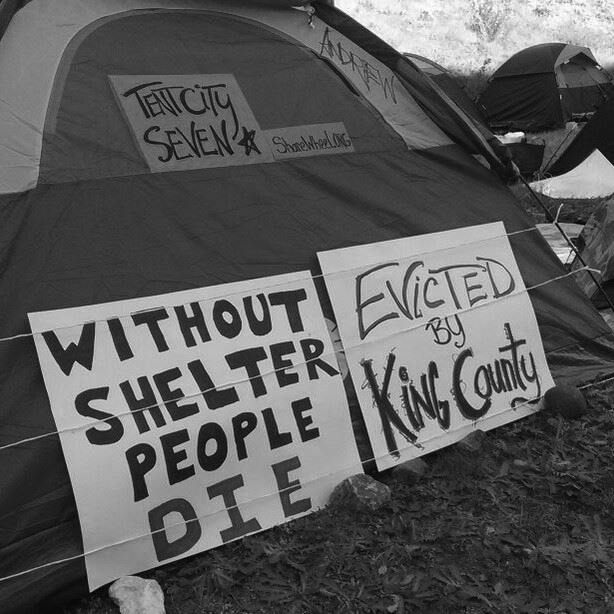 Over 300 activists attended a recent committee hearing organized by socialist Seattle City Councilmember Kshama Sawant in response to the city's proposed cuts to women's shelters and services. The audience was a mixture of activists who became emboldened during the city budget struggle in fall 2017, community members who would have been affected by the proposed cuts, and some newer community members who were interested to find out why the booming city of Seattle was proposing these cuts to women's shelters and services. Within a week of this meeting, the cuts to these centers were reversed by the city council!
In the city of Seattle, where Jeff Bezos, the richest man in the world resides (and makes $230,000 a minute), we also have one of the worst homelessness crises in the nation where longtime residents, especially persons and communities of color, are being displaced by rapidly rising rents and property values. Given that it's been over two years since a homelessness state of emergency was formally declared, it is outrageous that "progressive" city officials still continue to conduct business as usual, with platitudes and abstract plans to address this crisis sometime in the future.
The city went in the wrong direction this past budget season by imposing a new request that every current provider of homeless/low-income housing and services rebid for their annual funding and show how many people they have successfully transitioned into permanent housing. This formula is absolutely mad in a city with a severe lack of subsidized low-income housing to offer to folks seeking to leave the shelter system.
Kshama Sawant, who now serves as the chair of the Human Services Committee, did not follow a business-as-usual strategy in addressing these cuts. Instead of going along with the cuts, she and Socialist Alternative demanded that cuts be completely reversed and that funding for the services be expanded instead. She then moved her committee meeting to evening to maximize attendance and brought activists, community members and service providers to show how these cuts have negatively affected the homeless. It was after this tremendous hearing that the cuts have been successfully reversed!
Let's be clear, the reversal of these cuts was not inevitable. Had it not been for a strong movement built during the budget fight in the fall, the agitation and mobilization by Socialist Alternative, and Sawant being the chair of the Human Services Committee, the reversal of these cuts would have been an uphill battle. As of November 2017, Seattle voters elected a Democratic female mayor, and have a supermajority of Democratic female city councilors. It is shocking that even with this supermajority there would be cuts to women's shelters and homeless services in such a wealthy city! This shows that even with female Democrats in office, the fight against sexism can be undercut by cuts to critical social services.
One reason that women's shelters and homeless services are being cut is that the city is prioritizing rapid rehousing over other interventions to address the housing and homelessness crisis. Rapid rehousing is a 3-6 month rental voucher program paid for by the city to get people into housing right away. Unfortunately these rental vouchers are paid directly to private sector landlords who decide the rental value based on the market, not human need. Also, once these rental vouchers dry up, these residents are then responsible for paying market rate rent and it is not uncommon for them to become homeless again. What we should be investing in instead is , high quality, city-owned housing to address the broken for-profit housing market.
We were able to defeat these cuts to women's shelters and services by organizing people willing to fight back and demand real solutions to our housing and homelessness crisis. If the city continues to come up with half measures to solve this crisis, Seattleites will continue looking for avenues to fight for real solutions. Kshama Sawant and Socialist Alternative, alongside other community activists, will continue to build a strong movement to fight against predatory housing policies and for affordable housing for all.