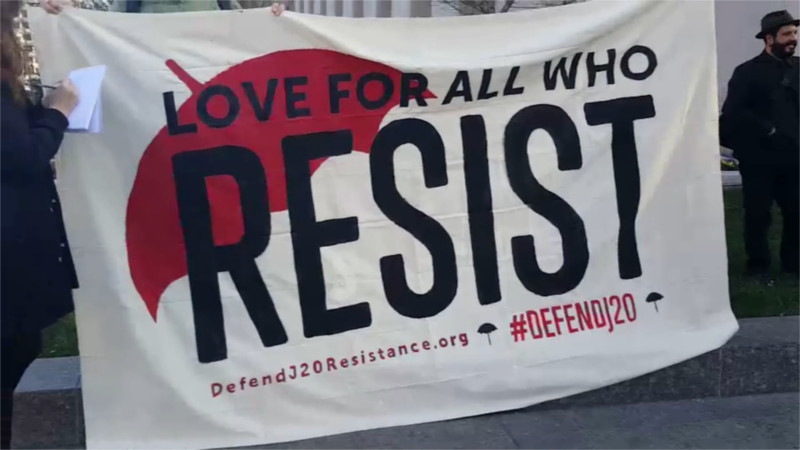 January 20, 2018 marked the first anniversary of large demonstrations that erupted across the United States in response to Donald Trump's inauguration as President. In Washington D.C., protesters from all over the country gathered to voice their opposition to a Trump presidency. Inauguration Day protests led to amass-arrest and detention of 234 protesters in the nation's capital. Using unlawful tactics, the D.C. Metropolitan Police Department, under the tutelage of controversial D.C. Police Chief Peter Newsham, "kettled" and arrested everyone who happened to be within range of the intersection of 12th and L streets in downtown Washington.
Trials for the arrestees have been ongoing since late 2017. In December, six protestors were acquitted of all charges and, on January 18, the prosecution announced that they will dismiss 129 additional cases. This dismissal will allow them to refocus their resources toward defendants they allege committed "identifiable acts of destruction, violence, or other assaultive conduct" or engaged in the planning of those activities. While this is mostly positive news, the 59 remaining defendants will continue to face aggressive prosecution pursuing severe felony charges, a further continuation of the intense and broad repression by the state stretching back over 365 days.
The J20 arrestees were slapped with multiple felony charges by an overzealous prosecution for destruction of private property to the tune of over $100,000. While private property damage occurred at the hands of a few, similar charges were applied indiscriminately to all arrestees and, if convicted, they face over 60 years in prison.
There were some at the J20 protests who used vandalism as a tactic of resistance. We oppose these counterproductive tactics, including random window smashing. However, to prosecute over 200 people for only $100,000 damage is a clear attempt to intimidate protesters generally. How much damage did Wall Street bankers do to working-class families in the recession and no one was prosecuted?  
Despite continued protests over the past year demanding the prosecution drop the charges, the most recent trials (shamefully including two medics and a journalist) began last November. Assistant U.S. Attorney Jennifer Kerkhoff said of the six defendants, "We don't believe any of the defendants personally engaged in property destruction," yet the trials continued. A jury recognized the ridiculousness of the charges and acquitted the defendants of all charges, rebuking the government's attempt to criminalize mass protest in the United States.
It has been a bleak year for the J20 defendants. Following their arrest, protesters were detained without food, water, or the chance to use restrooms. Furthermore, Metropolitan Police subjected many to invasive body searches. Afterward, people merely involved in the protests who were not arrested were issued subpoenas for access to their private conversations – a serious encroachment of their privacy. Coverage in the corporate media about these arrests have been surprisingly scant, and the few mainstream media outlets reporting the events of J20 have been mostly derisive of the protestors. Consequently, the defendants have had to tap into the support of one another and a small network of sustained supporters for legal assistance, housing, and other needs as they return to Washington D.C. for court dates.
As a display of solidarity, over a hundred defendants signed a "Points of Unity" agreement, a collective pledge to reject any potential plea deals and reject cooperation with the prosecutors that might come at the expense of their codefendants. Activist group Dead City Legal Posse (DCLP), formed in the wake of the arrests, has played a critical role in providing support to the defendants.
The majority of the prosecution's case thus far has been spent examining hours of evidence containing details of destruction of private property. While a small amount of property destruction indisputably took place on January 20 of last year, the notion that every last person arrested that day conspired to destroy property and incite riots is farce. Armed with scant evidence, which included content from far-right provocateurs, the entire J20 prosecution is a clear sign of zealous overreach by the state in the age of Trump.
Attempting to Criminalize Dissent
The Trump administration along with the Republican party explicitly wants to criminalize protest and dissent. The administration charged Code Pink activist Desiree A. Fairooz for laughing during US Attorney General Jeff Sessions' confirmation hearing, but eventually dropped the charges. Jeff Sessions' DOJ has made it easier for police in the United States to brutalize innocent people by lifting restrictions on police seizures of property, as well as lifting limits on military hardware for police. On the campaign trail, on more than one occasion Donald Trump called for attacks on protesters and for loss of citizenship and jail time for those who burn the flag.
In the J20 cases, the prosecution has sought to prove guilt by association despite the obvious lack of individualized evidence against a majority of the arrestees. For the state, it is a means to both isolate and intimidate dissenters by making an example of all protesters, and to repress resistance everywhere. In response to this flagrant violation of civil rights of the defendants, the ACLU and National Lawyers Guild have sued the D.C. police department over the indiscriminate arrests and denounced the politically motivated prosecutions.
The J20 case is only the tip of the iceberg of a  broader crackdown on political dissent. In 2016, nearly 600 protesters were charged over alleged involvement in the Standing Rock protests against the Dakota Access Pipeline. This included prominent journalist Amy Goodman, who faced jail time herself for reporting on the DAPL struggle before charges were dropped. In September 2017, St. Louis police arrested over 300 people protesting the not-guilty verdict of a police officer who shot and killed Anthony Lamar Smith following a car chase in 2011. After protests erupted in Minnesota in the wake of the murder of Philando Castile by a police officer, lawmakers in the midwestern state introduced a bill that would hold protesters liable for financial costs should their protests be deemed "illegal" or a "nuisance" in court. Additionally, Republican majority states have pushed anti-protest laws, introducing bills that would protect motorists who run down protesters blocking roads and highways provided "the consequences were unintentional."
This kind of crackdown on dissent and organizing is reminiscent of how social movements and the socialist left in America in the 20th century were targeted and infiltrated by the FBI. In the current political climate, with sustained massive resistance to not only Donald Trump's xenophobic, anti-working class agenda, one can reasonably expect continued police repression and heavy-handedness by lawmakers, prosecution offices, and other concentrations of state power. We must anticipate that surveillance of activists will continue, and escalate.
While we do not know what will come next for the remaining 59 defendants in the J20 cases, we should expect the prosecution to pursue these charges aggressively. We must defend protest and dissent by standing in solidarity with the defendants. We say: drop all the charges now!
Socialist Alternative argues for building mass protests where people collectively decide the tactics they will employ -. We must unite to demand an end to the criminalization of dissent in all its forms and fight to defend our rights to free speech and free assembly. With rising inequality and discontentment in wide sections of society, we must build even stronger movements centered on the social power of the working class with the end goal of a truly democratic society where the wealth of society is owned and controlled by the majority.