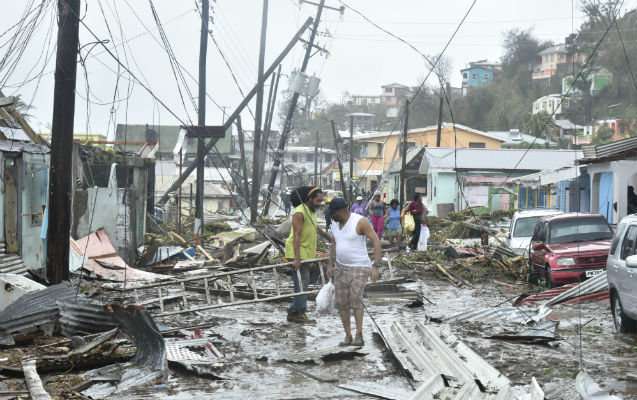 Over three months ago, Hurricanes Irma and Maria devastated the island Puerto Rico. There followed a shocking disregard to the plight of residents by the mainstream media and an abhorrent response by the Trump administration. Due to the "free-market" approach of the authorities, 660,000 power customers across Puerto Rico still lack electricity. Even more shocking is that an independent investigation has suggested that while officials claimed 64 deaths due to the hurricane, the real number might actually be 1,050!
Governor Ricardo Rossello also reported that "with half a million homes partially or totally destroyed, only 30,000 [blue tarps] have arrived." Officials added that only 55% of houses have regained power. But many Puerto Ricans do not trust even that figure, and report entire areas, particularly in the countryside, still without power. On top of this, the island is facing the possibility of a massive foreclosure crisis with a third of the island's homeowners behind on their mortgage payments to the banks and Wall Street firms.
Levels of mental illness have increased significantly. With already high levels due to the devastation of living standards caused by the brutal neo-liberal policies of U.S. capitalism, there have been growing reports of post-traumatic stress disorder.
The NY Reserve Bank warns about increased migration, noting that during September and October 124,974 more people left the island than arrived. In October alone the island suffered a net loss of more people than in the whole of 2016. During October, it also lost four percent of its salaried employees.
Privatizations Makes Conditions Worse
Officials have placed blame for the delayed restoration on the geography of the island itself. While logistical challenges are real, a more honest conclusion can be found by looking at the for-profit "solution." After handing out $300 million to a private power company from Montana, which only had two employees, the government was forced to cancel the deal and look for other companies. Puerto Rico's publicly-owned utility company (PREPA) has been suffering from heavy cuts and privatization with its American creditors demanding that it raise electricity rates which are already double the U.S. average. The reliance on private companies has meant that the island is opening itself, in its most dire situation, to private companies whose main interest is not to help the people, but to make the biggest profit possible.
This is not a new "solution." U.S. corporations and their hired politicians have seen disasters, both natural and economic, as an opportunity to push disastrous policies based on extreme privatization. This happened in New Orleans after Hurricane Katrina over a decade ago. It also happened in Greece where the European Union's policies dictated a massive selling off public assets, including islands!
Betrayed and neglected by the federal government and the incapability of private vulture companies to quickly restore the island to its former shape, communities have begun to organize to help each other. A Puerto Rican studying on the mainland explained to Newsweek: "The way people connected and relied on their neighbors and really helped people out was amazing. … My aunt is missing a huge chunk of her roof, and when I visited, her house was full of canned goods because every morning they distribute food, on their own accord. It was inspiring."
What is needed to restore the infrastructure is a massive program of federally-funded public works to rebuild the country and provide training and new jobs. All cuts to PREPA should be reversed and it should be run democratically by and for the Puerto Rican people. Trade limitations imposed by the U.S should be lifted and the island's debts to Wall St. should be cancelled. This should all be paid for by a massive tax on the rich.
All workers in the U.S should stand in solidarity with the workers, farmers, and youth of Puerto Rico as we fight against the same enemy – big banks, Wall Street, and the government of the rich, headed by Trump – the vulture in chief.