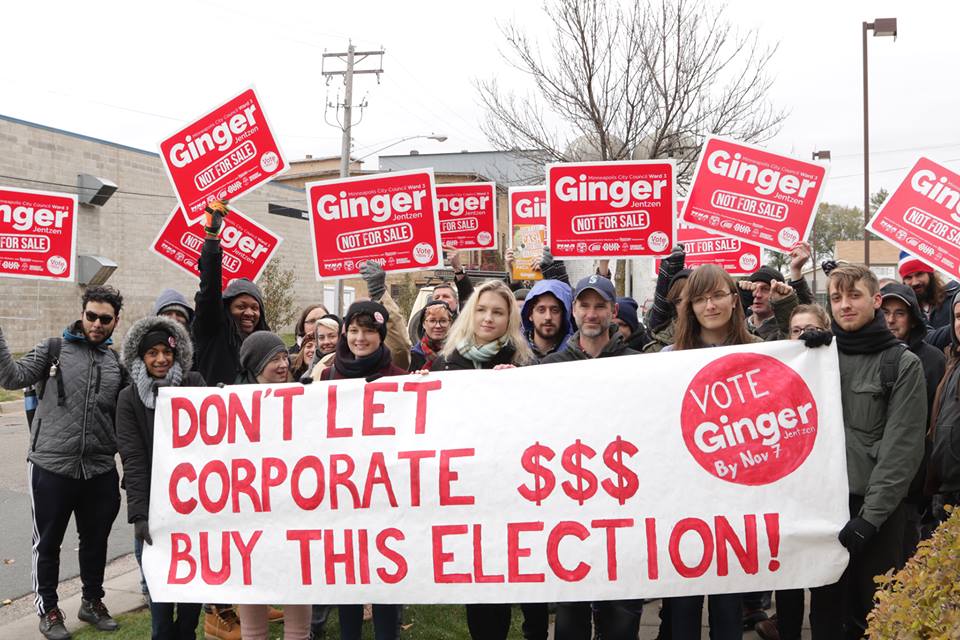 Every day volunteers for the Ginger Jentzen campaign are knocking on doors throughout Minneapolis' Ward 3 neighborhoods, where working people and youth are facing skyrocketing rents and looking for an alternative to the developer-driven agenda that has long dominated City Hall. These volunteers have heard stories of displacement and low wage jobs, along with the fear of Trump's right wing agenda affecting the city and ward.
One volunteer recently met someone who was moving boxes as she approached their door. They told her that they were moving out of the duplex they had been renting because rents kept rising. Unable to afford the rent in Minneapolis, they had decided to move out of the city. "They told me they had moved every year recently, trying to avoid the rising rents," said the volunteer, "but they were glad to see that Ginger was fighting back so that hopefully their friends would be able to avoid their fate."
The establishment is fearful of the positive reception for our campaign and is pouring corporate PAC money into the race to try to fight against it. One resident spoke to a volunteer, Tyler, a few days after she voted early. She had voted for Ginger but after having read an article that day in the paper that attacked the Ginger Jentzen campaign was doubting her decision. She told Tyler that she was worried Ginger wouldn't be able to work well with other members of council.
Tyler explained that the victory of passing the $15/hour minimum wage that summer showed how Ginger and movements of working people could get things done. "Once I told her how the establishment was scared of our movement, and that it was movement building that got $15 passed she started to agree again. It was movement building, working with other activist groups, that pressured city council into almost unanimously passing $15 despite them being against it at first," Tyler said. At the end she donated to the campaign, like hundreds of other Minneapolis voters, knowing that those donations were one of the best way to fight back against the developers and establishment that are trying to scare voters away from fighting back.
Minneapolis is known for affordable housing but developers want to turn it into another San Francisco in order to make huge profits. Voters are noticing their rising rents and many voters point to recent luxury apartments or nearby planned developments as the cause. Talking to voters in Sheridan, a neighborhood in the ward, one volunteer witnessed every voter they talked to that day point to the planned development one block away. "The voters I talk to know that the big developers are the problem, and when they hear about how much money those developers are putting into the election, they're angry" said Carrie, one of the local volunteers.
This is why Ginger's slogan of "Not For Sale" has drawn in so many volunteers and donors from Minneapolis. Her refusal to take corporate or developer money, and only take donations from ordinary people has inspired voters across the ward. They are excited to see another socialist who refuses to take corporate money running for office. The developers are trying to buy the election with huge PAC's flooding money into races across the city, and against Ginger's campaign. Instead of being scared, voters continue to donate money to Ginger, because they want to donate to the socialist who's fighting back against the big developers.
Students make up a big portion of the ward and are also ready to fight back. They see the connection between the fights against the developers, and the resistance against Trump. These students are inspired by Bernie's political revolution and are excited that Ginger is another socialist who's "Not For Sale."
On campus many students took polaroid whiteboard photos with their own reasons for supporting Ginger. Some say that they're on #TeamGinger because "She is not a corporate puppet" or that "We need rent control."
https://www.instagram.com/p/Baexw9FBCNt/?hl=en&taken-by=teamgingerjentzen
"Students feel the impact of the housing affordability crisis and are excited to hear about a candidate who has actual, tangible solutions for this very real problem they're facing." said Emerson, a student volunteer on the campaign. One such student took a photo with a whiteboard saying that she's on #TeamGinger because "I want affordable housing to finish college." Lack of affordable housing and rising tuition costs are common worries of students, and they see Ginger's campaign as the way to fight back.
"Students are in a desperate position, are feeling the immediate effects of the Trump administration, and want to make Minneapolis a city of resistance against Trump," Emerson continued. These students recognize Trump as the "Developer-in-Chief" and are making the connection between the billionaire-backed administration in the White House and the profit-driven agenda of big developers in Minneapolis that is raising rents for them. They're tired of the status-quo, of politics as usual, and are excited by the idea of an activist in office, a socialist like Bernie who rejects corporate money, and can actually fight back against the establishment. They see Ginger's campaign as pointing in that direction, and the enthusiasm we see from tables and at the doors shows that working people and students in Minneapolis are ready to fight back.