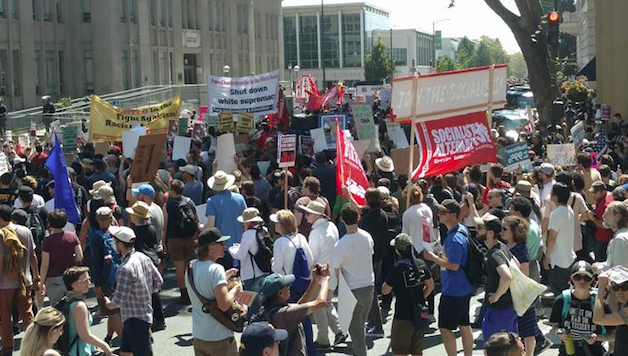 Young people and families turned up in their thousands last weekend to protest right-wing hate. Despite the cancellation of both the San Francisco and Berkeley far right rallies, around 15,000 anti-fascists marched in San Francisco and 3,000 rallied in Berkeley. The small handful of neo-fascists that did show up here were quickly surrounded and run off.
Boston's massive coming-out of 45,000 people the previous weekend has raised the spirit of the anti-Trump resistance and shaken the bravado and over-confidence of the far right. And Charlottesville has reminded activists of the seriousness of this fight.
While there are no Confederate monuments in the region, the struggle continued under a different form, as seen in the battle at San Lorenzo High School. The school football team has been the Rebels since its founding 60 years ago and the team's confederate flag helmets were only retired in the 90s. Last year a campaign to drop the Rebel name was defeated, but after Charlottesville the students waged a ferocious battle to dump the team name which finally led to the School Board unanimously agreeing last week.
The Berkeley anti-hate rally was originally planned on UC Berkeley property, but given the mammoth list of prohibited items in the cordoned off protest area: including bottled water, balloons and purses, organizers rightly decided it was better to rally in the street. The movement organized its own security with some 150 community and union volunteer security staff. After the rally, the majority joined the march to confront the far right, with socialists of all stripes leading the main contingent at the front. Banners, signs and flags representing Socialist Alternative, the Democratic Socialists of America, and the International Socialist Organization predominated. Socialist Alternative members sold around 60 copies of our "Fight the Right" issue and sold a hundred "Dump Trump" / "Berkeley Stands with Charlottesville" picket signs.
For many young people, this was their first demonstration. Many had previously considered themselves liberals and some had voted for Hillary Clinton in the last election. Despite knowing that the far right rally had been cancelled they decided that now was not the time to stay home. Now they are part of a movement that is bringing more and more people towards socialist and Marxist ideas.
Last weekend's events confirm the critical role of mass demonstrations in pushing back the far right, but also in helping rebuild the confidence of working people to organize independently. To defeat Trumpism and the far right we can't rely on the corporate-dominated Democratic Party. We need a a movement to build a mass-based, broad left party around a program that will go beyond fighting hate and onto fighting for decent jobs, low-rent decent housing and free education.