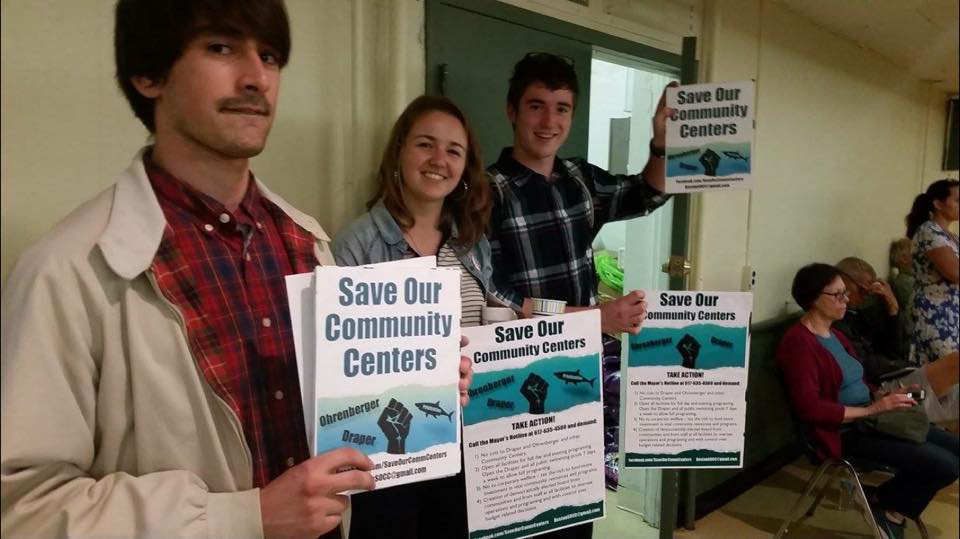 In August 2017, it seems much more common to hear about funds moving away from libraries, schools, and community centers and toward private contractors and developers.  But in West Roxbury, a neighborhood in Boston, a staple community center, the Draper Pool is seeing its hours expanded as two union lifeguard positions will be posted.
Winning these positions took a long political campaign against the city government and mayor's office after news came down that two community centers in West Roxbury, the Draper Pool and the Ohrenberger Community Center, were seeing their funding and hours slashed. All across the city, community centers are being targeted.  With the victory of this campaign in winning two union lifeguard positions, we now face our attention to the Ohrenberger Community Center which faces closures during the morning and early afternoon hours – jeopardizing what has become a mainstay for the elderly community in West Roxbury.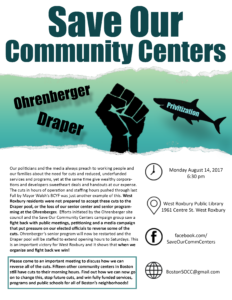 As news of the cuts to the Draper Pool and the rest of the community centers in Boston began to spread, Socialist Alternative launched a campaign called, "Save Our Community Centers," with the main goal of restoring weekend hours at the Draper Pool and morning hours at the Ohrenberger.  
The Save Our Community Centers campaign handed out flyers with the Mayor's hotline and a list of demands in order to directly target Mayor Marty Walsh who has the final say on how money is allocated.  Despite the fact that the Mayor was gaining national popularity speaking out about the viciousness of the cuts executed by the Republicans and Donald Trump, he was for cuts in his own city. 
After 100s of calls to the Mayor's hotline and a relentless campaign of tabling, we won an extension of the pool's hours and two union positions to staff it!  Unfortunately, many community centers in Boston still face cuts, but the Ohrenberger will open with some staffing during the mornings.  These re-openings, beyond just a revival of a source of employment, recreation, and community building, demonstrate a path to victory at a time when politicians across the country in even the most "progressive" cities are implementing budget cuts and closures of publicly funded spaces.  Community campaigns like Save Our Community Centers connected to a socialist program of full funding for community programming is what will be necessary to defend against the cuts that are to come.