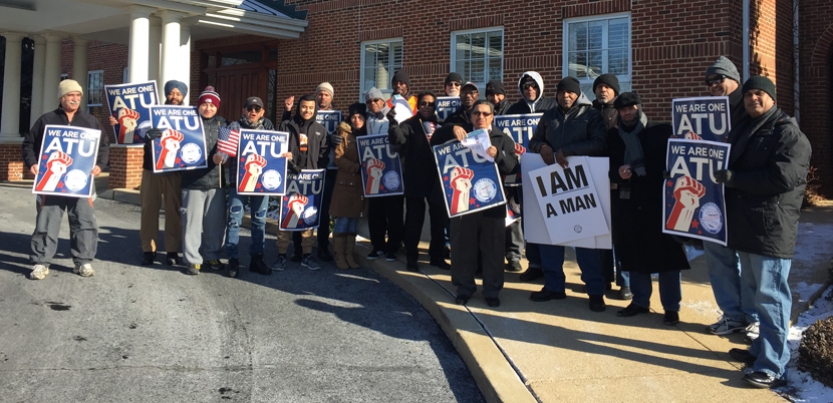 Fighting a tense contract battle in anti-union Virginia in the era of Trump, transit workers at the Fairfax Connector bus system outside Washington, D.C. reinvigorated their Amalgamated Transit Union (ATU) local 1764 and won massive gains in a new contract. The local was in rough shape before the contract was up, with more than half of the 600 workers in the bargaining unit not members of the union.
Key issues in bargaining were bathroom breaks, parity of wages and benefits between the different garages, boosting wages, and shortening the time to reach the top rate of pay. The biggest challenge was getting more involvement from the members. The ATU international helped to build a campaign around the contract and re-engage the membership. The local has a very diverse workforce, including immigrants from Africa, Asia, and the Middle East. This real victory was accomplished by targeting and training more members to be stewards at all garages. Newsletters and leaflets were created in multiple languages to mobilize members to attend rallies, gather petition signatures, protest at key company meetings, as well as participate in call in campaigns and informational pickets. The targeting of political figures and MV Transportation the private company managing the transit system was crucial.
The need to escalate the fight became apparent. The local voted on a strike and set a deadline. This pressure campaign, build up, and threat of a strike worked and ATU 1764 won many of its demands. The wage progression was shortened from fifteen years to five years, and most of the gaps in pay and benefits between the garages were closed. The company also agreed to increase their contribution to the 401(k) pension plan. Safety and health hazards were fixed, and better language on bathroom breaks were agreed to. In an inspiring example of what is possible when workers wage a determined struggle, the victory has lead to real growth in the local, pushing it over 85% of the workforce in Fairfax Connector.
ATU local 1764's shining victory at Fairfax Connector.is a powerful example which shows that grassroots organizing and militant unionism can defeat corporate power in non-union right to work conditions in the South. We must learn from this fight that a bold approach is necessary to defend the rights of all workers to live a dignified life and challenge the dictatorship of the bosses at the workplace. It is only through the tactics and strategy utilized by the union during this contract battle that can revitalize the labor movement and win workers' confidence in the potential power of unions in the era of Trump and capitalism.
Updated 8/7/2017.