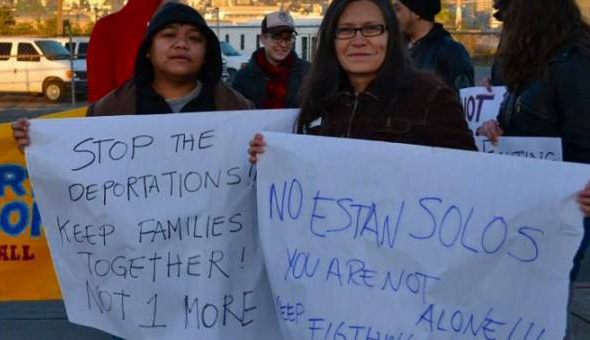 Thursday April 13, 50 people rallied outside of the Northwest Detention Center in support of hundreds prisoners inside on hunger strike. Since then they have continued to hold daily rallies outside, receiving calls from those inside and approaching the gates to chant "you're not alone!". The women's section of the detention center has also joined in, with as many as 750 refusing food to protest the conditions inside.
The Northwest Detention Center serves as ICE's regional home in Western Washington, and also as a profit making machine for Geo Group, Inc.
A letter containing their demands was circulated by Northwest Detention Center Resistance. These demands – including lower commissary prices, increased recreation time, improved medical attention, and an increase in wages for working detainees – show a private corporation crowding working class people into a cage, feeding them on a cheap diet of only beans, and forcing them to work for pennies all to squeeze profits from human misery.
At the rally, speeches by families of those striking inside painted a grim picture of overcrowding, food shortages, and intentionally shuffling inmates around to undermine their ability to prepare their cases. For all of these families, one consistent message rang through: Trump and ICE are ripping our families apart!
Organizer Maru Mora outlined the situation for immigrants and their families: not only is Trump ramping up deportations and xenophobic anti-immigrant sentiment, Democratic Governor Jay Inslee's resolution claiming that Washington state won't work with ICE is proving to be a paper tiger. Grace Chavez told the story of how a state trooper called ICE agents to the scene after her husband had been rear ended – her husband is inside the detention center among the hunger strikers.
Socialist Alternative stands in solidarity with the hunger strikers, and we are actively participating in the sustained support rallies.  
We need to fight for humane conditions within these detention facilities today – no one deserves this type of treatment. Further, the policies that create these facilities benefit only the businesses that want to see wages kept down. As working people, we understand that no worker is our enemy, instead they are a potential ally to build collective power. We need to fight for an end to deportations, and the dividing strategies of profit-hungry corporations searching for the lowest possible wages. To amplify the voices of the hunger strikers, unions and activist organizations should orient towards mass workplace actions on May 1. Traditionally a day of worker and immigrant struggle, May 1 could provide a nationally rallying cry pulling together some of the on-the-job actions we have already seen, like the taxi driver strike, the Day Without an Immigrant, and the International Women's Day sick outs, and escalating them to put pressure on Trump and his billionaire cronies.
By uniting our movements against Trump and forcing profits to grind to a halt, we can not only say "No Ban! No Wall! No Deportations!" we can make these policies absolutely untenable through mass working-class resistance.