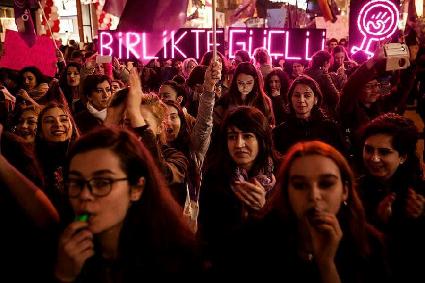 Socialists Around the World Demand an End to Women's Oppression
The Guardian newspaper in Britain called March 8 this year "One of the most highly charged and political International Women's Day in memory." The accession of the mysoginist billionaire, Donald Trump, to the U.S. presidency is behind this sea change. But women are also angered by the cuts in social spending and the failure of governments and even female politicians to change the laws and practices that discriminate against their rights.
Socialists in numerous countries participated in and organised calls for pickets, meetings, walk-outs and even strikes where possible to highlight the special problems women face in capitalist society. Socialists were also celebrating a hundred years since the female textile workers in Petrograd walked out of their factories on International Women's Day and sparked the revolution that ended Csarism and led on to the ousting of capitalism and landlordism across Russia.
The total hypocrisy of the comments on International Women's Day from people who head governments, banks and corporations – women as well as men – is in stark contrast with the courageous marches of women in such countries as Pakistan, Turkey, Indonesia and elsewhere. Christine Lagarde is a rich woman who heads the International Monetary Fund – a body responsible for lending money with the right hand and tightening the screws on public spending in Greece, Sri Lanka and numerous other countries with the left! She said during a TV interview on March 8th that she believes a better deal for women would come about if there was "more" available in the economy. But her system – private ownership for private profit – is at present, failing pitifully to provide 'more' for any of the 99% of people – men and women – in society.
On March 8 – the day when women in Russia have traditionally been given flowers and "honored" – Vladimir Putin made a sentimental televised address praising women who "do so much for us" (sic!). And this just weeks after his parliament began to annul criminal liability from men who violently attack women in the home. Donald Trump himself – the man whose belittling of women and threats to abortion rights and health care has angered so many men as well as women – tweeted on International Women's Day that he had "tremendous respect for women"!
There were big 'strikes' and demonstrations on Wednesday in Iceland (the only country so far where bankers have been jailed for their crimes) and the government has announced it will take measures to force employers to implement an equal pay policy regardless of gender, ethnicity, sexuality or nationality. An upsurge in protests on issues that affect women can see real gains made. An increase in support for socialist ideas can take the struggle onto another plane!
First reports
In addition to the reports already carried on socialistworld.net – on the magnificent walk-out in Spain and the colorful protests in Hong Kong – we have received reports of events and interventions in Greece and Australia, Finland and Pakistan. We will carry more compilations of reports at a later date.
Greece
Around 1.000 people marched on the streets of Athens for the International Day of Women. Comrades from Xekinima participated in the lively contingent organized by the militant cleaners of OSY, Athens' bus company. (report on this site:- http://www.socialistworld.net/doc/7883 ) A smaller march took place in Salonica, Greece's second biggest city.
Xekinima also organised a number of events in the previous days, covering day-to-day problems faced by women, but also historical facts like the participation of women in the legendary Russian Revolution. Successful events with over 50 participants took place in Patisia and Zografou (Athens' neighborhoods) and also Salonica. In the coming days, further events will take place in Petralona (Athens' neighbourhood) and Volos, one of country's biggest cities.
All the events were characterised by a lively and militant mood and, especially in Athens, by the participation of important numbers of OSY cleaners (most of them immigrants). During the events, videos were projected with greetings by comrades from Ireland, U.S., Brazil, and Poland.
Australia
We attended the broadly organised IWD march in Melbourne. It had about 3,500 on it and was the best attended IWD for perhaps 20 years or more. We had a good response and got new people to our meeting on Fighting Trump and sexism today.
Scandinavia
In Stockholm we took part in organizing two school strikes – Kulturama and Riksäpplet. At Kulturama 100 students were on strike for 1.5 hours and made spontaneous speeches about rape and harassment that they know about themselves. They were mixed with anger and a will to fight back and change society. At some workplaces there was strike action.
In the evening in Stockholm, there was a demonstration of 2,000 with a very high fighting spirit and very youthful. The same in Gothenburgh where Rättvisepartiet Socialisterna organised it and had speakers. There were demonstrations in several other cities such as Malmö, Lund, Uppsala and a in Luleå which we organised. There was also a new phenomenon with huge singalongs of 2,000 or so people and many dressed in pussyhats in both Gothenburg and Stockholm.
In Oslo, 10, 000 demonstrated, also predominantly very young . The main slogan was against violence and solidarity with refugees and also in defence of the equality law.
Finland
International Working Women's Day in Finland's capital, Helsinki, was celebrated in a mix of traditions. While many commemorate it in the Russian style, with men presenting flowers to women, 150 socialist and anarchist activists gathered in the public square in Kamppi for speeches and a march.
Solidarity was the order of the day as leaders and organizers, including CWI members and supporters, announced the march's support for the International Women's Strike, commemorated the centenary of the women's strike which sparked the Russian Revolution and led chants proclaiming anti-fascism, solidarity with refugees and the need for socialism. The march certainly could have been larger – the main political parties, caught up in organizing for local elections, put little or no effort into marking the day – but the tone and character of the demo shows that a radical fire still burns in Helsinki. -Edmund Schluessel, Sosialistinen Vaihtoehto (CWI in Finland).
A group of 100 people fought against bad weather to hold an International Women's Day commemoration in Tampere. They called for equality, better wages in female-dominated sectors and for the fall of Finland's neoliberal government. Despite the snow, the march brought a colourful array of participants from different backgrounds under a common message of solidarity. -Noora Tapio, Max Anttila and Henrik Jaakola.
Pakistan
On Women's Day, March 8, 2017, female comrades of Socialist Movement Sindh arranged a workers' rally from the Socialist Movement Sindh office in Mirpurkhas to the Press Club. It was led by comrades Iqbal Begum Narejo, Sughran Khaskhely Sundar Hameed, Lela Langhani, Zahida Qubrani and Maya Wati. They put forward demands that female workers and peasants working at home should be registered as industrial workers and given full social security facilities.
Italy
Over 70 cities and towns had some kind of activity to mark International Women's Day 2017 including strikes of transport workers, schools and many other sectors. 10,000 marched in Milan, 5,000 in Naples and there was a very big demonstration in Rome. The photos from Bologna (below) tell the story even more than statistics can!
Germany
The turnout at women's protests was larger than previous years in Germany and the CWI had good interventions in them. We organised "Women's March Hamburg" and 350 people came to that. A video and photos of that march can be seen here.
Larger demonstrations were called in Berlin than for the past five years. With 10.000 people this year's demonstration turned out to be the biggest. We intervened with our paper, socialism material, a youth paper and leaflets for a skype discussion with our comrades in Ireland. We participated in the left youth contingent and had two speeches at the demo from Lucy Redler and a younger SAV member. These can be found here.
We also held small demonstrations in other cities like Kassel and Aachen where 50 people came along, exceeding expectations!