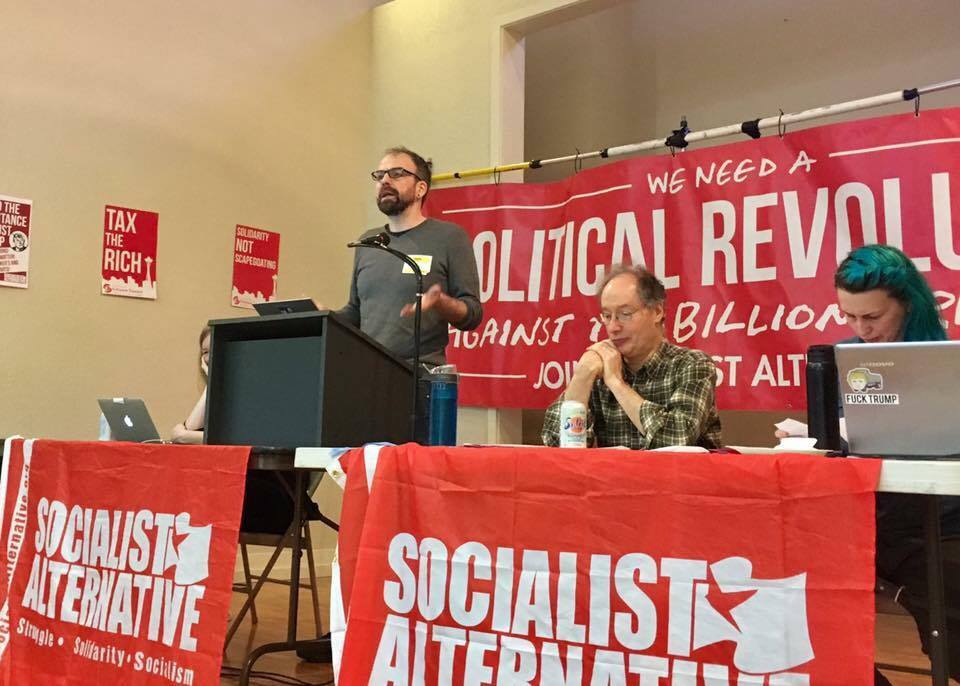 On February 6, less than a month into Trump's administration, Seattle Socialist Alternative held its annual convention with over 175 people in attendance. Members from NYC, Massachusetts, Portland, Tacoma, Bellingham, and California joined us to make this the largest convention in Seattle history.
This is a sign of the times. We are growing rapidly because we are living in a moment where millions of people are moving into struggle, primarily to stop Trump, but also to fight for a world free of war, poverty, inequality, and oppression. More and more people are drawing the conclusion that we need socialism, and they're searching for ways to get active to make concrete, positive change. Many have come to Socialist Alternative because we have provided an analysis of Trump's victory, a fighting strategy to defeat him, and a fresh outlook for why socialism is the answer.
The morning was filled with a discussion on the changed political terrain in the Trump era, punctuated with hopeful stories of the growing resistance to Trump's agenda. We discussed the importance of the need to build mass movements to defeat Trump and the role we can play in this political climate providing a clear strategy to inspire millions to join and build those movements.
Socialist Alternative helped ensure that Trump faced resistance from day one: here in Seattle we initiated a rally and march of 6,000 the day after Trump was elected. On Inauguration Day, we brought together a coalition to organize a massive protest rally downtown. In the weeks after, Socialist Alternative and City Councilmember Kshama Sawant fought against Trump's new approval of the Dakota Access Pipeline (DAPL) by working alongside indigenous activists to force the city to divest billions of its money from Wells Fargo bank, one of the major backers of the project. This victory has sparked a national movement to divest from DAPL.
We also discussed the victories over the past few years, which show that, though we are still a small organization, we have won big gains for working people by being strategic in our approach. Just look at what we have accomplished: we have elected a socialist city council member, twice; we won a $15 minimum wage in Seattle, which helped spark a nationwide movement; we successfully organized against the slumlord Carl Haglund and got a law passed to prevent rent hikes on run-down rental units; and we passed rental move-in fees reform. To top it off, we helped block the most expensive police bunker in history in spite of the determined opposition of the city's Democratic Party establishment, and used that momentum to secure $29 million for affordable housing.
We have accomplished all of this with just 1,000 members nationwide! It's no wonder we have been deemed a threat by Breitbart news.
Going forward, we know that continuous mass mobilization and resistance will be the most effective way to combat Trump's agenda. We need to be in the forefront of linking the struggles against Trump's agenda on women, immigrants, the LGBTQ community, Muslims, and other groups Trump will target. We need to rally around the slogan that "an injury to one, is an injury to all." It was ideas like these that were central to our conversations at our annual convention this year. We assessed struggles of the past, like the "Day Without an Immigrant" struggle of 2006. We discussed which sections of society have already taken a fighting lead, like nurses and teachers who have moved into struggle with their recent strike actions. How do we hold the line against Trump's attacks but also organize the concrete victories that will be needed to inspire people into struggle?
Our movements to defend our communities and to defeat Trump will not be successful if we are divided, or see our struggles as separate and isolated. Working people and youth will continue to lose out under a capitalist system, where the profit motive reigns supreme at the expense of people and the planet. Just eight people have the wealth of half the world's population! This is why we fight Trump and the Billionaire Class here and now, but also call for a socialist society, where the 99% own and control the wealth and resources, and can democratically plan to use them to meet human and environmental needs.