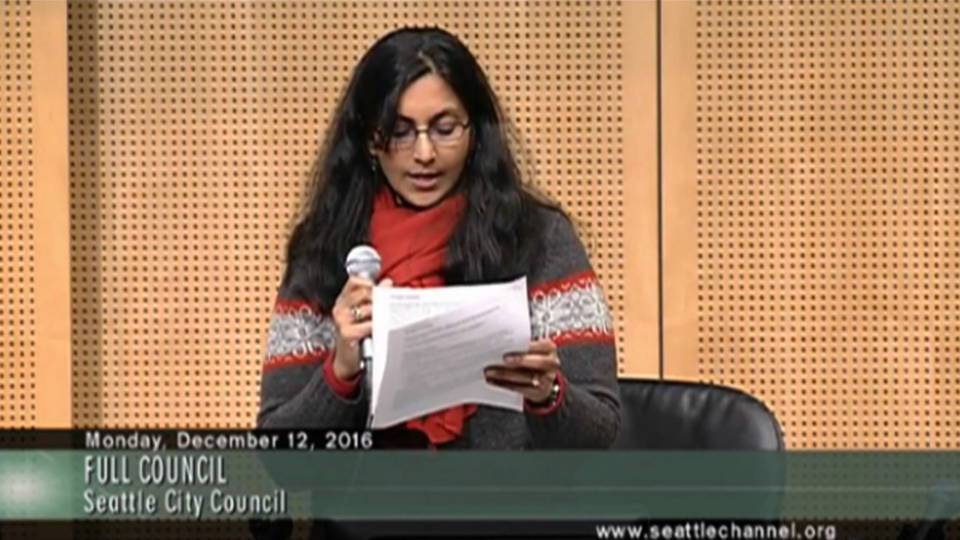 "The city of Seattle can make a strong commitment to environmental, economic, and racial justice by moving the $3 billion currently held in deposits with Wells Fargo to a financial institution that has the required social justice record." – Councilmember Kshama Sawant
In December, Councilmember Kshama Sawant introduced legislation that would divest the City of Seattle from Wells Fargo, who currently manages more than $3 billion of the city's operating account. Wells Fargo, along with 16 other banks, is a lender to the Dakota Access Pipeline project. Wells Fargo has $120 million in a $2.5 billion credit agreement to fund the pipeline project, according to Jessica R. Ong of Wells Fargo Corporate Communications.
Though the final permit needed by the Dakota Access Pipeline was rejected by the Army Corps of Engineers, many activists have remained at the camp as the Energy Transfer Partners have stated they have every intention to finish the pipeline. Also, President-elect Trump has made it clear that he supports the Dakota Access Pipeline and will make a decision on the completion of the project once he gets into office.
Based on Trump's support of the Dakota Access Pipeline and Keystone XL, as well as his desire to invest in "clean coal" and completely disregard the Paris Climate Accord, we know that we will need to continue the success of the #noDAPL struggle and build social movements to combat Trump's climate denial cabinet and policies from the ground up.
Divesting the City of Seattle from Wells Fargo is one way to show solidarity with the heroic indigenous people and other activists at Standing Rock, to put pressure on Wells Fargo to divest from DAPL, and continue to shed light on a fraudulent corporation whose business practices have not resulted in a single criminal investigation. Councilmember Sawant's bill also cites how the company "directed employees to fraudulently create more than 2,000,000 unauthorized bank and credit accounts during the past five years, negatively affecting the credit ratings of millions of customers," and terminated 5,300 "of the corporation's lowest-paid workers" without firing a single senior executive. As a result of that scandal, Seattle City Light in October ended its $100 million bond financing relationship with the bank."
While this is a step forward, it is a slap on the wrist compared with divesting the city's $3 billion account. Likewise, stopping climate change will ultimately require taking the energy and banking sectors into democratically controlled public ownership so that ordinary people, rather than billionaire shareholders, have the control over resources necessary for a massive expansion of renewable energy and to move rapidly away from fossil fuels.
Unfortunately, the Democratic Party elite, insulated from the direct consequences of Trump's policies, are looking to the midterm elections as the answer to disempowering Trump rather than building powerful movements, making it easier for him to inflict his racist, sexist, anti-worker attacks on ordinary people. Socialist Alternative was one of the first groups to call for protests against Trump the day after the election and continues to call for mass social movements and protests to stop Trump's reactionary agenda because ordinary people can't afford to wait until 2018 or 2020.
Minneapolis and the state of California are looking at similar measures to divest from Wells Fargo. Just like with $15/hour, ordinary working people in Seattle, with an elected socialist who is not beholden to corporate money, can spearhead this movement to strike a blow against a financial institution that invests in dirty energy and supports Big Oil's attacks on native treaty rights. This would send a clear message that the movement will not stand idly by while this administration or any other continues the march toward climate catastrophe.