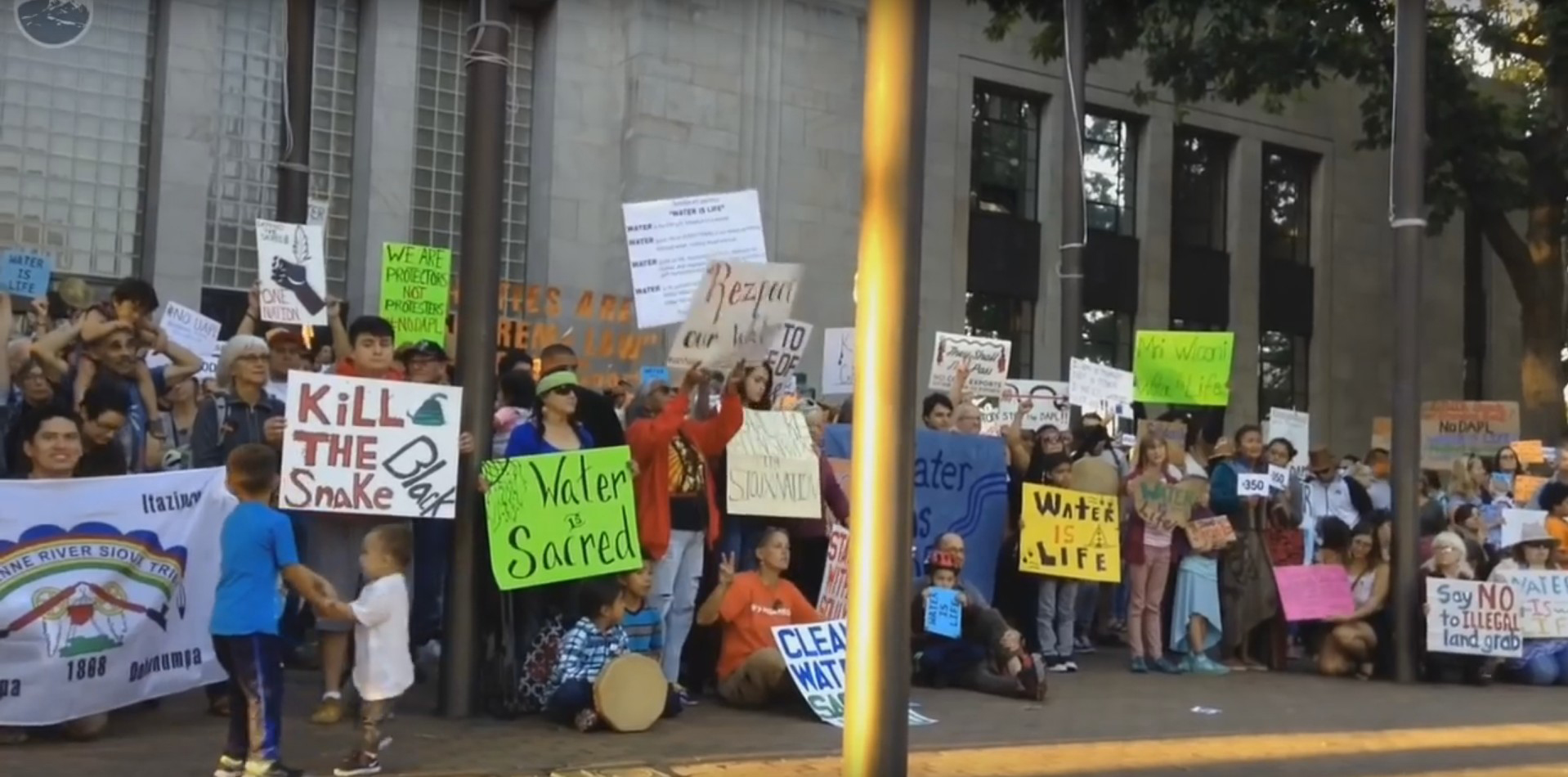 Members of the Bellingham branch of Socialist Alternative joined close to a thousand people who stood in solidarity with the Standing Rock Sioux Nation outside of City Hall in Bellingham, WA on Monday evening, September 12. Members of the Lummi Nation opened the rally with traditional song and dance, creating an atmosphere of urgency, hope, and determination. The children danced in the front, displaying what was at stake in their struggles. Speakers included Bellingham City Councilmember and Native American Roxanne Murphy, activist Chiara Rose who spent a month at Standing Rock, Lummi Councilwoman Shasta Cano-Martin, and members of the Lummi House of Tears Carvers, a group that travels across the U.S. and Canada on totem pole journeys to protest fossil fuels and build alliances with other tribes.
During their journey, they visited Standing Rock and left the day before private security forces attacked protesters with attack dogs and mace. The Lummi Nation, having played a critical role in defeating the proposed coal terminal at Cherry Point earlier this year, are familiar with fighting powerful corporate interests. The rally was followed by a city council meeting that passed a resolution in support of Standing Rock and their call to stop the Dakota Access Pipeline (DAPL).
In recent months, the Standing Rock Sioux Nation have been joined by 100 tribes from across the country in peaceful protest against the construction of the DAPL which would continue to desecrate sacred sites and contaminate the Missouri River, Standing Rock's only water supply which also supplies water to millions of people. Their struggle against powerful corporations and corrupt government has exploded across social media but has received very little attention from the  mainstream corporate media until recently. Last friday, the Obama administration was forced to put a temporary hold on issuing permits for construction near the Missouri River in the Standing Rock Reservation. But we can't rely on the Democratic Party who has received millions in campaign contributions from the very industry building the pipeline. Nevertheless, this is the break protesters have been waiting for, but the fight is far from over. Now is the time to show support and solidarity with First Nations that are fighting on the front lines for clean water and an environment that can sustain the future of humanity!  We need to keep fossil fuels in the ground and switch to sustainable and renewable energy sources, take into democratic ownership and management the fossil fuel industry.  We need a socialist future that puts people and the environment over profit!
Watch a short video of the protest here.