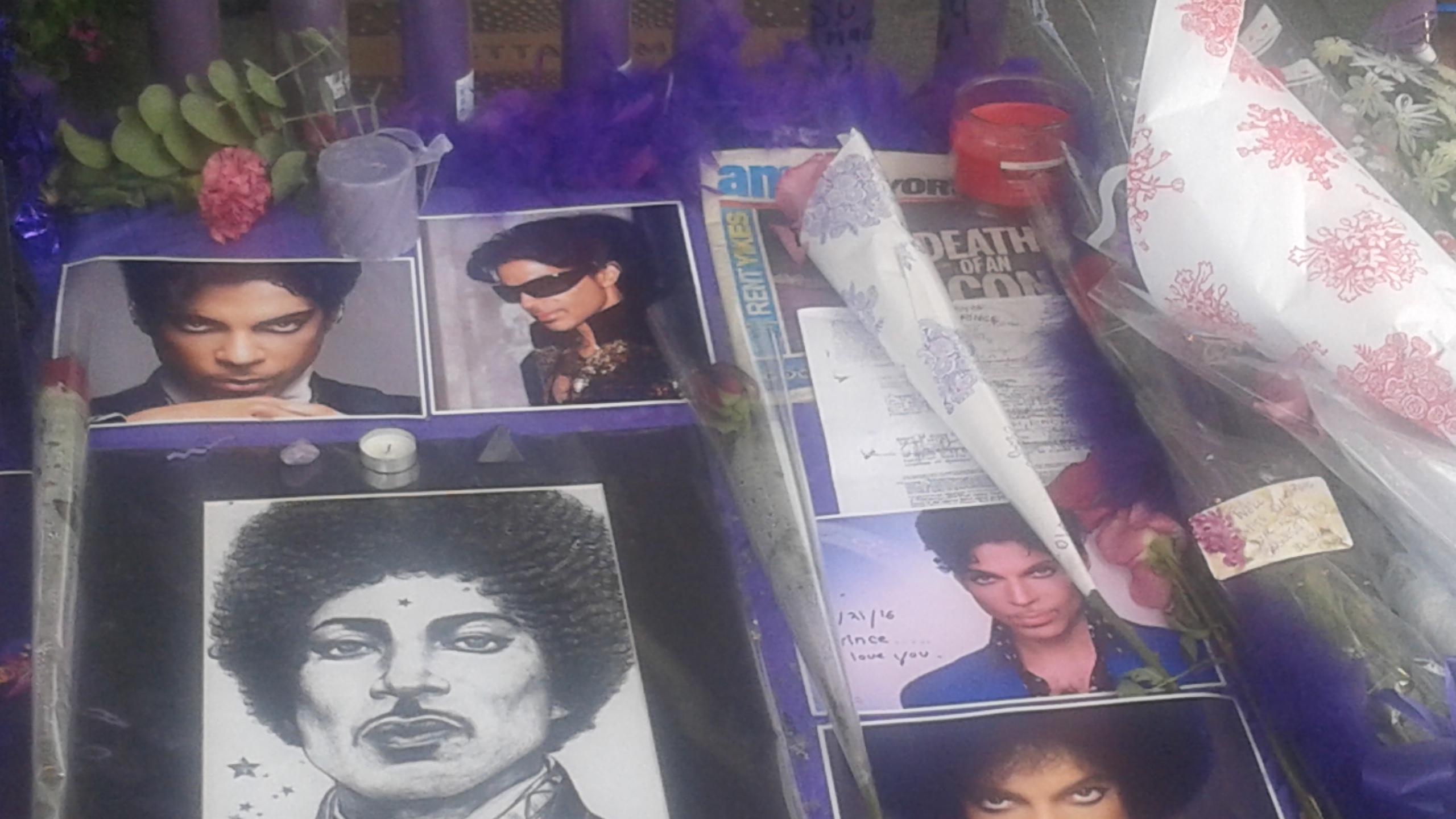 Introduction
by DS
"…If I gave you diamonds and pearls
Would you be a happy boy or a girl
If I could I would give you the world
All I can do is just offer you my love…"
– Prince, "Diamonds and Pearls"
On Thursday morning, I saw some posts on twitter relating to the death of Prince. I initially dismissed it as a hoax, but when those posts became more frequent I went on a quest to find the truth. It didn't take long: "Prince Confirmed Dead at 57." I was shocked and confused. I felt this expanding void, enormous and endless. Although I never had the opportunity to be in the presence of Prince or see him perform live, I came to realize that the musical geniuses of that era that produced so much talent, grace and magic – that era Prince represented when music broke through as an expression of love, passion and truth – is coming to a close. A time that gave us Michael Jackson, Whitney Houston, Luther Vandross and many others that personified black excellence and truth, daring to rebel and reject society's definition of who they were supposed to be. But Prince's artistic work has inspired a new generation of artists like Kendrick Lamar, Lupe Fiasco and Janelle Monet who are taking up and exhibiting some of that same profound level of love and passion for humanity.
The Genius of Prince
by Eljeer Hawkins
A Musical Protégé
Prince Rogers Nelson, known to the world as Prince, was born June 7, 1958, the son of a jazz pianist in Minnesota. He taught himself to play piano by the age of 7, and within another 7 years had learned the guitar and drums. His parents' relationship would collapse, yet while still in high school he formed his first funk band, Grand Central. At the age of 18 years old he would sign his first contract with Warner Brothers Records. Prince was an extremely shy and reclusive young man which showed itself on stage, but Warner Bros. would make an unprecedented decision to give Prince full creative license over the music and sound, which was unheard of at the time for a first-time artist (let alone an 18-year-old new artist). His first album, titled "For You," was released in 1978 during the period of disco and and alongside the ascendancy of another funk and dance master, Motown Record's Rick James. The release of "For You" unleashed an unimaginable talent – producing, writing, singing and playing every instrument on the album. It also produced a first hit, "Soft and Wet," soaked with sexual innuendo and lust. It was clear Prince was here to stay.
The Rise of Prince
"…I'm not your lover
I'm not your friend
I am something that you'll never comprehend…"
– Prince and The Revolution, "I Would Die 4 U"
Following the minor success of "For You", Prince went to work on his second album, the self-titled release, Prince, in 1979 which produced hits like "I Wanna Be Your Lover" and a sound that encompassed multiple genres and sounds from hard rock and funk, to sensual ballads and dance-pop music. The lyrical devices Prince applied bent the boundaries of the profane and spiritual. Prince was a musical child of James Brown, Sly Stone, Jimi Hendrix, Parliament Funkadelic and countless other artists. He was also influenced by the pansexual and androgynous period of Glam rock led by musical pioneers like David Bowie and Lou Reed. But Prince himself would kick down that door and expand the contours of sexuality and masculinity for men, particularly for black men – showcasing that it was fine to be different (or a "weirdo"), bucking the status quo and labels of society's narrow definitions of manhood,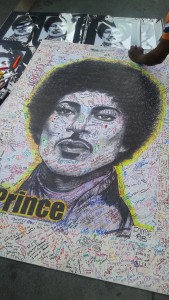 sexuality, and masculinity. Through his music he inspired a new generation of LGBTQ people, and others who were coming out of their closets, who had been isolated and treated with disdain by a system rooted in callous indifference to personal humanity and spirit.
The release of 1980's Dirty Mind, came out with a trench coat, bandana and bikini-underwear-wearing Prince on the album cover. Dirty Mind would cover the topics of fellatio in the song "Head" and incest in the song "Sister." The music had a raw punk, dance and funk vibe that was unapologetically youthful and rebellious. Not many in the rock and roll would accept Prince's style and fashion sense. He would be booed off stage as the opening act to the Rolling Stones during this period. Not all his themes were progressive – his lyrics and songs also had elements of misogyny, patriarchy and sexual objectification of women that led a female band mate to leave the group, particularly affected by a recording of the song "Head."
In his next three albums, starting with Controversy, in which the title song dealt with the ambiguity of his sexual orientation and racial background, Prince's revolution continued even against the backdrop of the counter revolution of Ronald Reagan's presidency. In 1999, which broke major hits like the title song of the album, would become a chart topper twice (once in 20th century and again at the turn of the 21st). "Little Red Corvette" would also become a soaring hit particularly during the rise of MTV, music videos and 80s mega stars Madonna and Michael Jackson (who blew the world apart in 1982 with the biggest album of the century, Thriller).
A Global Superstar is Born
"…I never meant 2 cause you any sorrow
I never meant 2 cause you any pain
I only wanted 2 one time see you laughing
I only wanted 2 see you laughing in the purple rain…"
– Prince and The Revolution, "Purple Rain"
Prince began work on his sixth album in six years (a highly prolific output for any artist). The Purple Rain album would accompany Prince's acting debut and semi-biographical film about his life and his band, The Revolution – a  multi-racial, gender-balanced and talented band that would remind many of the multiculturalism of the great Sly and the Family Stone of the mid-60s and early 70s. Purple Rain took over the charts, holding the #1 position for 48 straight weeks, and drove home the musical brilliance of Prince to the nation and world. Prince won multiple awards including a prestigious Oscar award, for best original song for "Purple Rain," which stands as one of the most recognizable songs and guitar solos in rock and roll history.
Prince took political center stage as the Christian right and "decency" lobby led by Tipper Gore was challenging "raunchy and offensive" language in music and film. The song "Darling Nikki" from the Purple Rain soundtrack was used during congressional hearings with Democratic Tennessee congressman and future Vice-President Al Gore as an example of "filth" in the arts. Those hearings led to the parental advisory label on all albums and CDs thereafter.
Throughout the decade Prince would continue to produce infectious rhythms, beats and insatiable lyrics. He was a prolific songwriter and producer and also wrote hits for Sheila E, Sheena Easton, Sinead O'Connor, Melissa Morgan, Chaka Khan, Vanity, and Apollonia. His stage shows and presence were unmatched by any artists of the time. The 1987 release of the double album, Sign o' the Times, is recognized by MTV as one of the top 100 albums ever produced. It's a bold, eclectic, social, political and musical masterpiece that further cemented Prince's place in the history of music. Prince produced 35 studio albums, sold 100 million globally, and collected 7 Grammy awards. He also has hundreds of unpublished songs in his vault at Paisley Park in Chanhassen, Minnesota, the state of his birth and home, till that fateful day, at 10:07am, when he was found unresponsive on the first floor of his music studio.
The Politics of Prince
"…Nobody got in nobody's way
So I guess you could say it was a good day
At least a little better than the day in Baltimore
Does anybody hear us pray
For Michael Brown or Freddie Gray?
Peace is more than the absence of war…"
– Prince, "Baltimore"
The politics of Prince were a contradictory paradigm that were exhibited throughout his music – from an unapologetic sexual freedom that demanded to be "you no matter what others think of you," to a religiosity or spirituality that led him after the passing of his parents to become a Jehovah Witness in 2001. The latter appears to have led him toward a more conservative, non-position on same-sex marriage equality as his home state of Minnesota became the 12th to legalize same-sex marriage. Prince's lyrics took on the threats of war in the middle east, nuclear annihilation, unchecked greed and working class struggles. He supported charitable and philanthropic causes for young people that weren't publicized widely, for example sending money to the Trayvon Martin family following his killing by self-appointed neighborhood watchman, George Zimmerman in 2012. His undying commitment to young people and desire to address existing problems in public education led him to support some less progressive causes like the disastrous charter school and education reform movement headed by Wall Street and hedge-fund managers.
He was greatly inspired by the Black Lives Matter movement and deeply troubled by the events in Ferguson and Baltimore following the rebellions against law enforcement violence. He gave concerts in a number of cities to assist local communities struggling against insurmountable odds.
Prince was a union member, a long-standing member of both the Twin Cities Musicians Local 30-73 (American Federation of Musicians) and SAG-AFTRA, and spoke out many times against the corporate control of music and its artists.
Prince's landmark battle against Warner Bros. and the record industry was centered around property, publishing rights and ownership of "master tapes" – the bedrock of music industry control and their capitalist ethics of corporatized intellectual property. It was Warner Bros. who gave Prince full musical control over his product, but Warner Bros. insisted on its ownership of everything else – profiting handsomely from one of the most successful artists in music history. He would inscribe the word "slave" on his right cheek, and change his name to an unpronounced symbol which combined the symbols of man and woman. He stated defiantly, "People think I'm a crazy fool for writing 'slave' on my face. But if I can't do what I want to do, what am I?" Prince's musical output during this time period wasn't his best as he wrestled with getting out of his contract with Warner Bros., while still being forced to fulfill the contracted album releases.
In 2014, he would renew his relationship with Warner Bros. as he finally obtained the publishing rights and master tapes of his earlier work.
A Lasting Legacy
by DS
I can remember being awakened early in the morning to my momma blasting Prince's "I will die for you." Thinking to myself why is this man saying "yabba dabba do" in a song but still it's a jam.
I can remember being a child staying up late listening to music with my mom, a single mother of three. Those late nights were her period of sovereignty – we we're always poor, never had much. She never was able to live a life outside of struggle, poverty and parenting but this music brought her so much joy, even during times of pain. There was no way I could sleep with that playing – it was contagious, soulful and raw. I had to get up and dance, and dance I did. I can remember my mother coming into my room and catching me up dancing. It was way past my bedtime, she figured I'd be asleep. She looks at me and asks, "Why are you up?" I replied "I'm dancing to Prince." She paused and smiled for a second and then said "Take your behind to sleep." I believe these events influenced by musical desires to this very day. I can let a Prince album play from beginning to end, and although I may not know all the names of the songs, the experience I get is all that I need.
This is the lasting legacy that Prince leaves for us. A legacy of bold musical virtue not dictated by corporate influence. He didn't sell us artificial musical commerce – what he put into every note, every rhythm, was a piece of himself.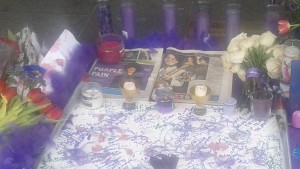 The music industry today has long left in the past the ability for artists to have creative control. Something so fluid, delicate and contagious has now become thoroughly commodified, while being used to push the very racial and gender stereotypes that artists like Prince rejected. So much music now lacks the humanity that allows you to deeply devour every note and become closer and more connected to the world around us. So much of what was revolutionary in Prince and his era has been replaced by repetitive punch lines and dead sound effects. For many young people who grew up jamming to the O'Jays, the Parliament Funkadelic, Sly and the Family Stone, Anita Baker and Chaka Kahn, because of our parent's generation we understand the importance of these artists. The gender fluidity of artists like Prince defying personal barriers while not being married to one sound. When artists were nominated for many musical categories because they weren't just pop or just R&B or just rock. For many black people this was an essence of beauty that allowed them to temporarily escape the oppression and constraints of white supremacist capitalist society. You could find your humanity as love lost or love found. Your humanity could be wanting to "Get Down on It." Your humanity could be "A Family Affair," that was loved and appreciated by all. Or you could find your humanity just dancing in the Purple Rain.
For Prince,
Rest in Power