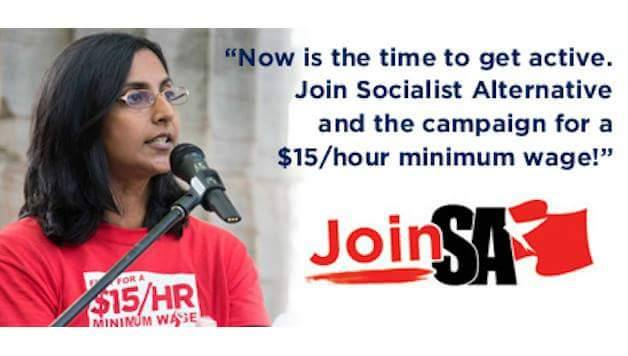 On December 22, Ramy Khalil, Volunteer Director for the re-election campaign of Seattle City Councilmember Kshama Sawant, addressed a group of Houstonians to discuss Sawant's victories and the prospects for starting a local Socialist Alternative branch in Houston. Ramy spoke about the remarkable feat of electing and re-electing a Socialist candidate in Seattle without any corporate cash and encouraged the group to consider the strategies and approaches that made it possible. He stressed that while every city is different, Houston has a great deal of potential for an effective progressive movement much like Seattle has seen.
With twelve people in attendance, the group was small but inspired by the accomplishments in Seattle, and we participated in a lively discussion about how to change society. We exchanged thoughts on "15 Now," discussing arguments and counter-arguments for a $15 minimum wage. Also a topic of lively discussion was Bernie Sanders' candidacy for president. Finally, the attendees offered ideas on how to go about building a branch in Houston, grappling with the need to learn about Marxist revolutionary ideas and whether to take up 15 Now as a starting point or perhaps the Black Lives Matter focus on justice for Sandra Bland.
Another informal meeting was held on December 27th in which an established member from the Austin branch, Matthew Wackerle, was able to further introduce prospective members to Socialist Alternative. (Matthew had just moved to Houston.) Out of these discussions, Matthew and 3 new people committed to try to launch a Socialist Alternative branch in Houston with regular meetings, and scheduled their first branch meeting.
Houston is a dynamic, extremely diverse city. In fact, it is the fourth largest city in the country. It is full of people who are passionate about progressive politics. Struggles against poverty wages, police brutality, and mass deportations of immigrants are at the center of concern. We look forward to building Socialist Alternative in Houston and appreciate the help of SA members from other cities, particularly the nearby Austin branch, to assist in this important endeavor.