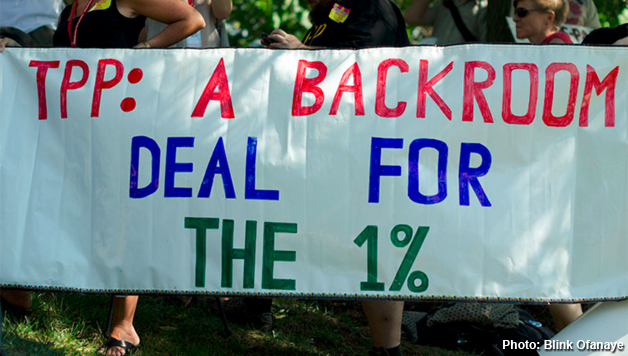 Trade ministers representing twelve nations reached an agreement on the Trans-Pacific Partnership (TPP) on October 5, advancing to the final stages a deal that, if passed, will deepen inequality and climate change while boosting the power of multinational corporations over working people.
The deal will come up for final approval in Congress in the next few months. Congress voted in July to give TPP "fast-track" authority, meaning that no amendments will be allowed on the massive, 30-chapter trade deal.
TPP: How Bad Is It?
The TPP, which has been a bipartisan project, represents the extent to which the leaderships of both major parties are beholden to the interests of their corporate and Wall Street donors. As Americans remember, promises of growth from trade agreements often fall short – NAFTA, for example, was a boon for corporate interests but a catastrophe for working people, with millions displaced, massive job losses, escalating privatizations, and shredded environmental protections.
President Obama has promoted the TPP as "the most progressive trade bill in history" by inking into the document basic principles recognized by the International Labor Organization such as freedom of association, the right to collective bargaining, and abolition of child labor.
The reality is that the U.S. systematically fails to monitor and enforce compliance with the labor provisions included in existing trade deals. As Dan DiMaggio describes in a recent Labor Notes article, Guatemalan unions, together with the AFL-CIO, have been waiting for seven years for their Central American Free Trade Agreement (CAFTA) case to be heard by the Department of Labor. In the meantime, 72 Guatemalan unionists have been murdered, and union density in Guatemala sits at just 2 percent. The rosy promises of justice have fallen flat when "employers often ignore court orders, and the government stands by."
But, as we have said before, the TPP will be even worse. The big corporations and multinationals will benefit, while average workers are decimated. Reports about the final text of the TPP raise questions about food safety, Internet freedom, financial stability, and affordable access to life-saving medicines.
For example, Big Pharma will be able to withhold data required to produce generic drugs for at least five years, with no maximum across countries. This will lengthen pharmaceutical monopolies and decrease access to drugs that treat cancer, HIV/AIDS, and more.
Corporate Greed Over What People Need
Democratic presidential candidate Bernie Sanders has been consistently opposed to the TPP, calling the agreement "Part of a global race to the bottom to boost the profits of large corporations" (12/29/2014). Sanders has attacked the TPP's special "corporate tribunals," which give corporations the ability to sue nations for lost profits due to laws or regulations.
Fossil fuel companies could use the corporate tribunals to their advantage by ensuring that efforts to cut carbon are tied up in private courts. 350.org's Karthik Ganapathy called TPP a "disaster for climate change" (ThinkProgress, 10/05/15).
While American unions should be commended for rallying some opposition to the TPP, it was not enough to stop fast-track authority from passing. To halt TPP will take a full mobilization of union membership, including through workplace action.
Nationally, over 2,000 unions and progressive organizations "who spanned the base of the Democratic Party," according to The Guardian, oppose the legislation. Yet the corporate leadership of the Democratic Party was able to ignore this opposition because there was no real threat that they could be challenged by left-wing independent candidates at the ballot. This must change.
In October, over 250,000 people turned out in Berlin for a rally against a parallel European-American free trade agreement, the Transatlantic Trade and Investment Partnership (TTIP). If trade unions, socialists, environmental activists, and anti-globalization groups unite in a mass movement, it is still possible to defeat the TPP.