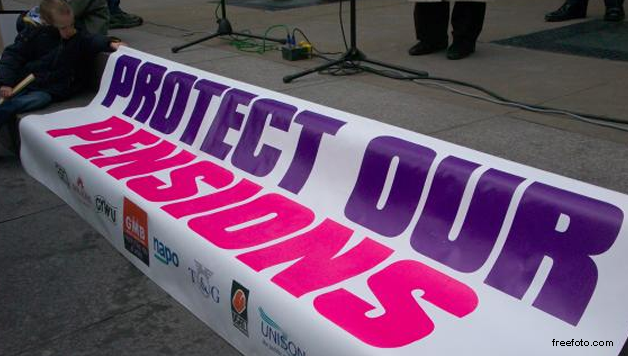 Quietly passed in last month's 1,500-page federal budget was a business-led attack on pensions that will shred 40 years of retirement income rights for workers. Supported by the Obama White House, the law permits the cutting of pensions for current retirees across the country. It gives employer and union trustees the ability to pre-emptively reduce benefits from pension funds deemed "critical," meaning that they may become insolvent within 20 years. The radical provision was added to the budget bill in the eleventh hour and had never previously been introduced into the House or Senate on its own.
The measure was supported by major corporations such as UPS and Kroger and marks an escalation of the attack on working people in the United States. About 10 million participants across 1,400 multi-employer pension plans will be affected, and cuts are expected to come down swiftly in some current retirees' checks. According to the Pensions Rights Center, there are instances where the cuts could be more than 60% of a participant's benefits, although more conservative estimates anticipate cuts of 10 to 30%.
As Labor Notes reports, although employers have repeatedly frozen or reduced benefits for future retirees, the new law permits a reduction of vested benefits for current retirees – eviscerating a core protection enshrined in the Employee Retirement Income Security Act (ERISA) of 1974. Union members ranging from electricians to Teamsters to hotel workers will no longer be legally guaranteed to receive hard-won benefits. In effect, employers have another opportunity to attack workers – even after they have left the company.
"It's heartbreaking," said Karen Friedman, executive vice president for the Pension Rights Center, in a statement to the Washington Post. "We are getting calls and letters from people who are scared. They are the most vulnerable. They can't go and get another job. They were told they would have a pension for the rest of their life."
Although the measure ostensibly allows retirees to vote against such cuts, their votes can be overridden by trustees who are typically more aligned with active workers and employers than with retirees. In this way, the law pits current workers against retirees: the former hoping pensions will endure in some form as the latter struggle to maintain the income on which they depend. The new law does not provide automatic restoration of lost benefits if a plan's funding status improves, and retirees, widows, and widowers whose benefits are reduced cannot bring a lawsuit under ERISA to challenge the legality of the reductions.
With rates of old-age poverty already skyrocketing, Obama's budget shreds yet another strand of America's already precarious social safety net. The Employee Benefit Research Institute has found that 9.4% of 65-74 year-olds lived in poverty in 2009, up from 7.9% in 2005, and that an astonishing 14.6% of retirees over the age of 85 lived in poverty in 2009 (the most recent year for which data is available). Less then half of workers in America have any kind of pension plan at all.
The measure was supported by top Democrats and Republicans, all of whom rely on big business to fund their political re-election campaigns. This includes Democratic co-sponsor Rep. George Miller, a close confidante of House Democratic Leader Nancy Pelosi. Despite pleas from some labor leaders to oppose the move and instead help rescue troubled pensions, Miller refused to grant average workers the same protections that bailed-out banks received during the financial crisis.
The majority of unions, including the Machinists and Steelworkers, opposed the bill, although some such as the Building and Construction Trades, SEIU, and UFCW supported it. Some unions calculated that it was better to get a deal done before the Republican-controlled Senate took office, fearing that Republican majorities could try to strip union influence over multi-employer plans altogether.
But Kelley Stillwell, 57, a retired construction worker from Henderson, Nevada, and longtime member of Laborers Local 872, was furious at his union's leadership. "I joined the union movement 38 years ago and I retired with a pension guaranteed for the rest of my life," he told In These Times. "I feel like this is a total sellout of the principles of the entire union movement."
Workers must seriously consider the path forward. Unions must band together to support every other union's pension, and not fight to save their own pensions at the expense of others'. "An injury to one is an injury to all" must unite workers to stand in solidarity. Exemptions or special carve-outs for certain unions must be forcefully rejected.
Most importantly, unions should break from the Democratic Party, which pays lip service to working people while gleefully attacking their hard-earned pensions. Only an independent party of working people will be able to muster the necessary strength to resist the attacks of big business and achieve tangible results. The offensive victory of the 15 Now movement in Seattle, initiated by Socialist Alternative, stands as a proud example of what working people can achieve when they put sustained pressure on the establishment. Similar movements must be built to oppose further degradation of retirement security.
Under capitalism, workers and retirees will only face greater and greater attacks. For a comprehensive national retirement program, where human decency and compassion in old age are enshrined in law, workers must band together and fight for a socialist future.
Image by freefoto.com under a CC BY-NC-ND 3.0 License