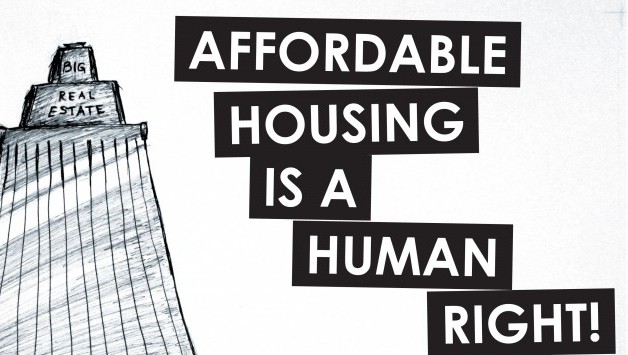 Working people in America face a severe housing crisis. Renters are confronted with skyrocketing rents, and ten million homeowners' mortgages are still underwater six years after the bursting of the housing bubble. Over 600,000 people, one-third of them families, are homeless on any given night in the U.S.
In cities across the nation, the cost of living is exploding – first and foremost the price of housing.
The anger over income inequality saw its expression in the struggle for $15 an hour, led by fast food workers, trade unions, and grassroots campaigns like 15 Now. In Seattle, this movement achieved a major breakthrough, winning a $15 an hour minimum wage – the highest in the nation.
As with the fight for $15, winning affordable housing will require a mass movement of working people, labor, and grassroots organizations. This movement cannot limit itself to what big business will accept, but must base itself on the needs of working people.
Rent Control – An Essential First Step
Economists commonly define affordable housing as "only" taking up to 30% of household income. But even that is out of reach for a great many households in metropolitan areas, where real estate developers and landlords are making profits hand over fist.
Rent control, which would tie all rent increases to the cost of living, is an essential first step. It would prevent rental costs from spiraling further and further out reach of working people.
As Jess Spear, Socialist Alternative candidate for the Washington State House, said: "There is no mystery about rent control. Rent control would set limits and prevent the big property owners from rapidly raising our rents. Developers and their representatives hate rent stabilization laws for a reason – because they limit their ability to make massive profits on the backs of working people."
Effective rent control needs to be comprehensive and implemented citywide. This avoids the pitfalls of rent control in cities like New York, where rent-controlled apartments have become an all-too-scarce commodity (see box at bottom). The main weakness of San Francisco's rent control laws, "vacancy decontrol," must also be avoided. This practice means that rent control only applies for the duration of the tenancy – incentivizing evictions and failing to control rapid rent escalations for all but long-term tenants.
But in addition to capping rent increases, the shortage of affordable housing must be addressed by building high-quality, below-market-rate, public housing. This would create tens of thousands of jobs and greatly expand the availability of affordable housing, without being dependent on private developers.
Paying for any significant expansion of affordable housing will require a reversal of current regressive tax policies and major expansion of taxes on developers and the wealthy. This is why the fight for affordable housing cannot be waged without a struggle against income inequality and the ending the billions in corporate handouts.
Publicly funded construction of housing has to be democratically overseen, by representatives of the communities, the labor unions, and the tenants. This will ensure the best use of resources and avoid waste and bureaucratic mismanagement.
Socialist Alternative demands:
Comprehensive rent control, implemented citywide, in all major cities
No "vacancy decontrol", and increased protection of tenants' rights
Tax the developers and the rich to fund publicly owned, high-quality housing that is affordable for working people
Reverse all cuts for low-income public housing; expand a national program of green growth to build public housing, mass transit, and jobs in an environmentally sustainable way
Failure of the Profit System
The chaos created by capitalist markets is at the heart of the crisis in affordable housing. Developers build only when and where they can maximize profits. Every fifth house in the foreclosure process is called a "zombie foreclosure" – where homeowners are forced out and the houses are not resold, but left to rot until they're uninhabitable and torn down.
Exploding rents, the destruction of homes, and increasing homelessness show that the banks and big business have failed to deliver this basic human need. On the basis of a for-profit economy, the need of working people for quality, affordable housing will never be met.
That's why, as well as campaigning for immediate improvements, we also need to end the domination of corporate greed over society. We need a fundamental shift towards a democratically planned socialist economy, which will use resources in the interests of people and the environment, not the wealthiest 1%.
Homeowners Underwater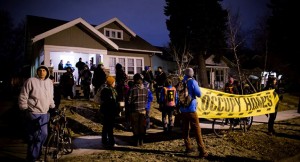 Millions of homeowners lost their houses to foreclosure after the bubble in burst in 2008, and in the years following. While the banks got bailed out, homeowners got sold out, and many were left trapped in mortgage debt worth far more than their homes – known as negative equity.
In June 2014, approximately 648,000 homes in the U.S. were in some stage of the foreclosure process. Big banks continue to place onerous burdens on people trying to buy a house. In the first week of October 2014, mortgage applications were approximately 43% lower than in October 1998. The banks are not delivering what working people need to get or keep a decent home.
As long as banks and financial giants continue to create speculative housing bubbles and big developers build only what maximizes profits, the housing crisis epidemic will persist. The struggle to make housing a human right is inextricably linked to the struggle against capitalism.
Socialist Alternative has supported anti-foreclosure struggles across the nation. Flowing from the Occupy movement, many activists formed groups to stop the banks from kicking people out of their homes and neighborhoods. Anti-eviction activists in Minneapolis formed Occupy Homes to stop evictions. In Seattle, a group called Stand Against Foreclosures and Evictions (SAFE) was formed and has led a series of eviction blockades and other actions to defend homeowners.
Socialist Alternative demands:
All foreclosures must be halted until a just negotiation takes place to keep families in their homes
For homeowners in negative equity, revalue the principal on today's market value
Stop evictions; police and other public resources should not be used to carry out evictions or any other aspect of the banks' dirty business
Take the big banks and major developers into public ownership so the resources can be democratically used to provide housing for all
Seattle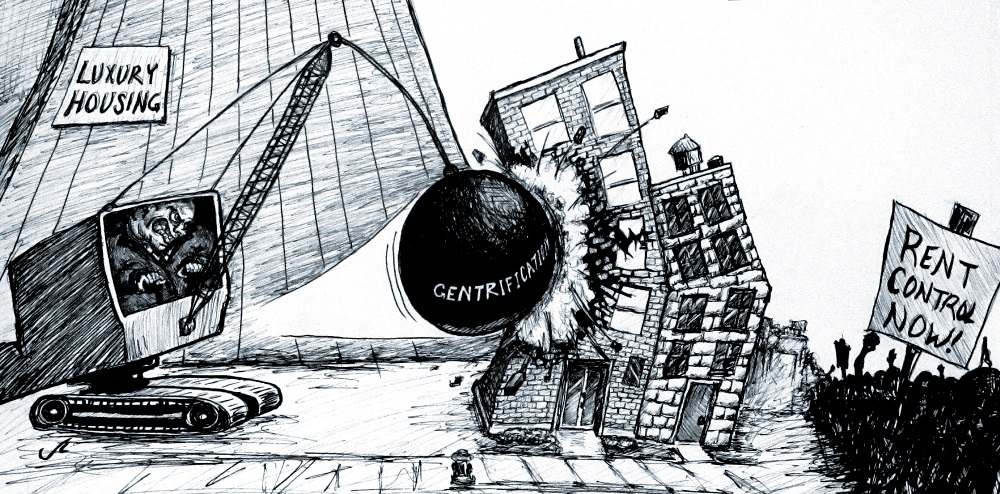 Seattle faces the fastest-rising rents in the country, and it has recently broken into the top 10 of most expensive housing overall, joining the ranks of New York and San Francisco.
The State Legislature, led by House Speaker Frank Chopp, has grossly underfunded affordable housing, resulting in the state ranking eighth worst overall in the nation. While 24,000 applicants sit on waiting lists in Seattle alone, low-income housing is torn down and luxury apartment buildings go up.
The city has become a playground for wealthy developers who are receiving sweetheart deals, making enormous profits, and are given virtually free rein over our neighborhoods. The process of gentrification is pushing people of color, low-wage workers, youth, and even sections of the middle class out of our city. Something urgently needs to be done.
Recent months have seen a number of struggles break out around rental housing, most recently at the Panorama House in the First Hill neighborhood of Seattle. The apartment building houses many elderly people who have called it home for decades. Sold to a big development company, renters have been given a few months' notice to move out so the building can be upgraded and rents doubled. With no form of rent stabilization in place in Seattle, double-digit and even 100% increases like this are entirely legal and all too common.
Renters have also risen up at Lockhaven, Theodora, and Squire Park buildings to take a stand against out-of-control rent hikes and privatization of public housing. At Squire Plaza, a united campaign of tenants, Socialist Alternative City Council Member Kshama Sawant, and the Tenants Union were able to score a victory against the attempted sell-off of the building to private developers.
Under the Twitter hashtag #RentersRiseUp, tenants in Seattle have started to report about their problems and build networks to push back against rising rents and attacks by the housing authorities. Hundreds came together, organized by the community and supported by Kshama Sawant against cuts of the Seattle Housing Authority (see box below).
[tabs tab1="New York" tab2="Seattle Housing Authority"]
[tab id=1]
By Eleanor Rodgers
From the 1930s through to the '70s, New York City introduced a range of programs to ensure that it was possible for working-class and middle-class families to live here. Rent control is perhaps the most famous, but it was followed by rent stabilization and complemented by a massive building program of public housing which, in turn, was followed by the Mitchell-Lama program, with government-subsidised private construction of lower-rent buildings.
Since the '70s, there has been a concerted attack on these gains for working people. Rent control, in particular, was singled out for attack in the media as an example of government overreach.
Socialist Alternative asked NY Housing Lawyer Seth Miller to answer some of the most common attacks on rent control:
The example of a Hollywood star living in a  rent-controlled apartment is frequently presented as an argument against rent regulation.
"That's not a realistic picture of who lives in these apartments. According to the Rent Guidelines Board, the median income in rent regulated apartments (both controlled and stabilized) is $40,209, but for rent-controlled apartments alone, it's much lower – in 2005, it was $22,200. Also back in 1993 the state passed a law allowing de-regulation of an apartment if the tenant's income was over $250,000 for two consecutive years. And there have been very few cases of landlords using that law to deregulate – because those people just don't live there."
What about the claim that rent regulation prevents development?
"First of all, rent regulation applies to older properties, not new developments. Secondly, nothing gets built in New York without government subsidy. Back in the days of real rent control, there were  major additions to the New York housing market through Mitchell-Lama that benefitted lower- and middle-income families. Now, it's buildings for the wealthy built with tax breaks – look at One57 [currently under construction, it will be the tallest residential building in New York]. It's being built with a 421a tax benefit, and it's nothing but high-end condos."
Over the last forty years, political attacks on rent regulation, neglect of public housing, and the timing out of Mitchell-Lama projects – combined with government policies to support and subsidize high-end real estate development – have built up into a massive housing crisis for low- and middle-income New Yorkers.
A 2012 study by the city comptroller found that almost 30% of city households spent over 50% of their income on rent, and 19% spent over 75%.
[/tab]
[tab id=2]
Stop the Seattle Housing Authority's Cuts!
In the midst of skyrocketing housing prices, one of the most egregious attacks on low-income housing in Seattle's history is taking place. Seattle Housing Authority (SHA) has introduced a proposal called "Stepping Forward" that would all but eliminate most low-income housing, turn it into transition housing, and push many residents into homelessness.
Kshama Sawant said: "A battle has been taking place in recent weeks to defend low-income housing, which is faced with extinction by the 'Stepping Forward' proposal. This Orwellian program is in every way a step backward. Tenants and communities are standing up against it, along with housing advocates like Jess Spear and myself. Where is Frank Chopp to defend the affordable housing he says he supports?"
All five public hearings on the "Stepping Forward" proposal have been greeted with an organized and defiant response by an enraged, largely immigrant, community. Tenants and housing advocates waved signs and chanted "No Rent Hikes" and "Show Me the Jobs," and they repeatedly shouted down the dishonest attempts of SHA President Andrew Lofton to present the proposal as a benevolent hand up. The final hearing resulted in the majority walking out, who then held a separate organizing meeting to discuss how to defeat the hated plan.
They demand:
Scrap the SHA plan!
Increased funding and construction of public affordable housing – make developers pay
We need rent control
Include a representative of SHA residents and Kshama Sawant on the Mayor's Housing Affordability and Livability Advisory Committee
[/tab]
[/tabs]