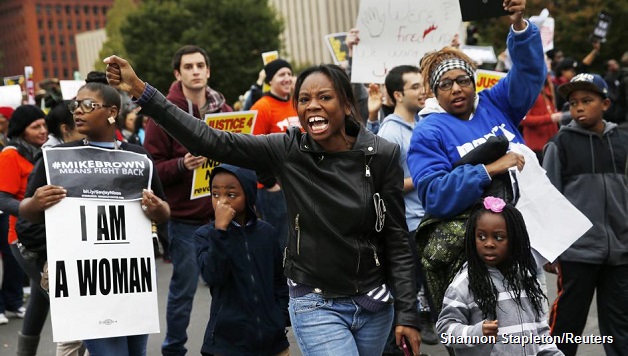 Ferguson October: A Weekend of Resistance
The weekend of October 10-13 saw Ferguson pulsating with sustained protests that expressed the undying rage at the killing of Michael Brown, with the possible indictment of police office Darren Wilson due to be announced next month by a grand jury.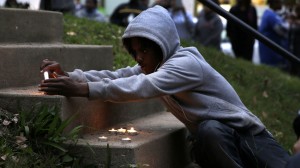 Just days before, another African-American youth, Vonderrit Myers Jr., was shot to death by the police in the Shaw area of St. Louis. Police claimed he had a 9mm gun and opened fire at them when conducting a "pedestrian check." Vonderrit Myers had previously been in a store to buy a sandwich. He died after 17 shots fired by the officers. There were 17 arrests as the youth staged a sit-in, beginning an explosion of mass anger in response to this new police killing.
Over 60 Days and Counting
The youth — mainly working-class and often led by young women — have kept up the pressure with energetic, spontaneous, and determined protests in Ferguson and St. Louis. The work of the Justice for Michael Brown Leadership Coalition, Hands Up, trade union activists, and countless grassroots organizations have kept the name of Michael Brown and the issues of police violence and systemic poverty at the forefront of this struggle.
The anger at the Ferguson City Council meeting on September 9, one month after Brown's killing, highlighted the unbridled determination to put the Ferguson elected leadership on notice. St. Louis activist John Chasnoff summed up the mood: "You've lost your authority to govern this community… You're going to have to step aside peacefully if this community is going to heal" (cbsnews.com 10 Sep 2014).
The development of a new Moral Monday movement in St. Louis and Ferguson is an important step forward. Participants conducted nonviolent civil disobedience that lead to 20 arrests, including that of public intellectual and activist Dr. Cornel West, on Monday outside of the Ferguson police station.
Ferguson — along with parts of St. Louis, following Vonderrit Myers' killing — is virtually a police state, with roads blocked off by police barricades and cars. The combination of a militarized police force, the impending grand jury announcement, and deplorable economic conditions make the city of St. Louis and Ferguson a tinderbox. The movement has shown it is willing to stop "business as usual" and make the political establishment of Missouri uncomfortable. It is these tactics that can secure justice for Michael Brown and family.
The Black MisLeadership Class Exposed
We're going to take our anger out on the people who have failed us, and if they are prepared to deal with that, then let them have at it.
-Ashley Yates, grassroots organizer.
The events of Ferguson and St. Louis have exposed the crisis of militant leadership in the black community. Following Michael Brown's killing, the old lions of the Civil Rights Movement like Jesse Jackson and Al Sharpton, as well as the media, descended upon Ferguson to "help," "heal," and to "represent" the Brown family and Ferguson.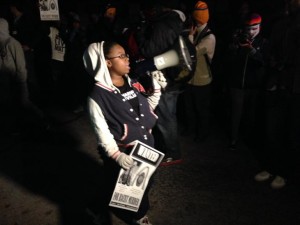 A new, youthful, grassroots-based leadership has been born in Ferguson and St. Louis, challenging the traditional leadership in the churches, communities, and universities. Ferguson organizers like Tef Poe, Tory Russell, and Ashley Yates have stood out, demanding a new voice and vision to eradicate police violence and bring justice to the Brown family. This came to a head on Sunday, October 12, during an interfaith service at Chaifetz Arena at Saint Louis University with a long list of speakers from the faith community and the NAACP. As they took over the program, the youth and organizers of the protests around Michael Brown challenged the true commitment of the speakers and their program to end the crisis facing this generation.
It's clear that generational and ideological shifts are taking place in the midst of this struggle. While the future direction of the movement is not clear at this point, the movement in Ferguson shows a marked difference from those around previous police violence cases, with increased staying power, new steps in organization, and the rise of a new leadership. Ferguson is a continuum of the Arab Spring, Occupy, and workers' movements internationally. The next few weeks to months are important, particularly as the indictment announcement is forthcoming.
The Challenges Ahead
As Election Day approaches, a sector of the movement, particularly Democratic Party elected officials, NGOs, and proxy grassroots organizations, is attempting to co-opt and tame the movement with calls to "register to vote."  While Socialist Alternative supports voter registration, we believe that influencing elections should not be an end in itself, but instead, be part of building powerful struggles. We must not let the movement be taken off the streets. We must also reject the agenda of big business and end the abusive historical role of the Democratic Party, which acts as the mortician and gravesite of social movements.
It's encouraging that longtime activist and a member of the Michael Brown Leadership Coalition, Zaki Baruti, has announced a write-in campaign for St. Louis county executive as an independent. Zaki Baruti's candidacy could provide an example for the development of independent working-class politics in Missouri.
The movement in St. Louis and Ferguson is posed with the serious question of how to deal with police accountability and control. Socialist Alternative calls for community control over public safety and for community policing to be overseen by local committees of democratically elected representatives from trade unions and community organizations. These committees should have the power to hire, retrain, fire, and shut down police stations known for corruption, misconduct, etc. This model is vital to combat police violence as part of challenging capitalism's control over society.
At the same time, we must conduct a war against poverty, income inequality, and racial oppression under capitalism — the very conditions that breed crime and violence in our communities — and to end the misery and despair that working people face daily. We need clear demands like a $15 an hour minimum wage, free, quality education, health care for all, and affordable housing.
The System Is Guilty!
Socialist Alternative members have been involved in this organizing. We participated in the 5,000-strong march and rally on Saturday, October 11 under the banner "The System is Guilty!" We joined the civil disobedience actions throughout the weekend. We also organized a public meeting in St. Louis which brought over 50 youth and activists wanting to learn more about a program for a new black freedom movement and for socialism.
St. Louis and Ferguson provide the touchstone for a new and vibrant movement to cleanse the crimes of capitalism and white supremacy from present and future generations. The need for a system change is on the agenda now! A socialist world is possible.