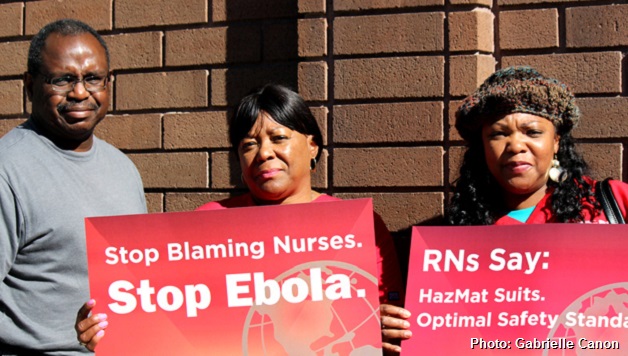 By Sarah White, Registered Nurse (RN)
On Friday, September 25, 2014, my Uncle Thomas Eric Duncan went to Texas Health Presbyterian Hospital, Dallas. He had a high fever and stomach pains. He told the nurse he had recently been in Liberia. But he was a man of color with no health insurance and no means to pay for treatment, so within hours he was released with some antibiotics and Tylenol.

Some speculate that this was a failure of the internal communications systems. Others have speculated that antibiotics and Tylenol are the standard protocol for a patient without insurance.
– Josephus Weeks, U.S. Army and Iraq War Veteran
Ebola, a deadly virus that spreads through contact with the bodily fluids of an infected person, has wreaked havoc in Western Africa and now threatens to spread on a global scale. While sections of the media and the Republican Party are trying to whip up fear in the U.S., where the resources certainly exist to contain Ebola, there is no denying the seriousness of this crisis.
Furthermore, the first cases of Ebola transmission in the U.S. have laid bare the total failure of privately run hospitals and health care in the U.S. The need for coordination of health care in the U.S. demonstrates the need for a national health care plan. This is crucial for improving responses to combat the spread of infectious disease. Our patchwork of separate health care entities, each run for profit, has totally failed to prepare and respond to the health care threats of Ebola – not to mention its continuing failure to provide affordable and quality care for the public.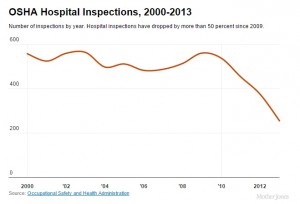 The events in Texas also highlight how the for-profit health care system in the U.S. fails to protect frontline caregivers, with two RNs contracting the disease at work and more cases expected. From Thomas Duncan's first discharge from the emergency room to the infection of his nurses, there have been repeated system failures. It is clear: A health care system designed to enrich investors will not do what is needed to keep people healthy.
Health care workers, from janitors and cooks to doctors and nurses, perform vital services in keeping communities healthy. But as we saw in Texas, hospital executives aren't willing to spend the extra money on personal protective equipment (PPE) or safe staffing to protect these workers. While the CDC workers who handled the first patients infected with Ebola transferred from Africa worked in full hazmat suits, staff at Texas Health Presbyterian Hospital describe caring for Mr. Duncan with only non-impermeable gowns that left areas of their bodies exposed, tape to protect their necks, and optional respiratory protection. Despite numerous data showing that safe nurse-to-patient ratios are key to cutting down on hospital infections, hospital administrators didn't reduce the nurses' patients load as they cared for Mr. Duncan. Given these multiple failures, it should come as no surprise that the infection was passed along to providers.
Health Care Workers Fighting Back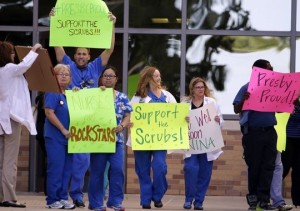 While those in charge fail to do what is needed to protect patients, staff, and the community, health care workers are standing up and demanding better. National Nurses United, the union representing 185,000 nurses, sprang into action when the head of the CDC insinuated that the nurses were responsible for contracting the disease due to breaching protocol. They polled nurses across the country, revealing a broad majority said their hospitals weren't prepared to safely deal with Ebola. They went on a media offensive, bringing health care workers' perspectives to the story. They convened a national conference call of 11,500 nurses. They also threatened to put up pickets if their safety concerns were not addressed.
The egregious inaction by management isn't unique to Texas Health Presbyterian, and it isn't unique to health care. Nurses' fear to speak out against management malpractice in the Texas Health Presbyterian Hospital can be replicated across the country. It demonstrates how workers need labor unions to give them a voice against management's dictatorial power. It also demonstrates the validity of the socialist policy that workers should be running their workplaces rather than bosses. In a similar way, through democratic socialist planning, workers can run the economy and society far better than the two major parties and their failing capitalist system.
Both major parties started a blame game over cuts to the CDC, yet both parties agreed to cut funding to the CDC, including a $430 million cut in fiscal year 2013. The failure of the U.S. and world leaders to protect the public demonstrates the inability of capitalism, a system driven by profit rather than human need, to provide even the necessary health protections for the people of the world.