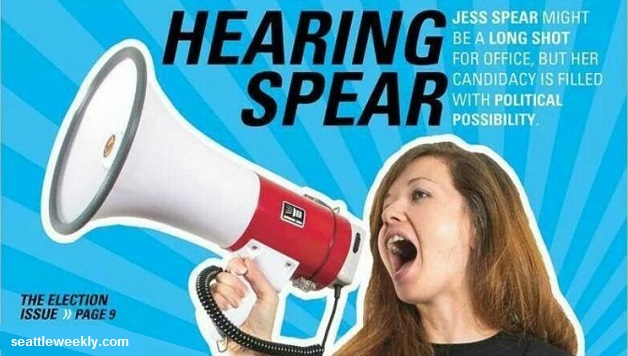 Friends,
Did you see the cover of the Seattle Weekly? Jess Spear and her challenge to corporate politician Frank Chopp are the cover story! The two articles about Jess inside, "Election '14: What Would Happen if Jess Spear Overturned the Rent-Control Ban?" and "Election '14: Why is Jess Spear the Only Scientist Running for Office?" are powerful must-reads.
This is yet another indication of the growing momentum of our campaign and its potential to win. The Seattle Weekly gets it, our supporters get it, now let's make sure Speaker Frank Chopp and his corporate backers get it!
We have a choice in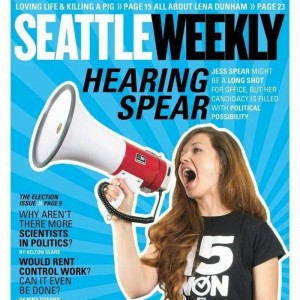 this election. We don't have to suffer through billions more in handouts to corporate executives and social service cuts. We can elect Jess Spear to take our fight for working people and the environment to Olympia.
"It's not 'Where are the legislators?', it's 'What do the people need?'" explained Jess. Taking the temperature of the corporate political establishment is not how the battle for a $15 minimum wage was won – it was by building a powerful movement.
We now have more than 300 volunteers and are spreading the word about our dynamic campaign by leaving fliers at 25,000 homes this week. We don't accept any money from big business, and we rely solely on grassroots donations from people like you.
Time is short! General election ballots have been mailed out.For every additional $1,000 we raise, we can send out mail to 2,500 additional Seattle households, or we can print another 7,000 fliers.
To pay for the fliers, and the mailer we really need to send out at the same time as the ballots, we need to raise $10,000. You can take a stand against corporate domination of Washington State by making a donation today.
Sincerely,
Calvin Priest
Vote Spear Campaign Manager