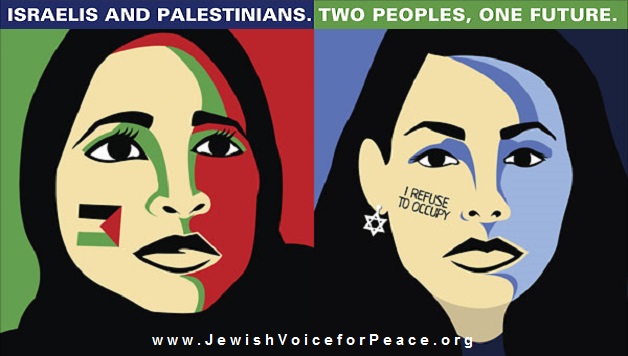 Today, Jewish Voice for Peace wrote to Seattle City Councilmembers asking them to join me in calling on Obama and Congress to issue a formal statement denouncing Israel's siege and blockade of Gaza, along with the occupation of the West Bank, and calling for an end to all U.S. government military aid for Israel.
I am very grateful for their activism, and for taking this courageous moral stand against violence. This shows that people who care about social justice can stand together against it, regardless of ethnicity, race, creed and culture.
…

Dear Seattle City Council members,
As the Seattle chapter of Jewish Voice for Peace (JVP), we want to express support for Councilmember Sawant's letter calling on Obama and Congress to condemn both Israel's ongoing collective punishment of the people of Gaza and Hamas' indiscriminate rocket fire into Israel. We, as Jews, vocally and visibly work against the Israeli occupation of Gaza, the West Bank, and East Jerusalem.
JVP is a national grassroots organization dedicated to achieving a just and lasting peace that recognizes the aspirations of both Israelis and Palestinians for security and self-determination. JVP has over 180,000 online supporters, 40 chapters, a youth wing, a Rabbinic Cabinet, and an Advisory Board made up of leading U.S. intellectuals and artists. Here in Seattle our chapter includes descendants of Jewish Holocaust survivors, members with family living in Israel, and former members of the Israeli Defense Force.
Israel has committed war crimes in the recent attack on Gaza–crimes that would not be possible without the backing of our government. According to an August 3rd statement by UN Secretary General Ban Ki-moon, Israel is in "gross violation of international humanitarian law, which clearly requires protection by both parties of Palestinian civilians, UN staff and UN premises, among other civilian facilities." By controlling Gaza's borders, Israel has ensured that 1.8 million Palestinians have nowhere to run or hide as they are attacked.
When people of conscience take a stand and condemn Israel for carrying out atrocities against Palestinians, they are too often accused of anti-Semitism. This accusation is meant to intimidate and paralyze critics from calling out injustice when they see it. It cheapens the concept of anti-Semitism, which still exists, by applying it falsely to those who are appalled by the Israeli state's policies of apartheid and violence, and their devastating results. Falsely naming anti-Semitism as an excuse for inaction on this issue is an insult to our ancestors who were persecuted for being Jewish.
This past Monday, Councilmember Licata reminded the City Council that the council has passed resolutions about foreign policy in the past. In fact, the council has an impressive track record of standing on the side of justice: divesting from apartheid South Africa (Resolution 27220), speaking out against the Iraq war (Resolution 30969), and more recently divesting from Sudan.
Judaism requires us to speak out against injustice, and so we ask you to continue to ensure that our city stands on the right side of history. We ask you to sign onto Councilmember Sawant's letter calling on our government to issue a formal statement denouncing Israel's siege and blockade of Gaza and the occupation of the West Bank, and calling for an immediate end to all U.S. military aid to Israel.
Sincerely,
Jewish Voice for Peace-Seattle