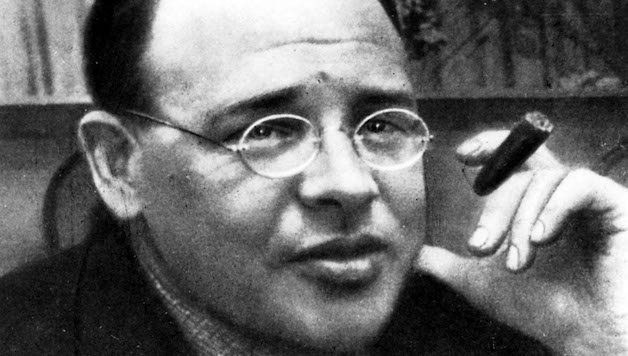 By Andy Ford, Manchester Socialist Party (CWI in England and Wales)
13th July 2014 marks the 120th anniversary of the birth of the outstanding Soviet Russian writer Isaac Babel. His best known work, 'Red Cavalry', described his time with a mounted Red Army unit in the 1920 war with Poland, but he also wrote stories exploring his background in the Jewish quarters of Odessa in the Ukraine, as well as doing journalism, literary criticism and screen plays.
Babel was born into a Jewish merchant family, not so far from the birthplace of Leon Trotsky. Like Trotsky he moved between Jewish and Russian cultures and from an early age was exposed to the bustling cosmopolitan life of the busy Black Sea port of Odessa.
His earliest stories were in the style of the French writer Guy de Maupassant and in fact were written in good quality literary French. But he soon found his education constrained by the oppressive quota for Jewish education put in place by the Tsar's regime, and he was witness to the pogroms organised by Tsarism to scapegoat the Jews for the failings of the Russian state, an experience later immortalised in the short story "The Story of my Dovecote".
Blocked in Odessa, he moved to St Petersburg in 1915, where he struck up a friendship with the socialist writer Maxim Gorky who published his stories in the style of Maupassant such as "The Bathroom Window" – for which he received a conviction for obscenity.
October 1917 revolution
During and after the revolution he worked as a Soviet journalist, until in 1920 he was assigned to the 1st Cavalry Army, a unit of 'red Cossacks' who fought in the Soviet-Polish war of 1920. His experiences formed the basis of the classic 'Red Cavalry', widely accepted today as one of the outstanding Soviet literary creations with its mixture of original and even lyrical imagery with depictions of extreme violence and the horrors of war.
He describes his struggle for acceptance, as a Jew, as a Bolshevik and as a novice horseman by the anarchic, courageous and sometimes brutal Cossacks as they fought the even more brutal forces of the Polish state, backed by the major capitalist powers. A striking description of a sunset is followed by an account of his attempts to stop the Cossacks shooting their prisoners; or the ferocity of battle is succeeded by a portrayal of Babel reading out "Lenin's clear line of thought" from Pravda to a gathering of the illiterate Cossack troops at a wayside halt. It is indeed a vivid, shocking and truthful account of the civil war.
Stalinism
Of course some of the nascent Stalinist bureaucrats did not appreciate a truthful description of the war; they wanted 'socialist realism', or more correctly, lifeless propaganda. After the fall of Stalinism the archives revealed that one General had sought Babel's arrest or even execution. His truthfulness increasingly marked him out in Stalin's nightmare dictatorship.
In 1925 he returned to his roots in Odessa with a series of stories depicting working class life in the Jewish ghetto of Odessa centred round a group of Jewish gangsters.
Babel had become a big figure in Soviet literature but as time went on he found it harder and harder to twist his talent in the service of Stalin. He moved into journalism and screen plays, some with Sergei Eisensein, but was criticised for 'formalism' and unsuitable politics, until by 1934 he explained he was now working "In the genre of silence".
Eventually in 1939 he was arrested and held by the NKVD (People's Commissariat for Internal Affairs). After three days and nights of interrogation he 'confessed' to being a member of 'an anti-Soviet Trotskyist organisation' and was given a 20 minute secret trial towards midnight of 26th January 1940. During this trial he recanted his confession as having been extorted out of him, but was shot shortly afterwards, his ashes being thrown with dozens of others into an unmarked pit. His books were banned and destroyed, his notes and manuscripts were impounded, and his name was removed from the Soviet encyclopaedias.
Babel was 'rehabilitated' by Krushchev after the death of Stalin and his reputation, both east and west, has continued to grow ever since.