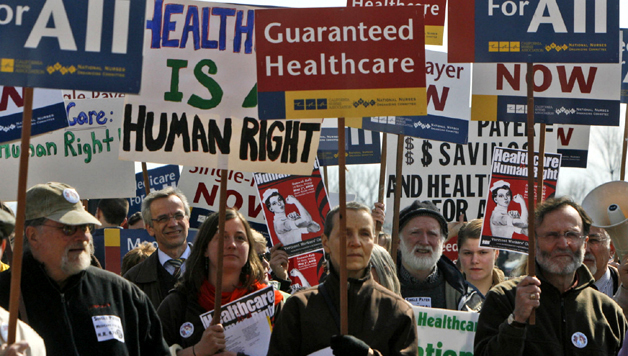 By Marty Harrison
Registered Nurse and PASNAP Member
Philadelphia, PA
Over 7.1 million people previously without health coverage now have insurance despite Republican objections and sabotage. Many will see this as a clear victory against the right-wing politicians. However, there are limits to what "Obamacare" can provide, and the biggest benefactors are insurance companies.
Since March 31, enrollment in the Affordable Care Act insurance plans has closed, and anyone still without health insurance will be charged a penalty on next year's tax bill. The Obama administration has repeatedly assured the public that this deadline, unlike deadlines for business compliance with various provisions of the Act, will not be extended. The penalties start at $95 per adult and $47.50 per child this year, but swell to $695 per adult and $347.50 per child in 2016.
The insurance corporations demanded the narrow enrollment period to prevent people from buying health insurance only when they need it. They want your money all year, whether you need their insurance all year or not.
There is clearly a place for catastrophic health insurance: You get hit by a bus, and 12 ICU days, two surgeries, and one complete blood transfusion later, you are discharged to home with a $250,000 bill.
But car insurance doesn't pay for oil changes. Is insurance really the best way to pay for ongoing, preventive health care?
Accessibility to routine care with health care providers keeps costs down and people healthier. People with chronic conditions like diabetes and asthma can avoid many costly inpatient hospital stays through regular contact with their providers and consistent access to their medications. Babies and children benefit from their well-baby check-ups to monitor their development and to intervene as appropriate.
Women and men need access to reproductive health care throughout their lives. People need sound, scientific advice about diet and nutrition to make sense of "health food" advertising. And until modern medicine discovers a cure for aging, even the healthiest will need access to primary care as their bodies change. Why not pay for such care directly? No insurance corporations, no CEOs making millions, no billions in profits, no competing insurance plans advertising for customers. Just health care being paid for through a system that already exists, works well, and has minimal administrative overhead costs. It's simple: Medicare for all, birth to death.