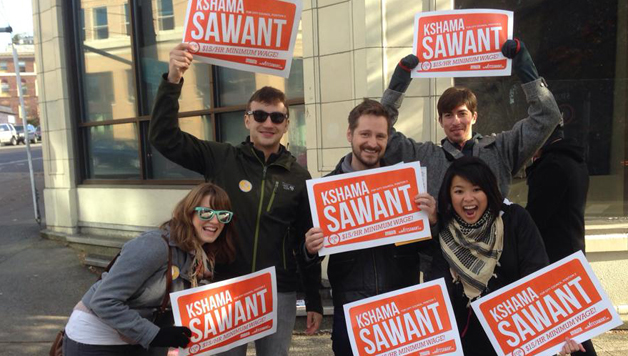 In the August primary election for Seattle City Council, Socialist Alternative candidate Kshama Sawant won a stunning 35% of the vote in a three-way race against two Democratic Party candidates. This was the best showing for a socialist in decades, and our campaign is picking up momentum as we enter the final stretch of the general election. This weekend, we're aiming to have "100 rallies for Sawant", supported by a growing coalition of labor activists, Greens, immigrant community leaders and socialists.
Our demands resonate so well that we have completely shifted the debate. "The election isn't for 10 days," wrote Seattle Times columnist Danny Westneat, "but we can already declare the big winner in Seattle. It's the socialist… [W]hat's most notable about Seattle politics this year is that nearly [Sawant's] entire agenda has, over the course of the campaign, been embraced by both candidates for mayor." (Seattle Times, 10/26/20)
Mayor McGinn and his challenger Ed Murray now say they support a $15/hour minimum wage. Other parts of our platform, like rent control and taxing the super-rich to fund mass transit and education, are continually the focus of debates in all the city races. In August, the Seattle Times dismissed the Sawant campaign as "too hard left" for Seattle. But now they acknowledge the resounding impact of our campaign!
In the last month, Sawant has been featured twice on the front cover of Seattle's second-largest newspaper. Our active volunteer base has surged to more than 200 people, with dozens of high-schoolers getting involved. We have raised more than $90,000 dollars without accepting any corporate contributions. Six unions have endorsed us, and Seattle Weekly labeled Sawant as "Seattle's Best Politician of 2013."
Seattle has been controlled by Democrats for decades and there is no Republican challenger in this race. Without any of the pressures of "lesser-evilism," this openly socialist campaign has become a poll of attraction for many people disillusioned with the Democratic Party.
Cheryl Bersch, a life-long activist and volunteer with the campaign, shared this message with us when she joined our organization:
"I've been a Democrat and a member of other activist groups such as the National Organization for Women for 47 years. Paid my dues in many, many protests, letter-writing to representatives, and money, money, money only to watch the Democratic Party move further and further to the right. I have recently found the answer: it's the system itself. The problem is Capitalism."
The real opening for socialist politics is exemplified by the way our campaign has strained ties between long-time allies and the Democratic Party. For example, the county-wide labor council, which has consistently endorsed our opponent, voted 28-21 in favor of a dual-endorsement for Sawant. Dozens of top labor and environmental leaders have told us privately that they are supporting Sawant even though the organizations they lead have endorsed our opponent.
Groups like 'Labor for Sawant' and 'Small Businesses for Sawant' are working hard to break the unconditional support that the Democratic Party often receives from these constituents. But the most striking example of strained relationships (and political confusion) is the formation of 'Democrats for Sawant.' The Young Democrats at a local university refused to endorse our Democratic opponent, claiming that Sawant is "more of a Democrat than he is" due to her progressive demands!
Whatever the outcome of the general election, this trailblazing campaign has been a huge victory. We have popularized socialist ideas, further exposed the Democrats as beholden to big business, helped build local movements from below, and demonstrated the huge potential for independent politics in local races. We hope this inspires others to run independent left challenges all across the country in 2014 and 2015, as an important step towards the formation of a new, genuine political alternative for the millions, not the millionaires.