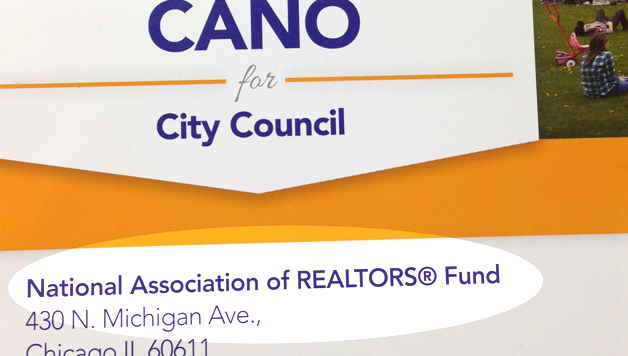 Below is a letter from a resident of Ward 9 in South Minneapolis writing on a city council race between Socialist Alternative candidate, Ty Moore and the Democratic Party candidate, Alondra Cano. The Democrat uses progressive language and claims to be a community organizer but has major corporate PAC money backing her campaign.

We estimate around $8,000 have been spent by this PAC so far and it could be more. We've raised over $46,000 from working people, which shows incredible support, but we need more to combat this corporate money. Please help us meet our final push fundraising target of an additional $10,000.
Don't Let Corporate PAC Money Corrupt Our City Council Race
With pro-Wall Street PAC backing Cano, the clear choice in Ward 9 is Ty Moore
By Veronica Mendez, labor organizer with CTUL and DFL Ward 9 Convention delegate (writing in personal capacity)
On Monday I opened my mail to find an election postcard supporting Alondra Cano from the National Association of Realtors (NAR). After researching it, I was shocked to learn that NAR is a major corporate PAC based in Chicago trying to influence who my next City Council member will be.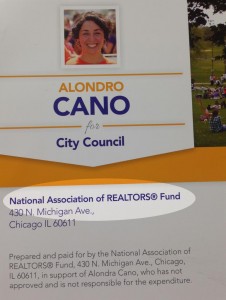 Across the country, NAR has fought every effort to stop foreclosures or provide relief for cities devastated by the housing crisis. The City Council of Richmond, CA recently gained national attention when it voted for a Local Principal Reduction plan to relieve underwater mortgages, making the big banks pay for the crisis they created. In response, NAR and a consortium of Wall Street interests is suing Richmond and has launched a massive misinformation campaign to protect their profits.
NAR has spent millions nationally supporting both Democrats and Republicans, including Tea Party politicians like Michelle Bachmann and Ted Cruz. The group doesn't usually endorse in Minneapolis council races, but now they are turning their guns on Minneapolis because Occupy Homes, Neighborhoods Organizing for Change, and others have made the fight against home foreclosures a major issue in the city elections. And Ty Moore, the Socialist Alternative candidate for City Council, is at the forefront of this campaign.
Clearly these big business interests have chosen to back DFL-endorsed candidate Alondra Cano in order to defeat Ty Moore, a consistent and effective organizer advocate for working people and housing justice. His campaign is backed by Occupy Homes, Latino community leaders, and labor organizers. Moreover, residents fighting foreclosure across South Minneapolis are supporting Ty to defend their interests.
Despite all her progress rhetoric, days have gone by and I still haven't seen Alondra do anything to distance herself from this corporate PAC spending on her campaign. And she's held big fundraisers hosted by the same politicians responsible for the taxpayer-financed stadiums, corporate education reform, and the Mayor who repeatedly sends police into our neighborhoods to carry out unjust evictions for the big banks (see article here).
How many more times are we going to put up with politicians making promises during elections only to cave to the pressure of these big money interests? Will we continue to allow corporate PACs like NAR to corrupt and influence our electoral process?
In Ward 9 we have an opportunity to push back against this corruption of our political system and elect a real voice for working people. I'm asking you to take action today. The election is less than two weeks away. The major parties rely on big business, while we rely on you! I'm asking you to make a donation today and help our shared struggle to put people over profit in City Hall. Then, join me on November 5th to vote for Ty Moore.