"We had workers on strike at 21 Target stores, more than double the number of stores struck in February. The workers are feeling empowered by this strike and the strikes across the country of low wage workers," explained Veronica Mendez, the leading figure in Centro de Trabajadores Unidos en Lucha (CTUL), which organized the strike.
On June 10th, non-union cleaning workers at Target stores across the Twin Cities called for a two-day unfair labor practice strike after the employers refused to open dialogue with the workers by a 5pm deadline. CTUL, a workers center based in Minneapolis, has been attempting to organize these workers for three years. Workers have faced retaliation for union involvement and receive poverty wages with little to no benefits for their work.
This is only the latest development in a series of low-wage worker strikes that are sweeping across the country. CTUL is organizing workers and subcontractors who clean the stores of major retailers such as Target, Kohl's, and Home Depot among others. This system of subcontracting is deeply exploitative and creates a race to the bottom as each contractor attempts to beat the price of competitors. The cost savings come from lower wages and benefits, especially when compared with unionized cleaning workers who, on average, make about $5 more per hour than non-union workers.
After filing around 20 OSHA complaints against these employers, workers with CTUL set a 5pm deadline on June 10th for management to meet with them. Management refused this offer to meet, so in the wee hours of the morning on June 11th, workers and allies formed a lively picket line in front of the flagship Target store in Downtown Minneapolis, just blocks from Target's global headquarters. Over two dozen workers from 21 different Target stores walked out on June 11th, and together with supporters swelled the picket line to around 80 by mid-morning. Chants of "¡Huelga!" were accompanied by signs reading "¡Ya Basta" and "On Strike!".
Workers spoke about their struggles to make ends meet and the retaliation of employers against their organizing efforts. A member of the Coalition of Immokalee workers traveled from Florida to remind everyone of their struggle and inspire a new generation of immigrant workers. Ty Moore, Socialist Alternative candidate for Minneapolis City Council in Ward 9, was also invited to speak, pointing out the national movement of low-wage workers and raising the demand for a $15 an hour minimum wage in Minneapolis and the right to form a union, which was met with loud cheers.
CTUL's Strategy
When asked about the impact of strike action when only smaller numbers are prepared to walk out, Veronica explained: "In a climate of low wage workers rising up across the country, many are recognizing that if we stand up, more will join us. We're not going to wait until everyone loses their fear. By standing up now it helps other workers lose their fear." CTUL aims to continue escalating until workers have the power to negotiate for substantial raises, benefits, and union rights.
Already, the strike has had an impact: "In the two weeks prior to the strike, many workers started getting raises and one of the cleaning contractors, Anisca, agreed to card-check neutrality," meaning they will not actively oppose a drive to sign up a majority of workers to the union. The other subcontractors have not responded to the strikers and still refuse to meet with them.
On the second day of the strike, which was timed to coincide with Target's annual shareholders meeting held in Denver, workers flew and drove out to demand a meeting with Target executives – and they got one, with the company's national "President of Employee Relations"!
Veronica continued: "Target was very concerned about their shareholders hearing about the conditions workers face, and especially that workers were fighting back. This was a PR risk Target didn't want. So they committed to meet with us going forward, and we hope these meetings will be productive."
Veronica Mendez Endorses Ty Moore for City Council
Alongside many other CTUL members and organizers, Veronica Mendez lives in Minneapolis Ward 9, which brings together several working class neighborhoods and the biggest Latino population in the city. Socialist Alternative is running Ty Moore for City Council in Ward 9, and has offered solidarity to CTUL actions over the years.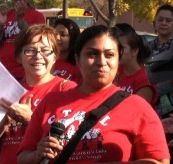 "I'm supporting Ty Moore," explained Veronica, "because I believe he will approach the office of City Council from a movement-building perspective, to ensure working people will have a voice in the decisions affecting their daily lives, in the workplace and in their democracy. Ty's mission is to use the position as a platform to help workers build real power at the city level. Instead of a politician trying to represent the people, Ty wants to to help give people a collective voice to represent themselves."
Support the Ty Moore Campaign!
1) Donate on-line at https://tymoore.nationbuilder.com/donate
Unlike our opponent and other incumbents on the Council, we are not financed by big business and the 1%. Our political work is carried out by dedicated volunteers and relies on the financial support of ordinary workers, young people, and activists. Contributions of any size are invaluable.
2) Like our Facebook page https://www.facebook.com/Votetymoore
3) Volunteer at http://www.tymoore.org/volunteer
4) Endorse our candidate at www.VoteSawant.org/endorsements
5) Join Socialist Alternative!