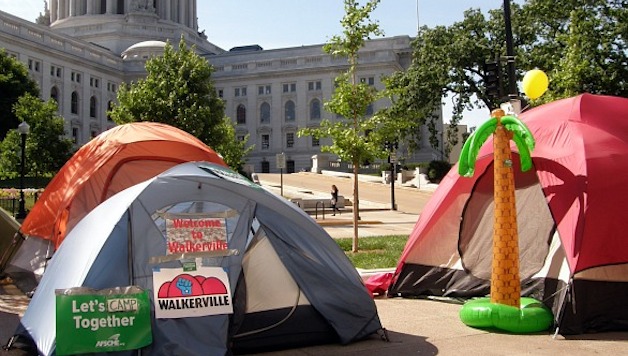 By George Martin Fell Brown, Madison, WI, TAA (AFT Local 3220)
As Justice goes to print, signs are developing of a resurgent movement in Wisconsin. Demonstrations are increasing. Protesters are camping out at the Capitol. Angry youth disrupted anti-immigrant legislative hearings. This poses the important question: How can we fightback and win?
Many workers thought they could breathe a sigh of relief when the bill was placed in legal limbo. However, the Republicans declared that, if the legal situation isn't resolved by the end of June, they will simply re-pass the bill and circumvent the legal challenge.
They have also introduced a whole slew of right-wing legislation and draconian budget cuts that will impact the lives of every Wisconsinite. This ranges from a voter ID bill, to an Arizona-style anti-immigration law, to an all-out assault on public services. This raises the need to rebuild the mass movement to defeat the whole Walker agenda.
Limits of the Recall
Since the mass protests, much of the energy against Walker has been channeled into a series of recall campaigns. Eight Republican state senators face recall elections, starting in July, and recall petitions against Walker himself will be circulated in November. Walker and his cronies certainly deserve to be recalled and, for many, the recall campaigns are the only visible sign of opposition. However, the recall campaigns are no substitute for mass action.
It can take a long time for the recall campaigns to run their course, and results may be mixed while Republicans continue to inflict maximum damage along the way. The senatorial recalls cover a small part of the state, while the rest of the state is demobilized.
Furthermore, in the recall elections the Republicans will be challenged primarily by Democrats. This means the outcome of the struggle is being decided by two parties of big business. The last time the Democrats were in power, they kept state workers in 15-month contract negotiations and launched deep budget cuts. They can't be counted on to wage our fight for us.
Do-or-Die Moment for Public-Sector Unions
While we wait for the recall elections to take effect, the unions are faced with a struggle for their very existence. Under the "budget repair bill," public-sector unions will be stripped of collective bargaining rights and the ability to collect dues. They will then be forced to hold annual recertification elections in which 51% of an entire bargaining unit has to vote for the continued existence of these crippled unions.
Where possible, unions should recertify. However, the recertification process is stacked against them. For instance, if the bill passes in June as expected, these recertification votes will happen in the summer, when the teachers aren't at work. What matters is that the unions fight back.
Public-sector unions should place contract demands on the politicians, whether or not they have legal bargaining rights. If Walker refuses to listen to the unions, the unions should force him to listen. This would require job actions, from slow-downs and sickouts up to and including coordinated strikes and workplace occupations. A strike is a strike, whether or not the union is legally recognized.
This is a do-or-die moment. If the public-sector unions don't fight back now, they could be liquidated before the "budget repair bill" has a chance to be repealed. If they do fight, they can stop Walker in his tracks.
Build Rank-and-File Opposition
Unfortunately, the union leaders have completely failed to provide a way forward. The leaders of the two biggest public-sector unions in Wisconsin, AFSCME and the AFT, have declared their intention not to recertify. Scandalously, Bryan Kennedy, President of AFT-Wisconsin, said: "We may just continue to be a membership organization that advocates for all sorts of things," (Milwaukee Journal Sentinel, 5/6/11).
This would mean AFSCME and the AFT would effectively cease to be unions and become nothing more than lobbying groups for the Democratic Party. Even unions that are attempting recertification, such as the Wisconsin Education Association Council, have no strategy to carry it out.
It is up to rank-and-file members to defend their unions. After all, that's who the unions are supposed to represent. They need to organize their co-workers and call on their unions to prepare for action. They need to put counterproposals at their union meetings, calling on their unions to adopt a fighting strategy.
More Struggles Ahead
The scale of Walker's attacks goes well beyond the public-sector workers themselves. Immigrants are under attack. Voting rights are under attack. Health care is under attack. Women's right to choose is under attack. Schools are being threatened with closure and privatization. State-owned power plants and wetlands are being sold off to big business.
Fortunately, there are organizations challenging these attacks, such as Wisconsin Resists, US Uncut, and the No Cuts, No Concessions! campaign. These groups have carried out many important demonstrations and direct actions. These actions play an important role in challenging the ideology of the Democrats and Republicans alike, and in keeping the movement alive.
These groups need to help build a broad, campaigning coalition, centered around the unifying principle of opposing all of the cuts. It should unite the public-sector workers with those who use their services, while being independent of both parties of big business. This campaign would need to organize in the community, workplaces and schools, and escalate the direct actions to a mass scale. The coalitions should raise the need for candidates independent of the two corporate parties who oppose all cuts to jobs, union rights and services.
The anger that is now simmering will reach fever pitch when the law goes into effect and real consequences begin to be felt. With an independent, class-based strategy, that anger can be channeled into waging a serious struggle against the Walker agenda. This is how we can win.